Brian Bendis' Superman Secret Identity Reveal Will Make Him the Best Version of Himself and Inspire a Villain to Switch Sides
Our old friend George Gene Gustines has been writing in the New York Times about the upcoming Superman secret identity reveal, which we saw a lot more of in the January 2020 DC Comics solicitations.
And in doing so he was most kind to link to Bleeding Cool over our speculation as to how this twist might pan out, dubbed 'Cuck Kent'.
But it seems that original plans have changed. Talking to Gustines, writer Brian Michael Bendis explained
"I don't do fake-out stories. I did a story where Daredevil was outed — a different kind of outing — but that was his reality for 15 years" and that Bendis will bring Superman closer to being "the best version of himself." And will lead to a thousand Superman stories that have never been told before…
"Everybody who's ever been in contact with him is going to have a completely different perspective and reaction to this… Some heroes are going to be thrilled, some heroes are going to be livid, some villains are going to change their ways." And Gustines confirms that a Superman enemy will turn to the good over this news.
Bleeding Cool's initial theory was originally based on a number of notes that Lois Lane was writing in Action Comics #1001 when Superman thought she was in deep space with Jonathan Kent and Kal-El, but instead was holed up in a Chicago hotel writing what appeared to be a memoir about being married to Superman.
A book with possible titles 'The Secrets of Lois Lane? I Married an Alien from Outer Space?' And it led to Lois kissing Superman in public.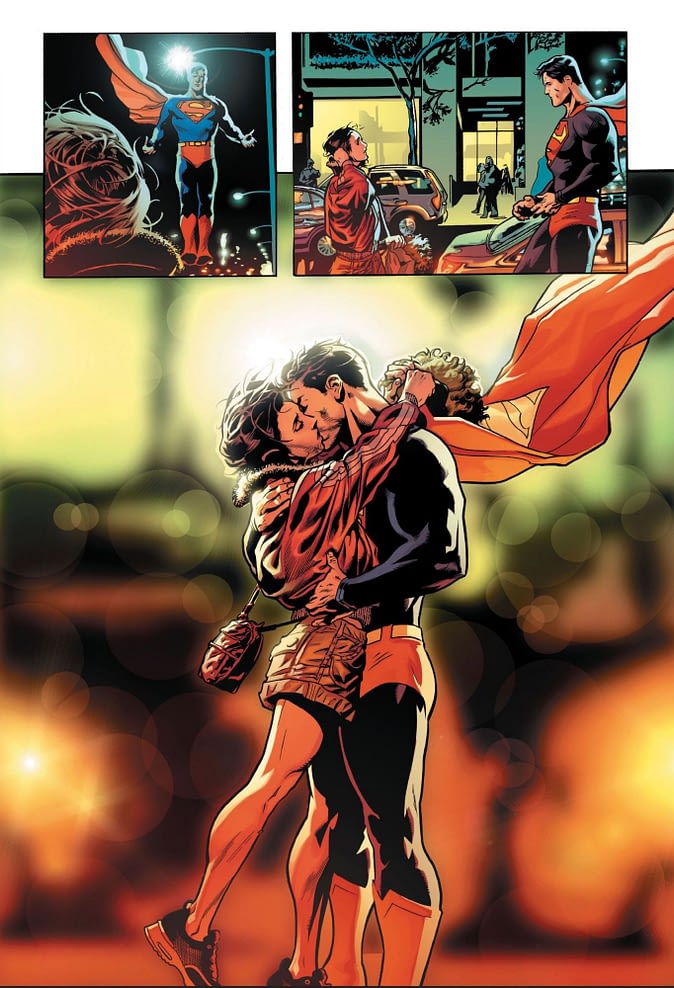 The idea that Superman and Lois Lane would go public with their relationship, and their son, while Clark Kent would be dubbed Lois Lane's beard, keeping her relationship with Superman a secret.
But either way, things changed towards the current secret identity storyline, with Bendis telling Gustines, "I had another destination in mind, but this was a better solution." So if we are wrong now, were we right originally? Who knows. But it will all kick off in December…
SUPERMAN #18
(W) Brian Michael Bendis (A/CA) Joe Prado, Ivan Reis
With Superman's family scattered across the galaxy, our hero must confront some of his greatest concerns about himself and his place in the galaxy. Legendary artist Ivan Reis joins writer Brian Michael Bendis as they introduce the biggest change in the Man of Steel's life ever!In Shops: Dec 11, 2019
SRP: $3.99

LOIS LANE #7 (OF 12) VAR ED
(W) Greg Rucka (A) Mike Perkins (CA) Yasmin Putri
Someone wanting to kill Lois Lane is nothing new for the famed reporter, but is it because of something she knows or something she's about to uncover? Plus, this issue ties to the events of December's Superman #18 and the gigantic status quo shift for both Lois and her husband, Superman, when the Man of Steel decides to reveal his identity to the world.In Shops: Jan 01, 2020
SRP: $3.99

SUPERMAN #19
written by BRIAN MICHAEL BENDIS
art and cover by IVAN REIS and JOE PRADO
variant cover by BRYAN HITCH
One day later! What happens the day after Superman reveals his secret identity to the world? And what repercussions will his decision have across the entire DC Universe? Plus, Superman: president of Earth?
ON SALE 01.08.20 $3.99 US | 32 PAGES

ACTION COMICS #1019
written by BRIAN MICHAEL BENDIS
art and cover by JOHN ROMITA JR. and KLAUS JANSON
card stock variant cover by LUCIO PARRILLO
One of the biggest battles in Superman history tears through Metropolis as the super-villain team-up of Lex Luthor, the Legion of Doom, and Leviathan come to change Superman's city forever! The blockbuster creative team of writer Brian Michael Bendis and artists John Romita Jr. and Klaus Janson create a Superman epic for the ages—as the Man of Steel deals with the public disclosure of his secret identity!
ON SALE 01.29.20 $3.99 US | 32 PAGES CARD STOCK VARIANT COVER $4.99

SUPERMAN: HEROES #1
written by BRIAN MICHAEL BENDIS, MATT FRACTION, JODY HOUSER, and GREG RUCKA
art by KEVIN MAGUIRE, STEVE LIEBER, MIKE PERKINS and others
cover by BRYAN HITCH
Lois Lane, Jimmy Olsen, the staff of the Daily Planet, even the Justice League—their lives all changed when Superman revealed his secret identity to the world! This unique Superman experience explores what the identity of Clark Kent meant to those close to him—and what their relationship to Superman will be in the future. All the rules are about to change—and it all starts here.
The dream team of writers Brian Michael Bendis, Matt Fraction, Greg Rucka, and Jody Houser team up for this amazing special, with art anchored by DC legend Kevin Maguire, plus sequences focusing on each corner of the Superman universe by artists Steve Lieber (Superman's Pal, Jimmy Olsen) and Mike Perkins (Lois Lane).
ONE-SHOT ON SALE 01.29.20 $5.99 US | 48 PAGES