Back in Action Comics #1000, which saw Brian Bendis' first Superman story, drawn by Jim Lee and Scott Williams, the lead story by Dan Jurgens and Norm Rapmund saw Superman welcomed by a group of his peers. At the time there was a little disquiet that the supervillain Harley Quinn, and gun-wielding assassin/mervenary Deathstroke were part of that welcoming crowd.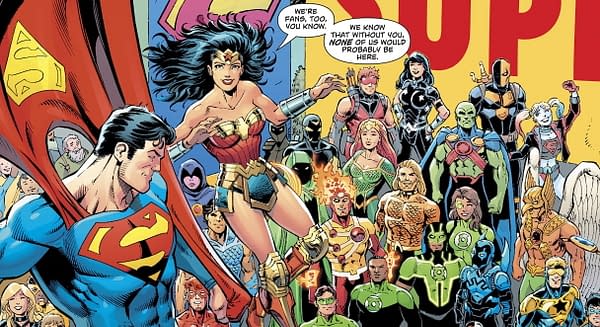 Of course, this is now changing as Wonder Woman was there before any of them. But anyway. From Superman #19 by Bendis, Ivan Reis and Joe Prado, we had this welcoming scene. Which seemed to indicate that murdering psychopath has joined the Justice League. With no one else in the League blinking an eye.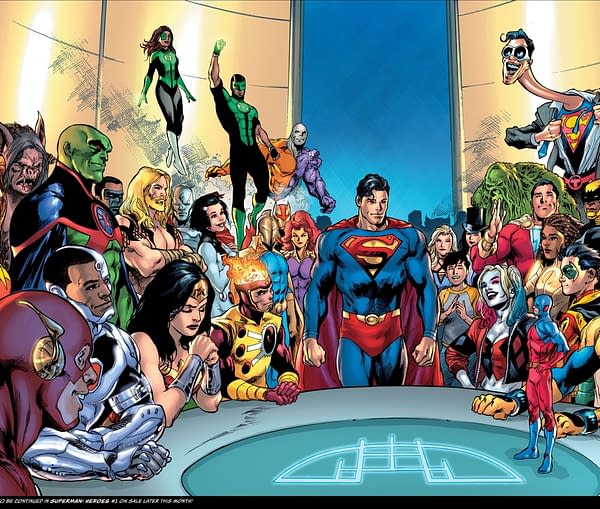 And that's without enquiring as to whether certain individuals aren't meant to be on the other side of the galaxy, Anyway. To be continued in Superman: Heroes which was then scheduled to, indeed, be out later last month. It's now been pushed back a bit, to this coming Wednesday, and its followup Superman: Villains to March 4th. But, as well as having characters who should have been at the other side of the galaxy at this point, it had Harley Quinn again, round the Justice League table. All has been forgiven since Heroes In Crisis?
I understand that this will be addressed… but it did look rather weird.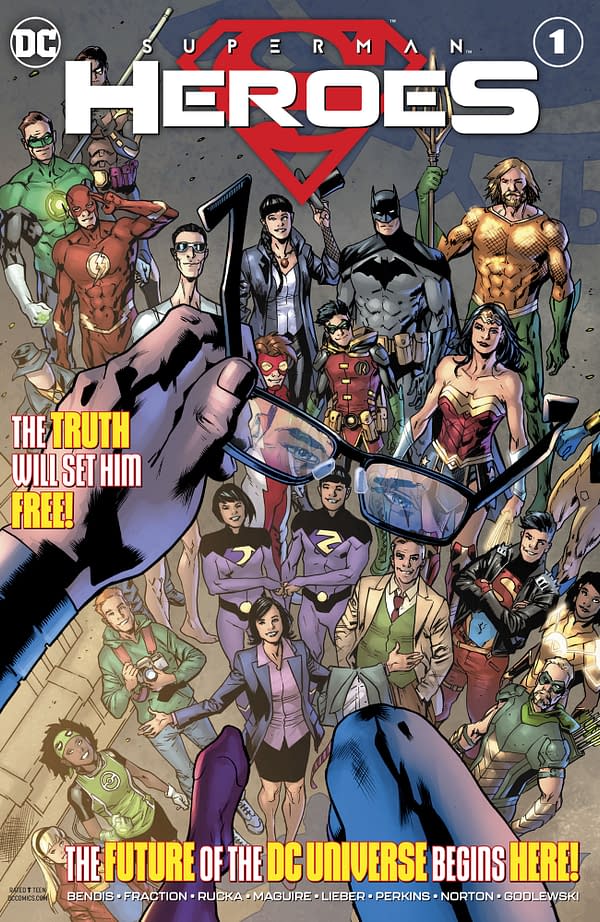 SUPERMAN HEROES #1
(W) Brian Michael Bendis, Matt Fraction, Jody Houser, Greg Rucka (A) Kevin Maguire, Steve Lieber, Mike Perkins, Others (CA) Bryan Hitch
Lois Lane, Jimmy Olsen, the staff of the Daily Planet, even the Justice League-their lives all changed when Superman revealed his secret identity to the world! This unique Superman experience explores what the identity of Clark Kent meant to those close to him-and what their relationship to Superman will be in the future. All the rules are about to change-and it all starts here.
The dream team of writers Brian Michael Bendis, Matt Fraction, Greg Rucka, and Jody Houser team up for this amazing special, with art anchored by DC legend Kevin Maguire, plus sequences focusing on each corner of the Superman universe by artists Steve Lieber (Superman's Pal, Jimmy Olsen) and Mike Perkins (Lois Lane). ONE-SHOTIn Shops: Feb 12, 2020
SRP: $5.99
Enjoyed this article? Share it!