Bleeding Cool broke the news earlier today. But at New York Comic Con it has just gone official. Wonder Comics is a new imprint from DC Comics, run by Brian Bendis. Here's the image we had earlier.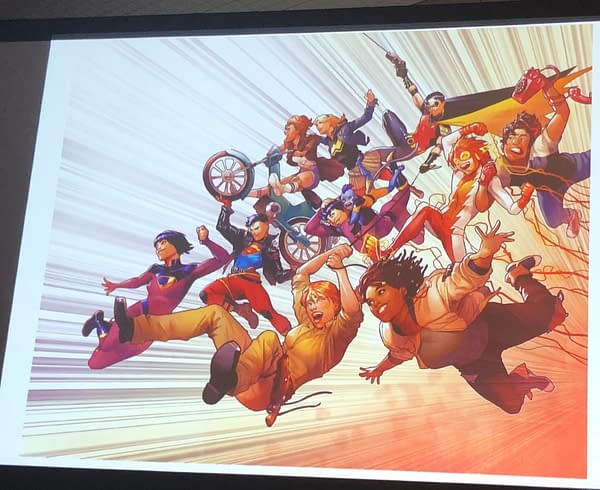 Hugh Sheridan and Octavo Karkbank are in the room for Bleeding Cool and they tell us that the line is supposed to reflect on the family you grew up vs the family you surround yourself with. It will feature the return to DC continuity of Conner Kent and the Wonder Twins.
It will be used to express themes he was dealing wit, when writing Miles Morales, emphasizing that point in your life where things are their most emotional.
And it will be including a bunch of things that people have been asking Bendis for – Connor Kent in particular.
Dan DiDio jibes "It's gonna get worse for Wally West".
Robin (it's Tim Drake) and his quest will be the lynchpin of the Young Justice book. Bleeding Cool reported Patrick Gleason as working on this title but that has not been confirmed. Young Justice comes out in January so we should know by then.
But we will have Ginny Hex, Jonah Hex great great great granddaughter, and a new character by Bendis. She will debut in the Walmart exclusive title. Oh the comic stores will just love that… She will have Adam Strange's ray gun and a trunk full of old DC stuff/ weapons
And we will have a Teen Green Lantern from Bolivia too who will sync up with Grant Morrison's The Green Lantern series.
More as it comes…
UPDATE: Here's the official DC word, and logo:

Bendis came with news of his own, revealing the first details of WONDER COMICS, his personally curated line of teen-focused, in-continuity comic books scheduled to debut in early 2019. The line will be anchored by the return of Impulse (Bart Allen) and Superboy (Conner Kent), teaming up with Robin (Tim Drake) as the nucleus of an all-new YOUNG JUSTICE, which Bendis will write with art by his ACTION COMICS partner in crime, Patrick Gleason. As a tease for his Saturday evening spotlight panel, Bendis also announced the rest of the first wave of titles:
NAOMI, which Bendis will co-write with David Walker (CYBORG), featuring art by Jamal Campbell (JUSTICE LEAGUE OF AMERICA: VIXEN)
WONDER TWINS, written by Mark Russell (THE FLINTSTONES, EXIT STAGE LEFT: THE SNAGGLEPUSS CHRONICLES, DC Black Label's SECOND SON) with art by Stephen Byrne (JUSTICE LEAGUE/POWER RANGERS)
DIAL H FOR HERO, an updated take on the Silver Age classic series from the team of writer Sam Humphries (HARLEY QUINN, GREEN LANTERNS) and artist Joe Quinones (BLACK CANARY/ZATANNA)
Enjoyed this article? Share it!