Eric J. Cockrell writes:
There are moments that give me pause, as someone that writes stories based in the '90s. Sometimes it doesn't seem like that long ago or like it was that different. Then I ask my phone, "Remind me to tweet and post to Instagram in 10 minutes."
Not only were those things not a thing, but I just spoke to my phone like it was fucking K.I.T.T. from Knight Rider. In the '90s, my phone was ugly and mounted to a wall and I was tethered to it during use. And that use was not for anything remotely like those things.
Blister takes place in the '90s, but it's not about the '90s. I'm not sure what makes something a period piece, but I don't think of it as one.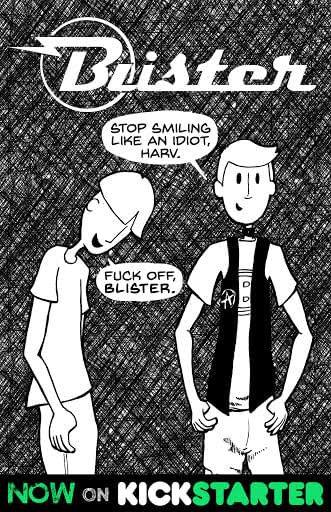 In that same way, Blister is about some punk kids that are in a punk band, but it's is not about punk rock.
I refused to use the '90s or punk rock as a gimmick or in an exploitive way. Those things are important to the story, but they are not the story.
I recently rewatched the classic punk movie SLC Punk. I do enjoy the movie for the most part. But the thing that drives me nuts about it —  though when you get to the end, you find that maybe it's intentional — is that Steve-O stops every five or so damn minutes to explain to you something about punk rock. There are some great rants in the movie, but that stuff felt forced and very "Punk Rock 101." When he mentions that maybe they were the posers all along, all of that sort of made sense. Throughout the entire movie they felt like posers to me. He very much had the feeling of that girl at the party who has to keep reminding everybody how many beers she's had, and that she's "so drunk."
But I digress.
I did not want Blister to be that. Blister was actually more influenced by J.D. Salinger's Holden Caulfield character.
I know. What could be less "punk rock" than your character being influenced by a book you were forced to read in high school? I hope me not giving a fuck about that lends it some credibility.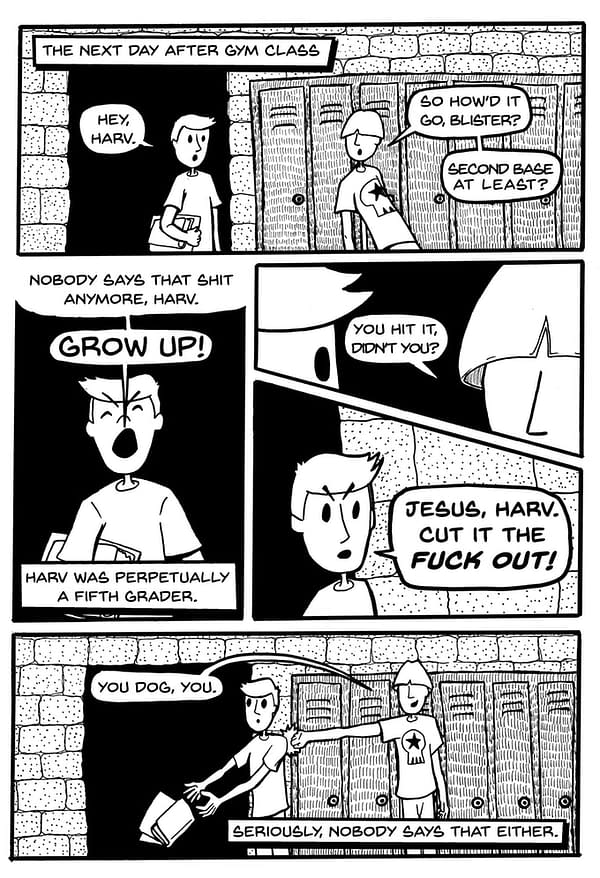 Holden's attitude in The Catcher in the Rye had a genuine feel to it. He spent a lot of time with a funny focus on the "phonies" of the story and had a general disdain that made him interesting, and his thoughts seemed poignant.
During the process of writing my Blister novel, I selected the '90s simply because I'm very nostalgic for that decade. I didn't "grow up punk" in any stereotypical way. But the '90s were when I discovered it and my immediate love for it shaped my outlook from then on.
Sure, I had heard some Billy Idol and the Buzzcocks at times prior to then, but music videos on MTV brought me on board. Green Day's Dookie, and Offspring's Smash were two of my first purchases, but very quickly after I discovered Smoking Pope's Get Fired, Bad Religion's Stranger Than Fiction, and Operation Ivy's Energy. My collection is sprinkled with plenty of '90s alternative rock, but punk is my love.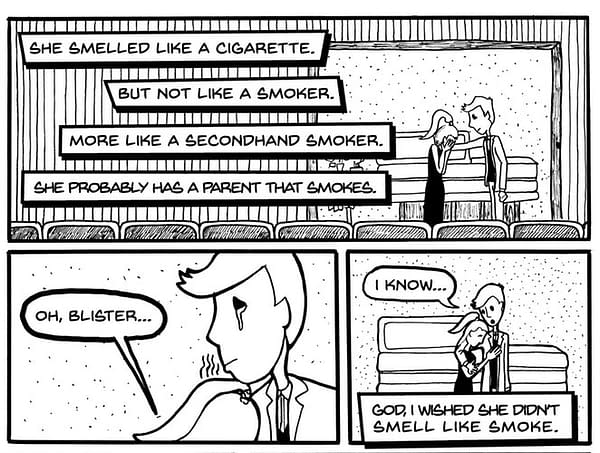 I'm excited that the comic has received the attention that it has on Kickstarter. They designated it a "Project We Love" on its second day in operation, and at about two weeks we've moved onto stretch goals.
The exciting thing about the stretch goals is that the second stretch goal is to have an actual Blister music EP recorded. That brings it full circle for me, and I just know backers are going to love it.
You can check out Blister: Angela on Kickstarter right now!
Enjoyed this article? Share it!