Momentum is a British political organisation, founded in 2015 as a grassroots movement supportive of current Leader of the Opposition, Jeremy Corbyn and the Labour Party he leads. Since January 2017, all Momentum members must also be or become members of the Labour Party and the organisation has 40,000 members in 2019. And with the British General Election in less than a month's time, Momentum released a new political advert using Batman and The Joker asking if Batman is the Bad Guy, including clips from Batman films, Joker, the Batman TV series and original footage filmed with two actors playing the Batman and The Joker…
Here's the video, currently being shared on social media.
Here's the script:
Batman: Joker

Joker: Batman you found me but how?

Batman: I traced your signal using my Bat-computer in my Batcave, flew here in my batplane, then disarmed your henchmen with my bat weapons

Joker: How much did all that cost?

Batman: What do you mean?

Joker: You flew here in a bat-plane? A plane with customizable weapons designed to look like a bat? That must have cost millions. How can you afford that?

Batman: Wayne Enterprises makes billions of dollars in revenue.

Joker: Wait so instead of using that money to, I don't know, help the poor, you decided to design a plane that looks like a bat? How much do you pay in taxes?

Batman: Well, actually,

Joker: What was that?

Batman: Wayne Enterprises has an offshore arrangement so we don't pay any tax.

Joker: So you're telling me you pay less tax than I did when I was spinning signs on a street corner? I thought I was the bad guy.

Batman: I'm a hero. I need that money so I can buy cool bat stuff to fight crime and for my bat yacht for, you know, relaxing after all my crime-fighting.

Joker: Did it ever occur to you that the citizens of Gotham need things like social care and public services more than they need some stupid yacht

Batman: Bat yacht.

Joker: Whatever. Billionaires like you are the problem. If you paid your taxes I could have gotten medication for my mental health issues. I could have got help caring for my mother when she was sick. Maybe, I wouldn't even have become the Joker. Why don't you just pay your taxes like a normal person and let the citizens of Gotham democratically decide what to do with it.

Batman: You're right. All I've been doing is fighting the symptoms of crime instead of trying to solve the causes. Who am I to decide what's best for society? Maybe I should just pay my fair share so that everyone, rich or poor, can have access to decent housing, education and health care

Joker: Yeah

Batman: On the other hand

Joker: Oof…

Batman: That's what a socialist would say.

Headlines:

1/5 of Britain's biggest companies pay no corporation tax.

If corporations would pay their fair share, it would pay the NHS annual budget three times over.
Might someone have been reading Warren Ellis' dialogue for Alfred in The Batman's Grave #1?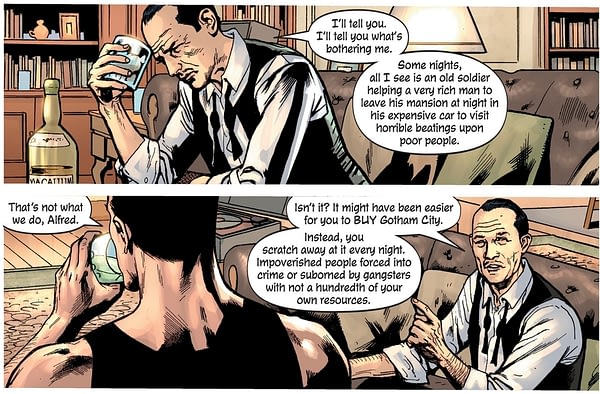 Enjoyed this article? Share it!