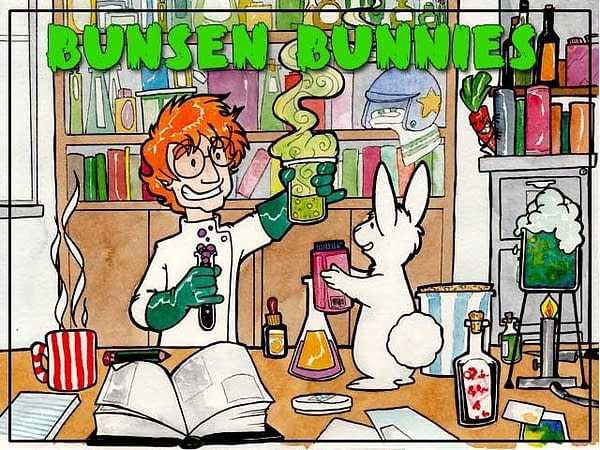 Derm McG writes;
Bunsen Bunnies is a web comic about lab rabbits. Just not the usual sort. Most lab rabbits have science done to them. These bunnies DO the science. And not just any old science.
Mad science.
It all started because Belfast artist Ann Harrison couldn't stop drawing stoner bunnies. "First I had them sitting under tree's getting pleasantly high, watching the birds, just chilling." Soon they were popping up everywhere, in the background of vampires castles, stowed away in the foreground of interstellar star ships. Stealing a sneaky toke behind a wizard's ancient tomes of magic. "I couldn't seem to do a picture without at least one toasted bunny in it somewhere." she admits.
Then she made the mistake of telling John about them.
John Clerkin was the freelance writer Harrison had teamed up with to write a mad science story about one Dr. Frank Stein, fearless poker of that which mortal man was not meant to poke. Being a writer he started to ask questions. Where did these bunnies come from? How had they discovered  grass? Did they get the munchies. "Before we knew it, Frank was demoted to aspiring medical student and those damn bunnies pretty much took over the story." says Clerkin laughing. They had an underground lab, they had a human resources department, they had a black ops team. And Frank had got himself a sidekick, Baker.
"Ann's such an inventive artist," says John "she draws all these cute sketches, filled to the brim with adorable madness and I just have to write it all in. It's a really fun project."
"I think my best ideas come when I'm just sketching for fun with no real idea of what I'm drawing until I look at it and there's a Baker or a Frank, ready for John to give a back story and a job  and a life." says Ann.
The first three issues have been posted up online at www.bunsenbunnies.com, they chart Frank's first meeting with Baker, and their adventures with chatty corpses, homicidal carrots and tentacled cats monsters. Harrison's art is a visual treat, meticulous character design matched with a sketchy un-inked line style and an artfully sparse palette choice combine to give a webcomic that looks like nothing else out there.
Not content with putting out a regular webcomic they've also just launched a Kickstarter to fund putting some of the comics most popular characters onto T-shirts. Check it out here:
Enjoyed this article? Share it!