Canadian Customs See Comics As A Red Flag For Paedophiles – CBLDF Talks Censorship at Wondercon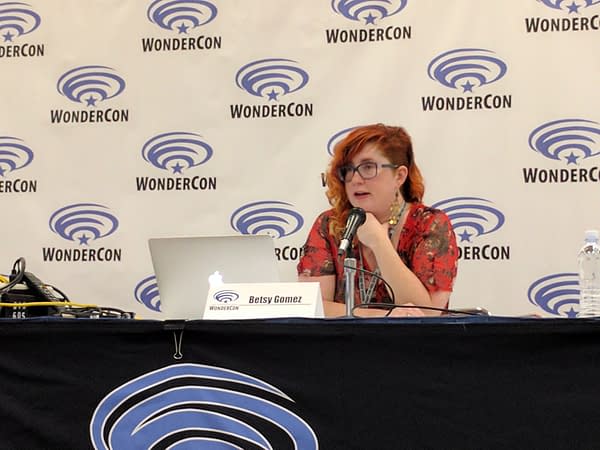 Nick Kazden writes for Bleeding Cool,
This is a tricky time for comics and cartoonists. The worldwide political landscape might be giving artists a lot of inspiration, but the threat of censorship is more real than ever.
That's why the CBLDF panel "State of Censorship 2017" was such an interesting event. CBLDF editorial director Betsy Gomez gave the audience a crash course on the 1st amendment (even reading it to the audience at the start of the panel), modern censorship, saying it's been a particularly rough couple of years, and talked about why comics are targeted so frequently.
"Any book that is banned opens the door to more banning, and comics are especially vulnerable because of the pictures." That's right, the pictures, half of the reason people read comics instead of novels in the first place, make them a target.
Comics are among the most frequently challenged books. While some comics might contain sexual, profane or even violent material, a lot of the time tame, child-friendly books are challenged due to the extreme beliefs of certain individuals. In 2013, Bone was one of the most widely banned books in the U.S. while 2014 saw Saga and Persepolis, a story about a woman growing up in Iran that is taught in schools across the country (I even read it freshman year of college), join the banned book list.
"There is a pervasive stigma because of the format. A lot of people think comics are only for kids or only for adults. Some people don't even think of comics as literature."
Gomez said people like to throw around words like "pervasively vulgar" when discussing art they don't like without realizing there is a legal definition for that term. But once the words are thrown out there, and the media realizes they have a potential story, the damage has already been done.
"The media likes to make skewed, 1950s era attacks on comics because it's filled with people who don't understand or respect the medium."
The media plays a unique role in all of this. Unless an organization like the CBLDF hears about what's happening, the complaints are often quietly taken care of and books are removed from school curriculums or libraries without anyone noticing. So, while the media might end up sometimes riling people against pieces of art, it also informs anti-censorship groups that something bad is happening that deserves their attention.
Talking about bad things that deserve people's attention, Trump's proposed immigration ban has already had a major impact on the art world. The CBLDF joined a coalition of over 30 cultural institutions and human rights groups to send a joint letter rejecting the policy.
Gomez talked about the experiences of comics creators and historians being detained and sometimes turned away at the border. She even mentioned how Australian based writer Tom Taylor, best known for Injustice and All-New Wolverine, is voluntarily declining offers to visit conventions in the United States to stand in solidarity with individuals who have trouble freely entering and exiting the country.
While the CBLDF typically works on domestic issues, Gomez talked about the struggles many international cartoonists are forced to deal with. While the US may pull books from libraries, countries like Turkey and Malaysia are still arresting artists for depicting their government in unflattering ways. Even in countries where the government might not be clamping down, other forms of censorship are possible. Gomez mentioned the Charlie Hebdo attack where a group of extremists killed 12 people after the French publication released cartoons the terrorists considered inappropriate.
"Censorship is all about power."
She even compared the current societal treatment of video games to the way comics were looked at in the 1950s. Instead of being classified as high art, it's cast aside in the low art gutter and as a result comes under increased societal scrutiny. Part of the censorship debate is acknowledging the fact that it's acceptable for parents to monitor what their own children read/watch/play, but it's not okay for them to choose what's accessible for others. So when games come under attack for being too violent or sexual, censorship becomes a very real possibility.
An amicus brief submitted by the CBLDF was even cited by the Supreme Court during the Brown v EMA case that saw the court overturn a California law restricting the sale of violent video games as a first amendment violation.
To my surprise and dismay, I learned something weird about Canada during the panel. According to Gomez, Canadian officials view comic books as a red flag for pedophilia. "If you're carrying comics, they will essentially search everything."
The reason that was brought up is Gomez talked about how the CBLDF stepped in to defend Ryan Matheson, a 27 year old American citizen, after he was arrested for bringing manga into the country on his laptop. Matheson was charged with possessing and importing child pornography for a book that Gomez described as "pretty tame" compared to most manga out there.
If you hear local reports about books being challenged or banned, even if you aren't a fan of the book, speak up and reach out to the CBLDF at info@cbldf.org. Trust me, they might be able to help.
"We will spend hundreds of thousands of dollars to defend people who run afoul of first amendment issues."