Today's Captain Marvel #7 crossover with War Of The Realms is a Freaky Friday-style bodyswap story with Doctor Strange and Carol Danvers, with each of them trying to get used to each other's bodies. It works out.
However, the issue ends on quite the downer. With a rather familiar trope…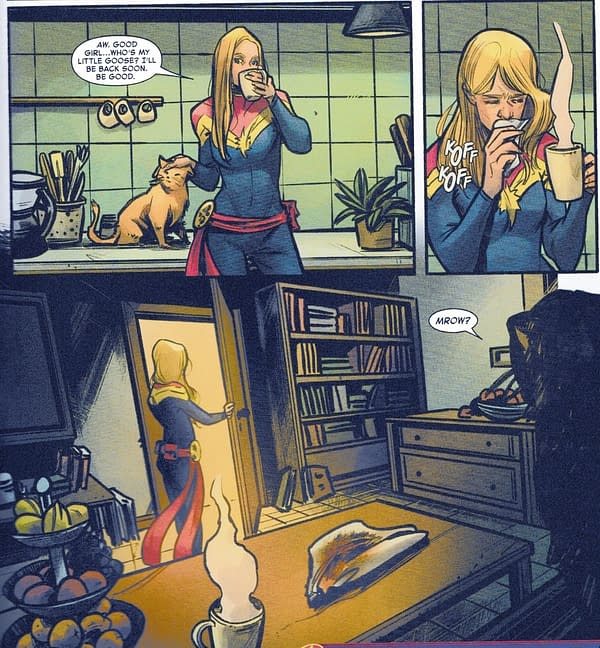 Coughing up blood? That can't be good.
I thought I'd check in with Britain's National Health Service and see what advice they may have for Carol Danvers, were she ever to live under a socialised healthcare system. They told me:
Coughing up blood can be alarming, but isn't usually a sign of a serious problem if you're young and otherwise healthy. It's more a cause for concern in older people, particularly those who smoke.

The medical term for coughing up blood is haemoptysis.

You may cough up small amounts of bright red blood, or frothy blood-streaked sputum (phlegm). The blood is usually from your lungs and is often the result of prolonged coughing or a chest infection.

If the blood is dark and contains bits of food or what look like coffee grounds, it may be coming from your digestive system. This is a more serious problem and you should go to hospital straight away. Read more about vomiting blood.

What to do if you cough up blood

Call your GP surgery as soon as possible if you cough up blood, even if it's just a few spots or specks.

Your GP will check if you might have a serious medical condition that needs to be investigated and treated.

Call NHS 111 or your local out of hours service if you can't speak to your GP.

Call 999 for an ambulance or go to your nearest accident and emergency (A&E) department immediately if you're coughing up a lot of blood or are struggling to breathe.

Tests that may be needed

Your GP may decide to refer you to a specialist at your local hospital for a chest X-ray or a more detailed scan, such as a computerised tomography (CT) scan.

You may be asked for a sample of your sputum so it can be checked for infection. Other tests, such as blood tests, may also be needed.

In some cases, further tests may be required to find out where the blood is coming from. For example, you may be referred to a specialist who may decide to arrange a test called a bronchoscopy (where the main air passages of your lungs are examined using a tube with a camera at one end).

This page can give you a better idea of what the cause may be, but don't use it to diagnose yourself. Always leave that to a doctor.

Common causes of coughing up blood

The most common reasons for coughing up blood are:

a prolonged, severe cough

a chest infection – this is more likely if your sputum is discoloured or contains pus, you have a fever, or you have a tight feeling in your chest

bronchiectasis – this is more likely if you're also wheezy or short of breath

Sometimes a severe nosebleed or bleeding from the mouth or throat can cause blood to come out in your saliva when you cough.

Less common causes of coughing up blood

Less commonly, coughing up blood may be the result of:

pulmonary embolism (a blood clot in the lungs) – this usually causes sudden shortness of breath and chest pain

pulmonary oedema (fluid in the lungs) – your sputum will be pink and frothy, and this usually occurs in people with pre-existing heart problems

lung cancer – this is more likely if you're over 40 and smoke

tuberculosis (TB) – a severe lung infection associated with fever and sweating; this is becoming more common in the UK, but can be treated with prolonged antibiotics

cancer of the throat or windpipe

taking anticoagulants – medications that help stop your blood clotting, such as warfarin, rivaroxaban, or dabigatran

Sometimes, no cause can be found and it never happens again.
Of course, in fiction, that last option is completely out of the window. Captain Mar-Vell famously died of cancer after being exposed to a powerful nerve gas called "Compound 13"… Is this where Captain Marvel is heading?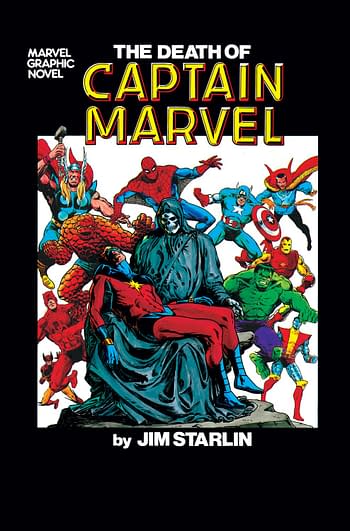 Here's the solicits for this issue… and issues to come. Including a very old threat??
CAPTAIN MARVEL #7 WR
(W) Kelly Thompson (A) Annapaola Martello (CA) Amanda Conner, Dave Johnson
WAR OF THE REALMS TIE-IN!
Captain Marvel's got a magical right hook – but what happens when she loses her mighty fists? When a powerful spell from the Enchantress causes Carol and DOCTOR STRANGE to body-swap, everything about their mission is called into question. What was once a covert ops mission with BLACK WIDOW to take down the Enchantress and her "Land of the Dead" is now a comedy of errors – casting spells wasn't exactly covered in Carol's military training. But Carol Danvers is more than her powers, and the Enchantress is about to discover that the hard way.
Rated T+In Shops: Jun 19, 2019 SRP: $3.99

CAPTAIN MARVEL #8
(W) Kelly Thompson (A) Carmen Nunez Carnero (CA) Amanda Conner
CAPTAIN MARVEL: FALLING STAR! From the moment she returned to full-time Avengers duty in New York City, Captain Marvel's life has been nonstop…and slightly weird. But she's about to take on a brand-new threat – and a very old one! When her Kree heritage is exposed to the world in dramatic fashion, Carol goes from most beloved hero to public enemy number one overnight – and it's pushing her to the darkest edge. Can she save the day even while the world turns on her? Does she want to?
Rated T+In Shops: Jul 17, 2019 Final Orders Due: Jun 24, 2019 SRP: $3.99

CAPTAIN MARVEL #9
(W) Kelly Thompson (A) Carmen Nunez Carnero (CA) Mark Brooks
A STAR RISES, ANOTHER FALLS!
Being Captain Marvel has been the greatest joy of Carol Danvers' life. But a new hero is rising to the limelight – just as Carol's own powers begin to fail her. With everyone now believing she's a Kree traitor, Carol can't help but wonder…does the world even need Captain Marvel? Rated T+In Shops: Aug 14, 2019 SRP: $3.99
Enjoyed this article? Share it!