Cerebus Remasters High Society For Election Year
Cerebus: High Society is, in many where, the moment that comics grew up, in North America at least. An ongoing comedy parody title, Cerebus The Aardvark by Dave Sim, it suddenly skewed into biting political and social society. Decades before The Thick Of It or Veep, High Society satirised the very process of power in modern democracies, and the rather unwelcome results it kept generating. Forty years later, with another US Election Year upon us, the original book is being re-remastered, republished and repromoted for the Trump era. What seemed bang on the money for the Reagan era seems even more so for the Donald Trump years in which a barbarian can walk into town, come smack up against the Deep State and end up elected to the highest post.
Remastered five years ago, the new edition for 2020 features improved paper stock, binding, and rich, black state-of-the-art sheetfed offset printing, as well as a dozen pages sourced from fresh scans of newly-surfaced original artwork. And, for 2020, there will be four separate and partisan editions to order.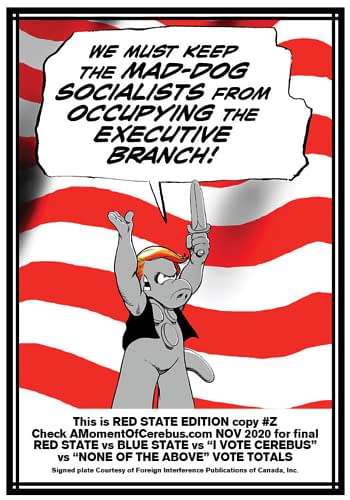 RED STATE EDITION – The completely inexplicable (to BLUE STATERS, anyway) DONALD J …. CEREBUS? Could that be the explanation? That he's actually a charismatic aardvark, "a funny animal in the world of humans trapped in a world he never made"? Buy a RED STATE EDITION copy if you want to vote for him.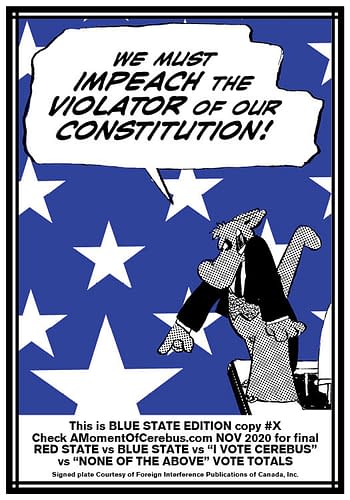 BLUE STATE EDITION -The BLUE STATE candidate hasn't been determined as of press time, but (to BLUE STATERS, anyway) a) ANYone is better than the incumbent and b) as a hermaphrodite Cerebus has it covered whether the candidate is a man or a woman. Buy a BLUE STATE EDITION copy if you want to vote for him/her.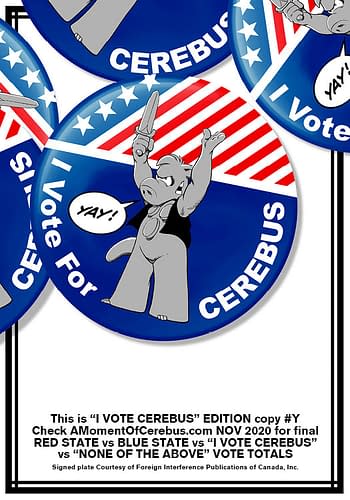 I VOTE FOR CEREBUS EDITION Really? You want Cerebus the Aardvark to be President of the United States? Are you sure you aren't playing the Marginalized Constituency card? Or the "bucking for a Psycho Discharge" card? Or are you just plain not playing with a full deck? Feel free to clip out the button design and wear it proudly! Just don't tell anyone where you found it (please!). ORDER CODE MAR201421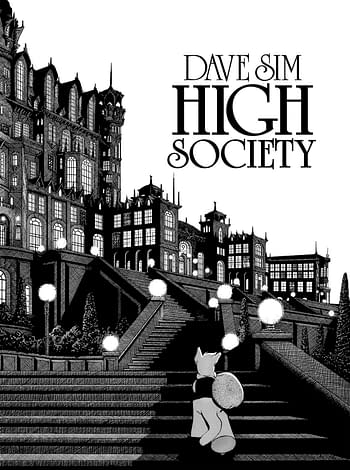 NONE OF THE ABOVE Aardvark-Vanaheim offers you an option a lot of people are clamouring for. Can I just, please, say "Thanks, but no thanks"?. Now you can. This is the latest edition of the REMASTERED CEREBUS with no tipped-in plate. Just the graphic novel that's been making folks laugh since the middle of the first Reagan Administration. The books will be released on May 27th, current situation willing. They are also selling some Red State Cerebus Campaign Buttons on eBay.