A few Marvel Comics changes that slipped between a crack or two…
Conan: Serpent War #2 will now be drawn by Vanessa Del Rey, along with the solicited Stephen Segovia.
Venom 2099 #1 will now be drawn by Geraldo Borges, along with the solicited Francesco Mobili.
Ghost Rider #3 will now be drawn by Juan Frigeri, not the solicited Aaron Kuder
Star Wars: Jedi Fallen Order: Dark Temple #5 will now be drawn by Ruairi Coleman, along with the solicited Paolo Villanelli.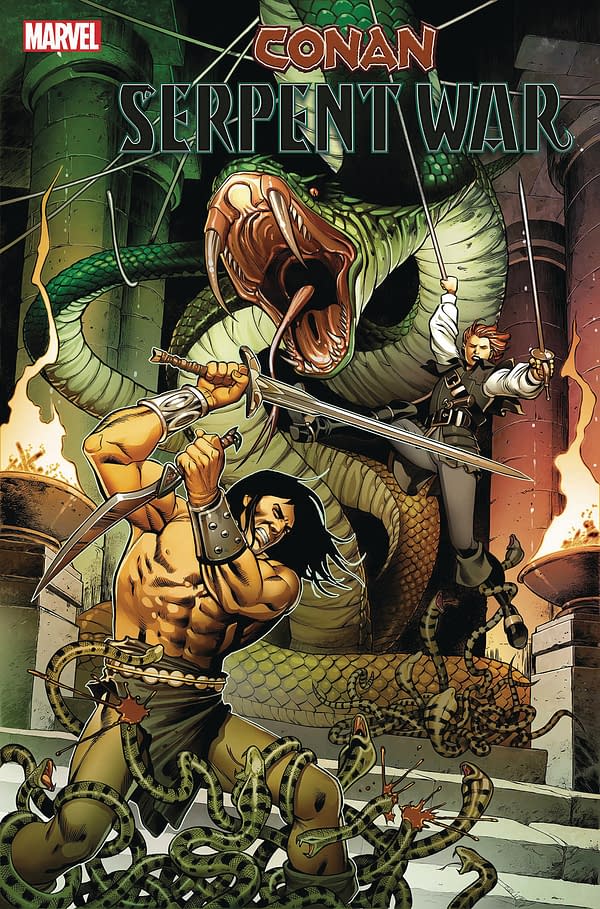 CONAN SERPENT WAR #2 (OF 4)
(W) Jim Zub (A) Stephen Segovia, Vanesa R. Del Rey (CA) Carlos Pacheco
THE WRATH OF THE SERPENT GOD!
WARRIORS ACROSS TIME DEFY THE ELDER GODS!
JAMES ALLISON will soon die. But it's not his first death. He's lived many lives, in many places – lives he can recall in vivid detail. But when an Elder God called the WYRM reaches across time to James, an ages-spanning quest begins! The serpent god SET plans to usher in an eternity of darkness, and only the chosen warriors across time and space have a hope of stopping him: CONAN THE BARBARIAN, SOLOMON KANE, DARK AGNES, and the man known as MOON KNIGHT!
In an unprecedented comics event, Robert E. Howard's characters join forces along with Marvel's Moon Knight, in an all-new saga built on REH and Marvel lore from across the ages!
PARENTAL ADVISORYIn Shops: Dec 18, 2019
Final Orders Due: Nov 18, 2019
SRP: $3.99

STAR WARS JEDI FALLEN ORDER DARK TEMPLE #5 (OF 5)
(W) Matthew Rosenberg (A) Paolo Villanelli, Ruairi Coleman (CA) Will Sliney
ONE AGAINST A WORLD
• Jedi Master Eno Cordova will have to use all his wits and training if he hopes to survive the mysteries of the Dark Temple!
• Meanwhile Jedi Padawan Cere Junda strikes a blow in the hopes of ending the battle with the Daa Corporation's army. But was it too late?
• If Cordova and Junda hope to survive they're going to need to get off Ontotho. And they can't do that alone!
• It all ends here! Read the shocking conclusion to the epic comic series featuring characters from the videogame STAR WARS JEDI: FALLEN ORDER.
Rated TIn Shops: Dec 04, 2019
Final Orders Due: Nov 04, 2019
SRP: $3.99

VENOM 2099 #1
(W) Jody Houser (A) Francesco Mobili, Geraldo Borges (CA) Clayton Crain
WHAT IS VENOM 2099?
Welcome to the future, where the cure for what ails you is at your fingertips with ALCHEMAX! Our industry-leading pharmaceutical department (HELP) is providing consumers with (FREE ME) the bleeding-edge technology you've come to know from our (SAVE ME) products with VENOM, our all-cure drug. Trials begin (DON'T LET THEM DESTORY ME) this December!
Rated T+In Shops: Dec 04, 2019
Final Orders Due: Nov 04, 2019
SRP: $4.99

GHOST RIDER #3
(W) Ed Brisson (A) Juan Frigeri (CA) Aaron Kuder
After the explosive events of last issue, the Brothers Ghost Rider will never be the same!
There's only one being they can turn to now: Mephisto?!?
Rated T+In Shops: Dec 11, 2019
Final Orders Due: Nov 11, 2019
SRP: $3.99
Enjoyed this article? Share it!