Charlie Adlard's Vampire State Building Has Just Been Published – Here's a Peek
You may have noticed that I've been in Paris last week. Attending the title launch of the new Asterix comic book. Well I'm back now. And I brought things with me. Cheese and wine, of course, that goes withou saying, But also comic books.
I posted about going to the geekiest street in all of Paris, Rue Dante, and I have lots to share from that double trip.
But that also inclused the launch of Charlie Adlard's new non-Walking Dead project he has been working on for the last four years, Vampire State Building volume one, written by Ange, Patrick Renault and Sébastien Gérard . It seemed apt for that week too, I know Adlard is a massive Asterix fan.
It was published the week before I came to France and it was on all the shelves, and ads with a lot of attention to its Walking Dead pedigree. So obviously I had to pick it up…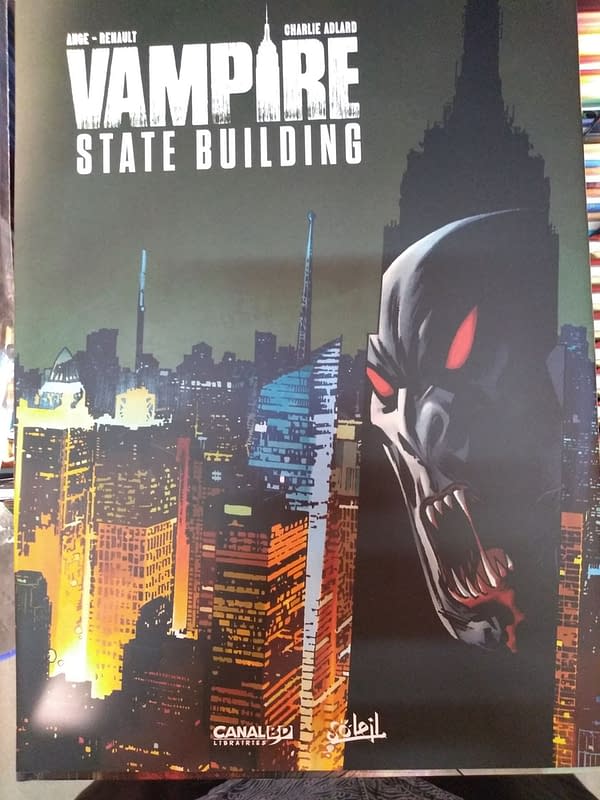 A young soldier about to be sent to war, Terry Fisher meets his friends at the top of the Empire State Building for a farewell party. Only for a legion of vampires to attack the skyscraper and massacre its occupants. Hounded in the 102 floors that have become a deadly trap, before the army of abominations spills into the city, they will face U'tluntla, the terrible Vampire God, walled in the building since its construction.
Here's a look inside… published by CanalBD and Soliel, I am told to look for an Image Comics translation into English later in the year.