Chip Mosher of ComiXology, Hunts for New Originals at Thought Bubble
Last year, Chip Mosher of ComiXology, discovered the mini-comic by Greg Lockard, Tim Fish and Hector Boros, Liebestrasse at Thought Bubble when it was in Leeds. This week, edited by Will Dennis, it was published as an original graphic novel on ComiXology Originals. and had a panel to itself at the show.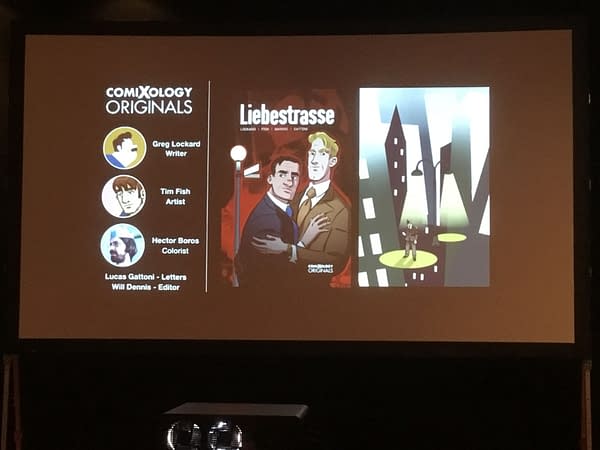 Thought Bubble is a place where Amazon's big comic book digital publisher finds new work, publishes it and champions it in the process.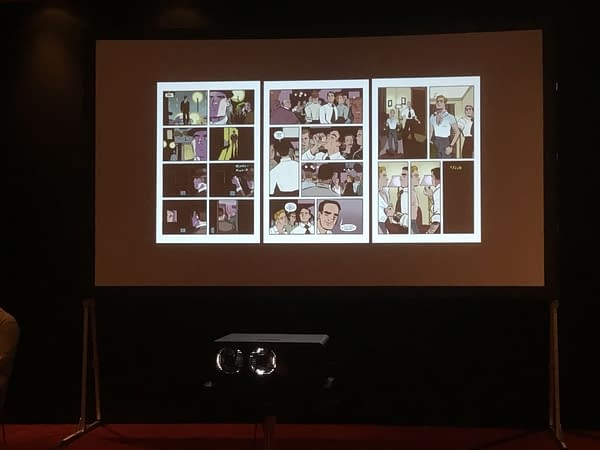 But Chip is not resting on his laurels, he is on the hunt for more at the show this year, something that ComiXology can champion. And odds are that it will debut at Thought Bubble week next year.
So if you are a small press comic creator/publisher and this fellow with an American accent pops by your table, be very nice to him. You never know where it may lead…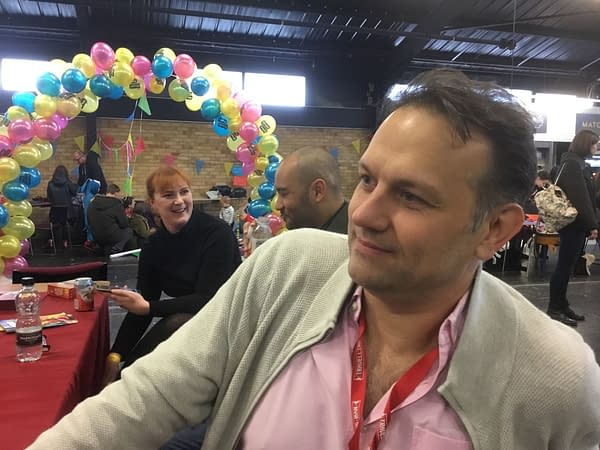 Comixology launched Comixology originals in October 2016 beginning with selected Boom! Studios and Valiant titles among others:
ComiXology have published original comics before. But this seems to be a step up with specially commissioned, high profile titles with big names and big brands – ComiXology Originals. These books will be digitially only for the ComiXology app and Kindle.
Adventure Time Marshall Lee Spectacular from BOOM! Studios with three all-new original Marshall Lee stories set in BOOM! Studios' bestselling continuation of Cartoon Network's Adventure Time TV show. The first story features New York Times bestselling writer Mariko Tamaki with artist Audrey Mok, followed by stories teaming up writer Melanie Gillman with artist Trungles and writer S.M. Vidaurri with artist Asia Kendrick-Horton — all found behind a fully painted cover by Fabio Moon. This digital only exclusive is available for pre-order today on comiXology and Kindle for $3.99.
Valiant High from Valiant Entertainment is a hilarious reimagining of Valiant's award-winning superhero universe by writer Daniel Kibblesmith (The Late Show with Stephen Colbert), artist Derek Charm (Jughead) with a first issue cover by David Lafuente! Before they became the world's most formidable heroes, they were roaming the halls at a super-powered preparatory academy where Aric "X-O Manowar" Dacia is a record-setting running back, Colin "Ninjak" King is a debonair foreign exchange student, and Coach Bloodshot is way too into dodgeball! Now… Faith "Zephyr" Herbert is about to discover it all for the first time as the newest girl in school! Issue #1 (of 4) of this digital only exclusive is available for pre-order today on comiXology and Kindle for $3.99.