Chris Claremont Tells X-Men Panel Events Were Their Biggest Mistake
Chris Claremont, Louise Simonson and Walter Simonson joined the X-Men 60th Anniversary Call to celebrate Marvel's mutants. Mostly.
---
Chris Claremont, Louise Simonson and Walter Simonson joined the call first, talking about how they came to the X-Men – Chris Claremont just wanted to work with Dave Cockrum – and how they grew what would become the X-Men franchise from a cancelled comic to a mass movement, and a desire to tell real stories about real human beings.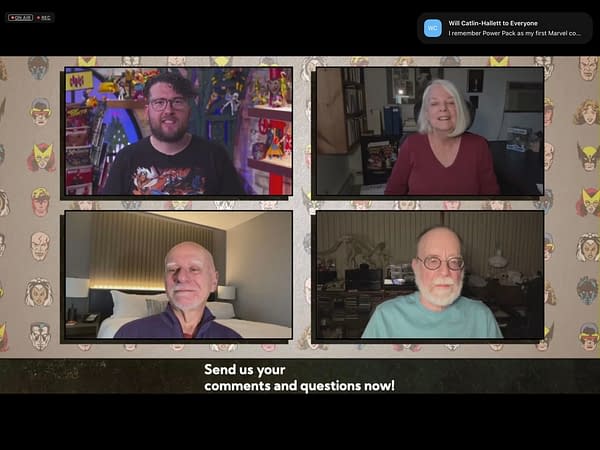 The team were reminded that they were there at the beginning of the comic book crossover event – with Fall Of The Mutants, Mutant Massacre and Inferno in the X-Men books. The team were asked what they remember of those days, and Chris Claremont kind of stole the show saying, with projection, that events were "The. Biggest. Mistake. We. Ever. Made". And why? Because it was a "huge success". Chris told us that "we thought the world would go back to the way it was before, and in a year or two, we might come up with another idea. But then a higher authority looked at the numbers and circumstances, the retailers and fans wanted another one, so we were told to do it again, now. And it sold even better. As the writer, it was incredibly frustrating, You'd do the crossover, you'd need 2-3 issues to set it up, 2-3 issues to wind it down, and it became harder to do individual issues, and stories between them. I was taught by Stan Lee that comics were single stories. Two-part stories? Okay, they've got to be good. Three-part stories, only the coming of Galactus, and then you have to use the third issue to set up the next story. X-Men was one or two-part stories, even with the Death of Phoenix or Days Of Future Past, and then, suddenly, we were evolving in a different direction. But I'm conflicted; the risk is losing what made the series special in the first place. It was fun, but it took over the bus. As a reader, I felt sad."
Not entirely sure that was the tone Marvel was expecting for the X-Men 60th Anniversary Panel, but it was an honest take, and there were plenty of readers on hand in the chat to agree… I wonder how that will jar when they all start talking about the current X-Men event Sins Of Sinister and the Fall Of X to come…
The Marvel Unlimited Live Virtual Event is taking place right now, from Thursday, March 16th at 11pm GMT, 7 pm EST and 4 pm PST, which "will spotlight the history and creative legacy of Marvel's mutants, from their beginnings as the Original Five to their present era in the Krakoan Age."
Access will be granted to those with a Marvel Unlimited Annual or Annual Plus subscription and will feature comic book creators Chris Claremont, Walter and Louise Simonson, Rob Liefeld, Marc Silvestri, Gerry Duggan, Jonathan Hickman and more. And special guests from X-Men: The Animated Series Eric Lewald, Julia Lewald and Marvel Studios' X-Men '97 writer and executive producer Beau DeMayo, as they "relive the epic moments and share the secrets behind your favourite X-Men characters." The event promises to "go behind the scenes with some of the icons of X-Men lore on a journey through the history of mutantkind with live interviews, fan Q&As, giveaways, exclusive announcements, and more."