Christopher Priest Writes The Black Panther Vs. The Justice League (SPOILERS)
Christopher Priest wrote for what many see as the definitive run on Black Panther. Much of the good stuff in this year's Black Panther movie was based on what he brought to the Marvel characters. And he has returned to the character this year for a spot in the recent Black Panther Annual.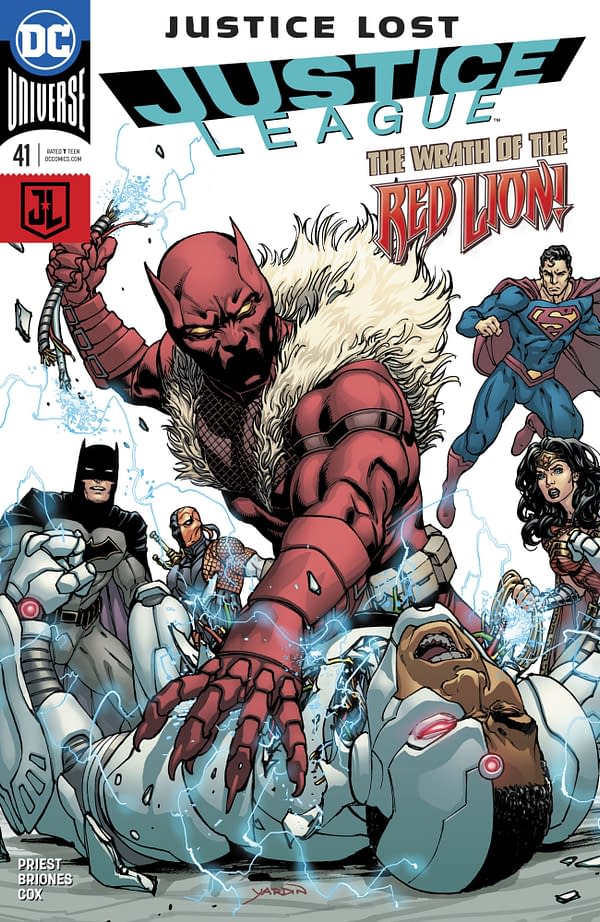 But he seems to have reserved most of his Black Panther writing for DC Comics, with the super-powered leader of an African nation spot being taken by the familiar-looking Red Lion.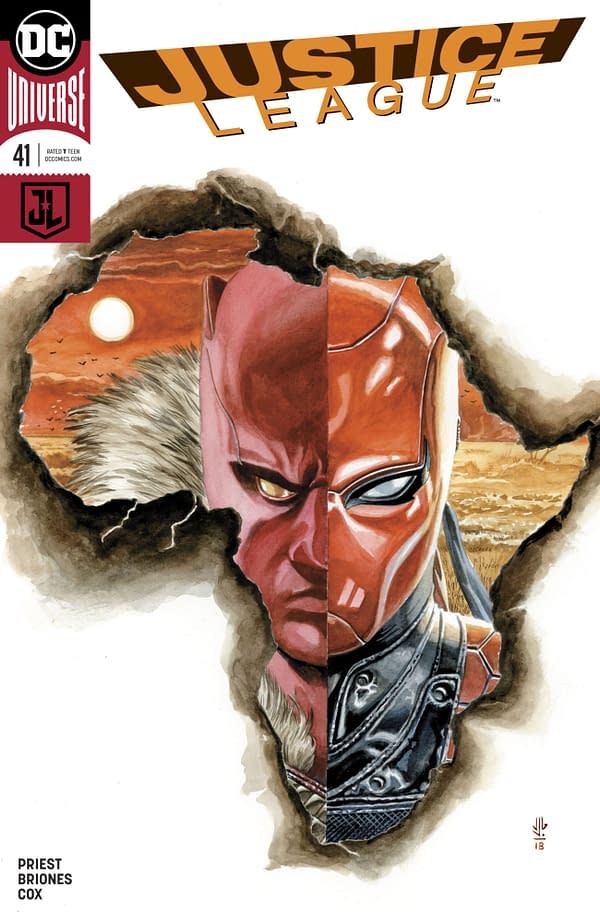 Appearing in Deathstroke until now, in his current run on Justice League, this week joined by artist Philippe Briones taking over from Pete Woods, in the story Lost, he has seen him go up against the League, who have unfortunately seen their orbiting satellite crash down into his nation. Or the nation is is claiming, anyway.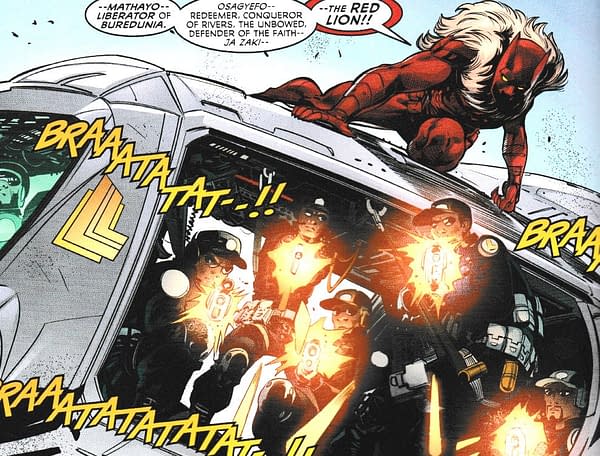 Who are very much not Wakanda. And prefer machine guns to sonic weaponry and armoured rhinoceroses. And have the Justice League caught up in the middle of a civil war, with no idea which side to take. And a Red Lion taking advantage of their confusion, equivocation and attempts to do the right thing. And a Wonder Woman adept at dodging bullets.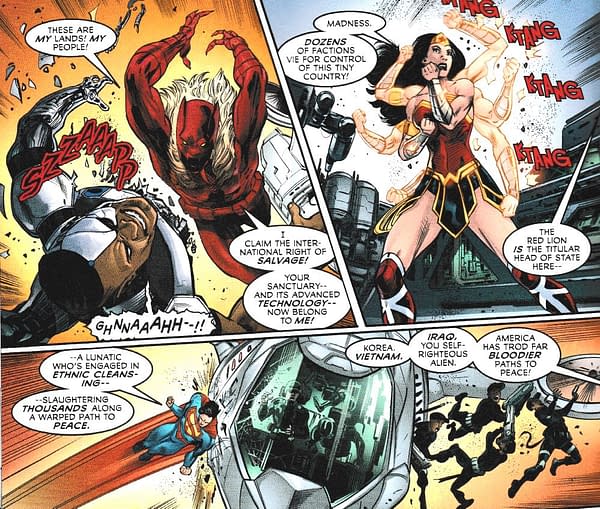 With international law clashing with morality, and Leaguer clashing with Leaguer, the battle is occurring on any more levels than who hits who. With guns and super powers going off in every direction…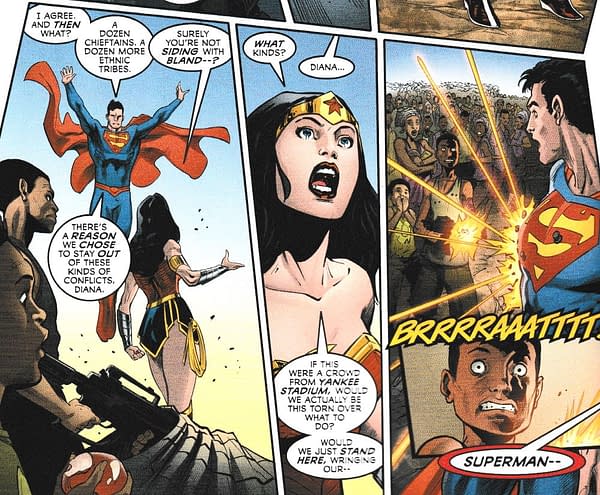 it's only a matter of time before mistakes are made.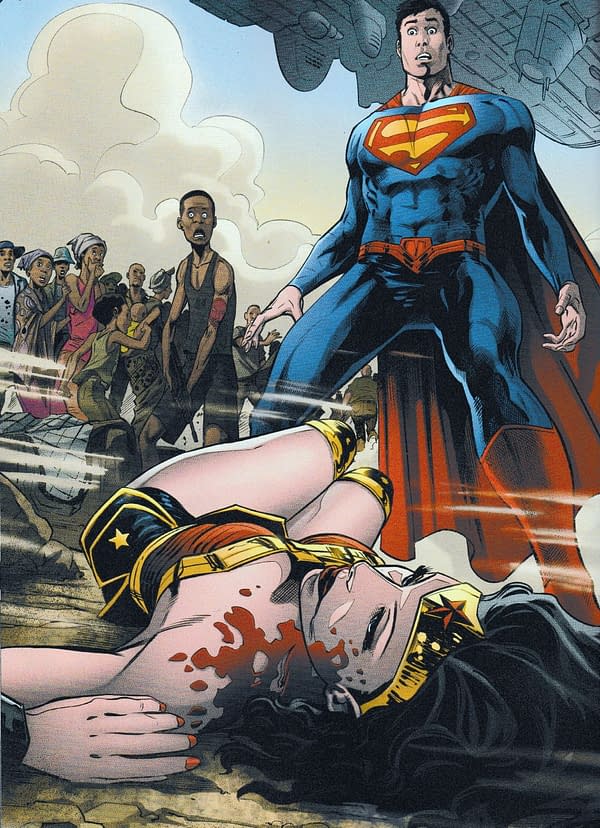 Justice League, folks. Currently the best superhero comic book being published on the planet. As much as I enjoy the writing of Scott Snyder, taking over the comic and relaunching it in June, it is a crying shame that this means Priest will drop off.
Imagine if the Justice League movie had been this interesting and well thought through? Or, even, sacrilege, Black Panther? If you needed prima facia evidence that the comics can be so much better than the films, here you go.
JUSTICE LEAGUE #41
(W) Christopher Priest (A) Philippe Briones (CA) David Yardin
"JUSTICE LOST" part three! What does justice mean in a lawless world? This is the question the team must struggle with when the League finds itself trapped between warring factions, helpless refugees and mercenaries with advanced weaponry, all manipulated by Deathstroke's frenemy the Red Lion. Meanwhile, Batman forces a showdown between himself and the League's biggest fan.In Shops: Mar 21, 2018
SRP: $2.99