Marvel Unlimited is a great service that lets readers enjoy over 20,000 comics from Marvel's back catalog, and there are a lot of great comics in that catalog. One of the perks of the service is access to read all of Marvel's recently comics on a time-delay, available months after they're released. But that's not what really gets us excited about Marvel Unlimited. What we wait for each month is a listing of the recently digitized comics from the past that Marvel is making available on the service, often including hidden gems or other interesting stuff we might not have read the first time around.
March sees another batch of older comics added to Marvel Unlimited. First up are some classic issues of Captain Marvel, just in time for the movie release. Unfortunately, this comics do not feature the Captain Marvel moviegoers will see in the film. These are from the 1968 Captain Marvel series, Captain Marvel #47-62, which means they star the original Captain Marvel, Marv-Vell, not Carol Danvers, who spent decades as Ms. Marvel before taking on the Captain Marvel name. But though they may not offer much insight into the highly anticipated film, that doesn't mean they're not worth your time. Scott Edelman writes most of these, with Doug Moench taking over from him in the alter issues. Artists include Al Milgrom, Terry Austin, Pat Broderick, and more. And if you are looking for some Carol Danvers comics to catch up on, Marvel Unlimited is great for that as well.
Also joining Marvel Unlimited's classic collection is X-Men (the 1991 series) #58-61. This fills one of the few remaining gaps in that series, which is great news, because we're still working through a re-read of every X-Men comic ever published. These are written by Scott Lobdell with various artists. The first What If? series (1977) is also getting a few new issues, #40-47. Highlights include "What If Conan the Barbarian Were Stranded in the 20th Century?", "What If Captain America Were Not Revived Until Today?" (today being 1984 though with Marvel's sliding timescale, today Cap's revival took place in like 2001), and "What If Spider-Man's Uncle Ben Had Lived?", which ended that volume, with the series not returning until 5 years later for a second volume. But the biggest addition this month is the 1983 Thing solo series, which sees the first 22 issues of the series added. John Byrne wrote most of these, with Ron Wilson on pencils and inkers and colorists rotating in and out.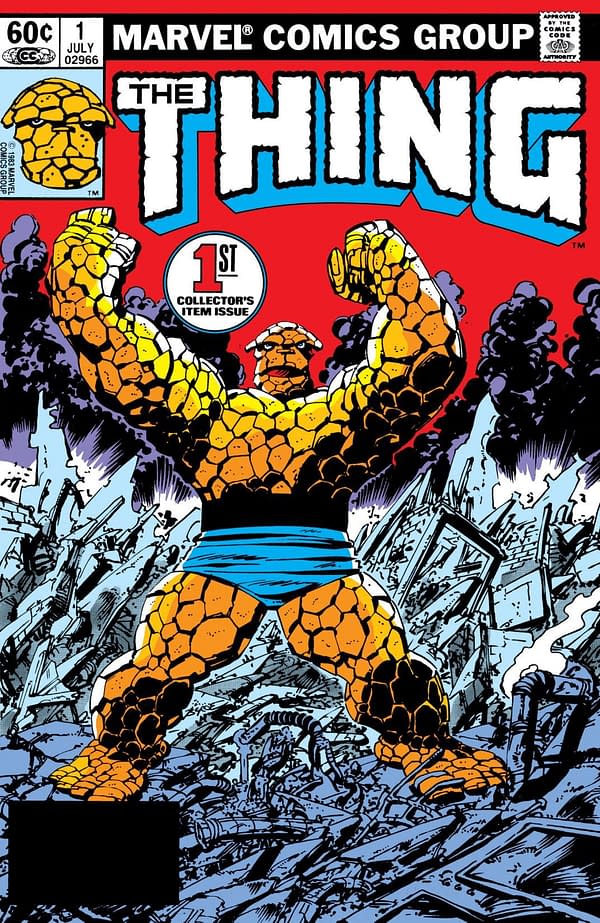 Check out the full list of more recent comics debuting on Marvel Unlimited this month below.
---
WEEK OF 3/4
DAREDEVIL ANNUAL #1
DEADPOOL: ASSASSIN #6 SERIES COMPLETE!
EDGE OF SPIDER-GEDDON #2
EXILES #7
EXTERMINATION #2
FANTASTIC FOUR FACSIMILE EDITION #1
HUNT FOR WOLVERINE: DEAD ENDS #1
JESSICA JONES: MARVEL DIGTIAL ORIGINAL #2
MARVEL 2-IN-ONE #9
MOON KNIGHT #198
MS. MARVEL #33
NEW MUTANTS: DEAD SOULS #6 SERIES COMPLETE!
RUNAWAYS #12
STAR WARS: LANDO – DOUBLE OR NOTHING #4
STAR WARS: POE DAMERON ANNUAL #2
VENOM: FIRST HOST #1
WEB OF VENOM: VE'NAM #1
X-23 #3
X-MEN: BLUE #34
X-MEN: GRAND DESIGN – SECOND GENESIS #2 SERIES COMPLETE!
WEEK OF 3/11
ANT-MAN & THE WASP #5 SERIES COMPLETE!
ASGARDIANS OF THE GALAXY #1
ASTONISHING X-MEN #15
AVENGERS #7
BEN REILLY: SCARLET SPIDER #23
CAPTAIN AMERICA #3
COSMIC GHOST RIDER #3
DEADPOOL #4
DEADPOOL: SECRET AGENT DEADPOOL #1
DEATH OF INHUMANS #3
IMMORTAL HULK #5
OLD MAN LOGAN ANNUAL #1
QUICKSILVER: NO SURRENDER #5 SERIES COMPLETE!
SILVER SURFER ANNUAL #1
SPIDER-MAN/DEADPOOL #38
STAR WARS #53
STAR WARS: DOCTOR APHRA ANNUAL #2
THANOS LEGACY #1
VENOM: FIRST HOST #2
WEAPON X #23
X-MEN: GOLD #35
WEEK OF 3/18
CHAMPIONS #24
DAREDEVIL #608
DARTH VADER #21
DOMINO #6
EXILES #8
FANTASTIC FOUR #2
ICEMAN #1
INFINITY WARS #3
JOURNEY INTO MYSTERY: THE BIRTH OF KRAKOA #1
MARVEL RISING: OMEGA #1
MS. MARVEL #34
OLD MAN LOGAN #47
PETER PARKER: THE SPECTACULAR SPIDER-MAN #309
RUNAWAYS #13
STAR WARS: THE LAST JEDI ADAPTATION #6 SERIES COMPLETE!
THE UNBEATABLE SQUIRREL GIRL #36
VENOM: FIRST HOST #3
WEAPON H #7
X-23 #4
X-MEN: BLUE #35
WEEK OF 3/25
AMAZING SPIDER-MAN ANNUAL #1
AMAZING SPIDER-MAN: RENEW YOUR VOWS #23 SERIES COMPLETE!
AVENGERS #8
CAPTAIN AMERICA ANNUAL #1
CLOAK AND DAGGER: MARVEL DIGTIAL ORIGINAL VOL. 1 #2
DEADPOOL: SECRET AGENT DEADPOOL #2
DOCTOR STRANGE #5
EDGE OF SPIDER-GEDDON #3
IMMORTAL HULK #6
INFINITY WARS: SOLDIER SUPREME #1
LUKE CAGE: MARVEL DIGTIAL ORIGINAL #2
MR. AND MRS. X #3
MULTIPLE MAN #4
RETURN OF WOLVERINE #1
STAR WARS #54
STAR WARS: LANDO – DOUBLE OR NOTHING #5 SERIES COMPLETE!
THE LIFE OF CAPTAIN MARVEL #3
THOR #5
VENOM #6
VENOM: FIRST HOST #4
WEST COAST AVENGERS #2
X-MEN: GOLD #36 SERIES COMPLETE!
Enjoyed this article? Share it!