Diamond Comic Distributors have announced the Best Practice Award categories for the autumn, in which retailers can nominate themselves for a variety of categories, to be voted on by other comic stores.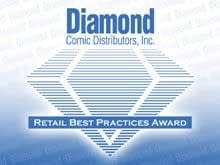 The categories vary each time, and reward a different aspect of comic book retail life. This time the categories are as follows.
Best School/Library Event
Best Facebook
Best Store-Within-Store Concept (café, bar, food, etc.)
Best Graphic Novel Section
If you think any comic store you shop at should be nominated, then tell them. They get creds, an award to add to their name, an actual award to put on a shelf and win credit from Diamond for their backlist of products. Oh, and a mention on Bleeding Cool, both for the nomination and any win! Stores have to send their submissions to Diamond's Retailer Marketing Manager Emily Reely by September 1st with at least one photo/image and an application up to 400 words. The winner will be announced at New York Comic Con.
Good luck!
Enjoyed this article? Share it!