Rod Lamberti of Rodman Comics in Ankeny, Iowa, writes weekly for Bleeding Cool. Find previous columns here.
One of the many things I have learned in the years of owning Rodman Comics is plan ahead. Don't just react, be proactive. In this business there are many things a comic store/game store owner cannot control. I just read that JJ Abrams and his son Henry Abrams' Spider-Man issue 4 is now due out April 8th. It was first scheduled to come out in December. That is a heck of a wait even if it does come out on April 8th. Marvel hyped this limited series before it came out and it is fizzling out quickly. I wish it wasn't the case. I would love to sell a ton of it, with the delays that is not going to happen. This is totally out of my control.

There are many things I can control or at least influence as a store owner.

This year Rodman Comics will hit and celebrate the ten-year mark. October 1st is our actual anniversary though October 3rd is when we will celebrate. Why? Because it is on a Saturday, the best day of the week to have a sale and when the most people can make it in. When we first opened, as I have stated in the past, we did what the other stores did. I failed to chart our own path. I did not look at a calendar and plan out the year. That was a mistake on my part.

I know that thanks to the success of having our first day-after Christmas Rod Deals sale, we will be having another one on December 26th this year. It falls on a Saturday this year which means as long as the weather isn't a bad Iowa winter blast, odds are it will be even better than our last one which was on a Thursday when many people had to go back to work. A Saturday means many more people will have the day off and go out spending money they received for the holidays.

Black Friday on Nov 27th should be a good sales day, though I need to try to make it an even better sales day. Our sales in December beat out our Black Friday sale. An odd fact I need to work on. One that maybe is easily fixed if we simply open up at 6 in the morning. Though a sixteen-hour day or longer may not boost sales enough to justify the extra hours and work. Part of this issue is set up would need to begin on Thanksgiving Day and I would rather spend time with family and have my employees do the same.

March 7th will be our first Rod Deals sale of the year. We are currently working on it now. Our next sale will be on May 2nd. We are working on a new sales day name for the day. Our alternative to Free Comic Book Day what should it be called? I typed up a list of possible names then ran it by some of my employees. Here was the list I typed up. Some were more serious than others.
Don't be Cheap Day
Get Some Great Comics Day
Not Free Comic Book Day
Classic Comic Book Day
Superior Comic Book Day
Fun Comic Day
Not Free Day
Read the Classics Day
Buy a Comic Book Get a Great Comic Book
Most Excellent Comic Day
Incredible Comic Day
Eight Hours of Great Comics
Amazing Day
Back Issues Day
Day of Fun
Collector Day
A Comic Store In Your Future Day – Rich, you cannot sue over it. It has an "A' in front of it!
Rodman Comics Day
8 hours of Fun at Rodman Comics
Feed the Collector
Get Into Comics Day
Day of Fun
Day of Reading
The Day Self Contained Stories Returned to Comics
Buy Comics Day
It was narrowed down to Rodman Comics Day or Get Into Comics Day.
I nixed Get Into Comics Day because I felt it would alienate people already into comics. I want as many people as possible interested in the day. New comic fans and current comic fans. Rodman Comics Day it is! What are the goals of this day? Sell a lot of product of course and to get people to come back, something that for us Free Comic Book Day was not accomplishing. We will have a follow-up sale on May 9th along with a coupon and reason to come back. We are hoping to start a habit for people to come back more than once a year. There is, of course, a lot more to it. Right now, we are promoting our March 7th sale because it comes first literally, then it is all about May 2nd. Though we are working on both.

My only regret is we did not do an alternative day for Free Comic Book Day sooner. Like years sooner.

Along the way during the year will be Magic the Gathering's pre-releases. The next one will be in April. Those days are not flexible though come April I do not have to worry about winter weather hurting turn out. I will be trying to figure out how to promote them better.

Ten years of Rodman Comics means I need to think of something "big" and unique for the day to help celebrate in October. One of the first things I bought for the store was a sign to put up in the window announcing that Rodman Comics was opening on October 1st. I was told the sign would most likely fade out due to the sun. Over the years I have put it back up in the window to help announce upcoming anniversaries and it is still looking pretty good. One of the best purchases the store ever did. I never imagined that it would be going up for the store's 10th anniversary!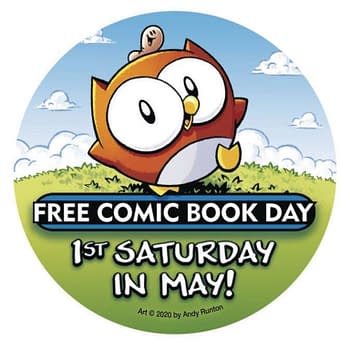 Enjoyed this article? Share it!