Rod Lamberti of Rodman Comics writes weekly for Bleeding Cool. Find previous columns here.
I already knew this, though it was recently published in our newspaper, that Wizard World is not returning this year to Des Moines. I wish it could have. Wizards World (Entertainment Inc. now) did get a lot of online hate which I do not understand. If one feels the price is too high or not worth it simple do not go. No one is forcing people to go. I would like a nice new Corvette though they are out of my price range. Doesn't mean I feel like I should demand online that they lower their price or change just because I would like one. In the future I might get a Corvette from the 1970s instead because they are a lot cheaper to buy and afford. Even then that is a big "might".
Wizard World when it was in Des Moines brought more awareness to comics. More so than the various comic book based movies do. Though in a sign of the way thing are now the Des Moines Wizard World show at times was lacking actual comic books. I was amazed at the first one they had that our sales of comic books were really good because most of the other vendors there were non comic book vendors. We did not go to the second one. Wizard World had a great first year guest list and the second one was not nearly as good. To be truthful in my humble opinion they went full out the first year and spoiled everyone. I enjoyed the first one and did not go to the second due to my lack of interest of the second year guest list.
Thanks to Wizard World being in Des Moines I was able to meet Mike Grell and get a Green Arrow commission drawn by him. I also met Buzz whose art on JSA I really enjoyed and he was also kind enough to do a Green Arrow commission for me. I was able to talk to Buzz for a bit. I hope one day Buzz gets to team up with Geoff Johns again on a JSA project.
I sadly did not get a Stan Lee autograph when he was at Wizard World. I was working our booth and did not want to leave it even though I had another person there at all times. To be truthful another reason I did not get his autograph is I was too cheap. He had a heck of a line going. He did not need to lower his prices that was for sure.
So why the lack of comic books at an actual comic con? I can only speak for myself when I say this my reasons for not doing many comic cons is because often they are not worth it for us. Not trying to be rude, just honest. The time and effort could be used for other things. The cost to rent a booth at Wizard World eats up a lot of the product sold. The internet makes it so I can sell material without a table cost. Often people want comics for a dollar each or even fifty cents. That for us is not worth the cost of a table. If I need to blow out stock I can do so online without the extra time and money used. Bringing high value comics to comic shows is a risk I am not willing to take. Throwing a sheet over a table and hoping no one takes a comic or comics is not what I want to do.
When I first started selling comics there were gatherings of various different vendors at malls or at rented space and it was great for me. The internet changed all that. I am not trying to make the internet sound evil, it just changed things. Instead of going out and buying something that might have taken months or even years to find people could just do a search online and look for the cheapest offering of what they were looking for.
The internet is great for finding things. We sell online. Why have a fifty dollar magic card sit in our glass case when we can sell it before it drops in value? Newer comics going for a good price often find a home thanks to someone online buying from us. Why hold on to a comic that is going for $50 or more until it drops when a quick sale online will move it?
As I have stated before I would like to at least try one day putting together a comic convention. One that features comics. Not wrestlers, not one that has more movie stars than actual comic book stars, an honest to goodness comic convention. Yes, it could fail spectacularly. There is a reason comic conventions have so many non-related comic book guests, to draw in people who are not interested in comics.
Comic books also need to up their quality over all. There are so many past series in the last few years that people just do not care about. If the publishers could make comics highly popular that would help attendance at comic cons also.
Wizard World might return to Des Moines, Iowa in 2020. Hopefully they do and if they do it will be a hit for them and for comic fans.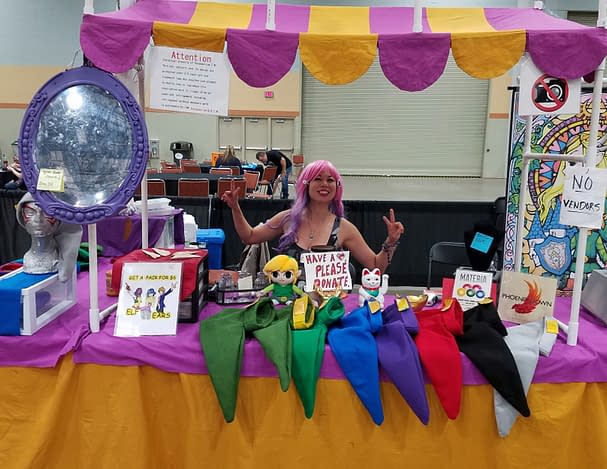 Enjoyed this article? Share it!