DC Comics are making DC Nation #0, out the Wednesday before Free Comic Book Day for 25 cents, available for store customisation. Those who order 5000 copies or more (which is actually achievable for quite a few places at that price point) get to have their store's details, offers and sales printed on the back and their logo on the front.
At that price, it's probably cheaper than printing your own store leaflets. And you get a comic with it. Here's an example.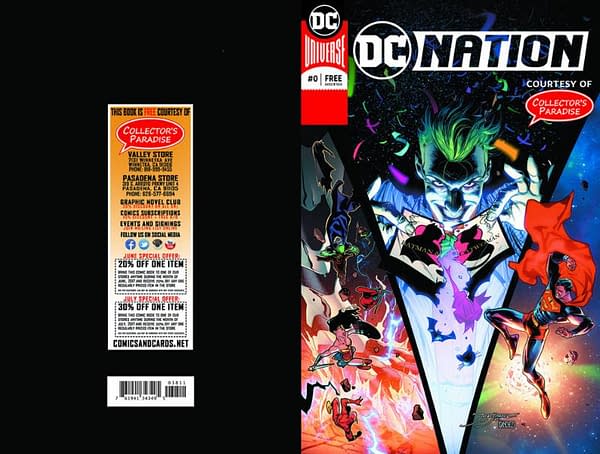 Keen Bleeding Cool readers will recognise Collector's Paradise on there. But it could be your store. The comics can be sold, given away, or even included in local press, bagged or stitched in as a promotional item. Interested retailers should contact DC Comics.
Just in time for Free Comic Book Day, DC NATION #0 features three brand-new stories from a lineup of superstar talent — and each tale serves as a prelude to some of the biggest DC events of 2018!

These three brand-new tales begin as readers learn how The Joker reacts when he discovers Catwoman has turned her back on crime and plans to marry his archnemesis. Can the Clown Prince of Crime stand to see Batman happy? Writer Tom King and artist Clay Mann set up the events that lead to BATMAN #50!

Then, DARK NIGHTS: METAL shook the DC Universe to its deepest foundations — now it's time to rejoin legendary writer Scott Snyder, along with all-star artist Jorge Jimenez and co-writers James Tynion IV and Joshua Williamson, for the prelude to JUSTICE LEAGUE: NO JUSTICE! Discover what universe-shattering mysteries have emerged from the most wondrous and chaotic corners of the cosmos to hunt the Justice League in DC's summer blockbuster event!

And get your first glimpse at Superman's new world in this exclusive preview of the upcoming six-issue miniseries MAN OF STEEL, written by Brian Michael Bendis with art by Jose Luis Garcia-Lopez. With Truth, Justice and the American Way all under attack, both Superman and Clark Kent find there's never been a more important time to stand up for what they believe in.
Enjoyed this article? Share it!