Comics & Complication – Propaganda for Social Movements
Time for another edition of Comics & Complication. In the first article, we dug into JLA: The Nail and the concept of heroism and in the second we looked at World War Hulk and the idea of anger. This week, we're looking at how propaganda in comics can be used to influence social movements. Superman entered World War II before the Americans did, appearing on the front lines as early as 1939, even preceding Pearl Harbor. After he single-handedly demolished the Siegfried line, he delivered Hitler and Stalin to the League of Nations in Geneva. Jerry Siegel and Joe Shuster successfully delivered astute commentary on what was occurring during the Holocaust by having Superman square up with Hitler and state, "I'd like to land a strictly non-Aryan sock on your Jaw." It was a massive piece of propaganda for a social movement in mainstream comics.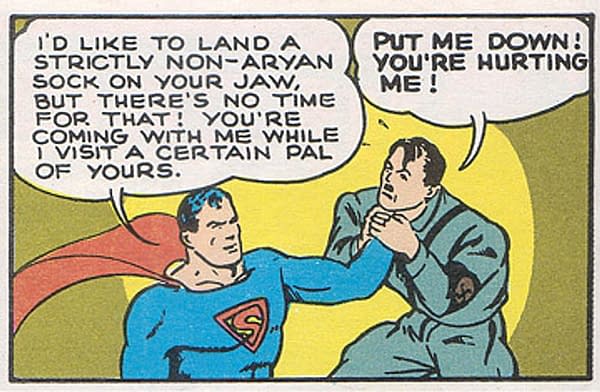 Other Comics Follow Suit With Propaganda Storylines
It didn't take long for other comic creators to follow suit, and soon a plethora of storylines and heroes appeared to stand toe to toe with the füher himself. Captain America appeared at the forefront of these artistic battles, but even Disney had Donald Duck gracing movie posters where he threw tomatoes at Hitler's face with commendable accuracy for a being with only four fingers and no pants.
So successful was this effort from comic creators that sales actually boomed during the war. The humiliation of the Third Reich was not lost on those in Hitler's regime. In his book about comic books and propaganda, Fredrik Strömberg notes that Joseph Goebbels (Hitler's Nazi minister for Propaganda), allegedly cried out that Superman was a Jew. Goebbels even sent these America comics to Hitler himself, and one can only hope that he saw himself humiliated at the hands of this so-called Jewish superhero.
It was important for comics to represent the culture of the United States at that time, especially in curbing more effort and support in the war. Unfortunately, there are fewer heroes at the forefront for current discourse in the status quo but some creators are stepping up to the plate to change that. Writer Gail Simone recently fundraised over $230,000 for the Black Lives Matter movement, with notable industry favorites suck as Tim Sale and Jim Lee contributing to the cause. With racial tensions currently resulting in riots and violence, comic creators and fans once again gravitate towards the cause with the support of heroes who stand against systemic oppression and bigotry.
If you are curious about any comic creations pertaining to our current political climate, please refer to this reading list compiled by the Black Caucus American Library Association and American Library Association available here.
How You Can Help
The protests against police brutality now span the entire globe and there are many ways you can get involved. You can go out and peacefully protest if you want. You can also donate to numerous organizations that are doing a lot of good work for the cause. Here is a list of just some of them:
Over at AfroTech, there is a great list of five apps that can help you find black businesses to help support in these trying times. The rest of us should be supporting, protecting, and lifting up our black friends, family, colleagues, and total strangers whenever we possibly can.