Bambos Georgiou is one of the longstanding grandees of the British comic book industry. Having used comics to teach himself English, he travelled from Greece to London where he worked as editor, writer, penciller, inker, colourist, whatever was needed for the eighties and nineties British comic book scene, which included a staff job at Marvel UK, and freelance work on Spider-Man, Doctor Who, Rugrats, Penthouse Comix, James Bond Jr, Wallace and Gromit, Transformers, Deadline, Judge Dredd, Sleeze Brothers (where I first saw his name), Anno Dracula, A1, Knights Of Pendragon, Death's Head, Overkill and so much more – as well his creator-owned work such as Alpha Pets.
He also founded the digital comics weekly anthologyAces Weekly with David Lloyd. And is now offering a collection of his graphic novel collecting some of that work, Slash Moron through Indiegogo.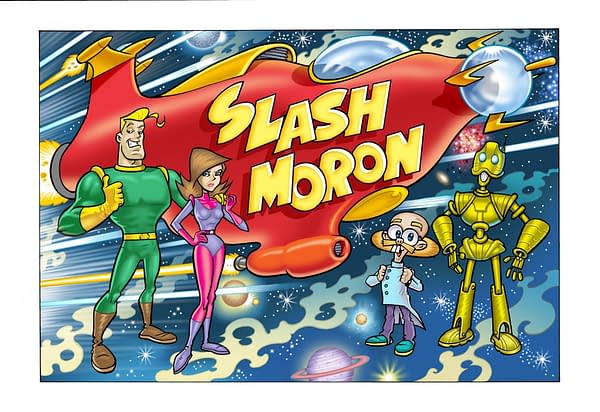 "When the Wallace & Gromit comic strip ended in The Sun," explains Bambos, "I really wanted to keep working with James Hansen, John Burns and Mychailo Kazybrid. David Lloyd and I had just launched Aces Weekly so I managed to convince the guys to work on new strips with me for the new online comic."
"Jim and John joined me for Slash Moron, a science fiction adventure parody in a Flash Gordon vein, while Mychailo and I teamed up to produce an occult detective called Dr Queer, focusing on the different use of language in Victorian Britain."
The Slash Moron graphic novel is limited to an already printed 300 copies, only 250 of which are being made available through Indiegogo. This edition will not be re-printed so this is a one time offer.
Bambos reveals that "Between the three of us on Slash Moron we've worked for just about all the major comic book companies out there. Jim and John go all the way back to the Fleetway art department, where they met. Jim left his position to become a freelance artist and drew Buster, son of Andy Capp and later Dennis the Menace, while John contributed art amends to strips reprinted in Lion, turning The Comet's Buffalo Bill into Lion's Texas Jack, as well as drawing a complete episode of The Spider to offer a shortened ending to The Spider vs Spider Boy storyline."
Bambos adds "What with our work in comics, newspapers and puzzle books I recently realised that we three have been in British newsagents for over thirty years. That's a hell of a good run."
"Sadly Jim Hansen passed away after the third instalment of Slash Moron and I can say that he was one of the best artists I ever inked. Thankfully this book is creator-owned and Jim's copyright lasts for 70 years after his death, so Jim's family will receive his royalties as normal. That's not an act of charity that's just how things work in the real world, or rather how they should work."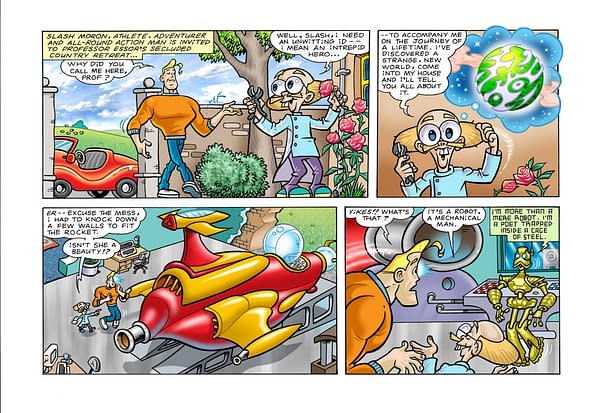 Bambos decided upon Indiegogo as the platform for Slash Moron rather than Kickstarter as he explains; "Coming from a publishing background I prefer projects to be definite, I felt uneasy with the Kickstarter on/off approach to projects. I'm not saying that's not a route we might go down in the future, but at the moment the Flexible Funding available at Indiegogo seems better for a Limited Edition. A fixed number of books with those pledging money guaranteed of a low print run collector's item, pretty much certain to climb in value."
"Hopefully people will be attracted to the fantasy and humour of Slash Moron and give it a go. Jim's wonderful drawing and John's lush colouring are beautiful, and my inking even stands up quite well. I think it's a fitting testament to what three seasoned professionals are capable of when they can just cut loose."
Enjoyed this article? Share it!