Read Hero Killers #1 Free for Last Call on Dynamite's 2017 Blockbuster Holiday Bundle
It's last call for Dynamite's special 2017 Blockbuster Holiday bundle with Groupees that has multiple tiers to entice readers. It starts with a free level that has five digital comics including the one below, but where it's low res here, the one in the bundle is high res.
As the tiers go up, the bundle adds more and more until the top tier includes 77 digital comics, three limited edition comics, a bust based on the work of Arthur Adams, a Vampirella statue, and more. And a percentage of the proceeds goes to the Comic Book Legal Defense Fund. But there is just over a day left to get it.
And to go with the last call we have Project Superpowers: Hero Killers #1 by Ryan Browne and Pete Woods cover by Woods:
Welcome to Libertyville U.S.A.! Home of too damn many superheroes!
Watch out, crime, here comes Captain Battle Jr.! And Sparky! And Tim! Yeah, you know…Tim! What? You've never heard of them? Huh. Well, it's hard to be a sidekick when there is a city full of capes running around stopping every misdemeanor with a spandex wrapped flourish. Now watch as things get weird when three lad companions (totally not weird) try to get to the criminals before their bosses do!
From the insanity-riddled minds of Ryan Browne (God Hates Astronauts) and Pete Woods (Robin, Deadpool). Prepare to feel the wrath of Tim!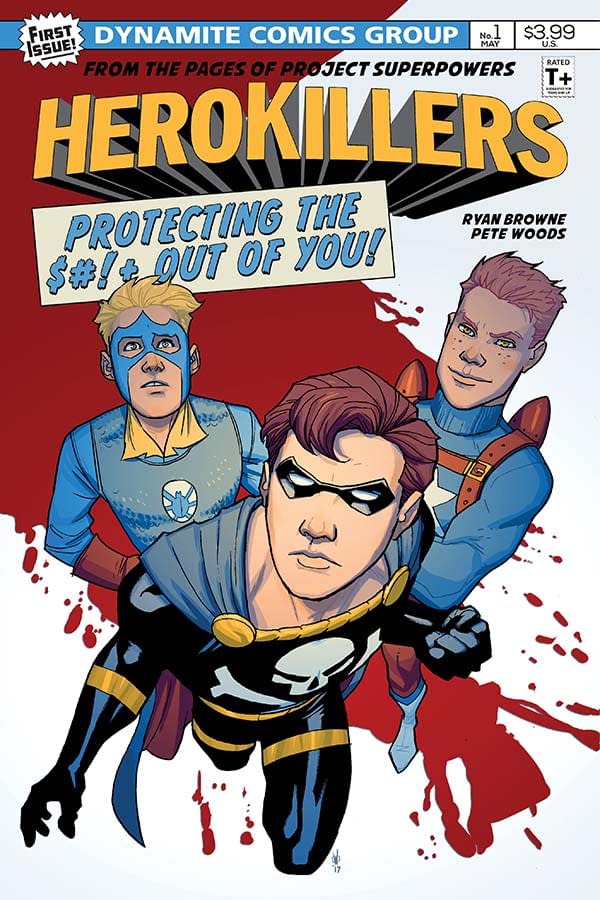 You can see more of the Groupees bundle here. And you can read the Red Sonja vol 4 #0 issue from yesterday here, The Sovereigns #0 here, Sheena: Queen of the Jungle #0 here and Bettie Page #1 here.