We mentioned that DC Comics was doing midnight launches in comic stores for the release of Detective Comics #1000.
Then that Marvel Comics told retailers that they could sell Marvel Comics from that time as, beating the usual agreed sale date.
And now Diamond Comic Distributors have told retailers that all titles out that Wednesday can be sold from Tuesday midnight. If you're out and about, that is.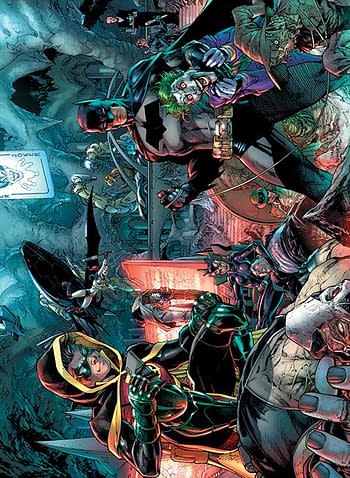 Here's the run down so far, for Tuesday March 26th midnight….
BOOM! STUDIOS
ADVENTURE TIME SEASON 11 #6
AVANT-GUARDS #3
BONE PARISH #8
CODA #10
JIM HENSON BENEATH DARK CRYSTAL #8
JIM HENSON LABYRINTH CORONATION #12
MIGHTY MORPHIN POWER RANGERS #37
PLANET OF THE APES WHEN WORLDS COLLIDE TP
WWE WRESTLEMANIA 2019 SPECIAL #1
JIM HENSON BENEATH DARK CRYSTAL HC VOL 01
LUMBERJANES TP VOL 11
DARK HORSE COMICS
ANTHEM JOURNAL
BAD LUCK CHUCK #1
BLACK HAMMER AGE OF DOOM #9
CRIMSON LOTUS #5
DISNEY DUMBO (LIVE ACTION) FRIENDS IN HIGH PLACES TP VOL 01
DRAGON AGE DECEPTION HC
FIGHT CLUB 3 #3
GOT PLAYING CARDS
HELLBOY AND BPRD 1956 #5
HELLBOY JOURNAL
HOUSE OF PENANCE LIBRARY EDITION HC
MASK OMNIBUS TP VOL 01
MIDDLE-EARTH HC JOURNEYS IN MYTH AND LEGEND
MIND MGMT OMNIBUS TP VOL 01 MANAGER AND FUTURIST PART 1
TOM CLANCYS DIVISION EXTREMIS MALIS #3
UMBRELLA ACADEMY HOTEL OBLIVION #6
UMBRELLA ACADEMY JOURNAL
WAR BEARS HC
WILLIAM GIBSON ALIEN 3 #5
DC COMICS
ACTION COMICS #1009
BATGIRL #33
BATGIRL THE BRONZE AGE OMNIBUS HC VOL 02
BATMAN BEYOND #30
BOOKS OF MAGIC #6 (MR)
DETECTIVE COMICS #1000
DIAL H FOR HERO #1
FLASH #67
FLASH TP VOL 09 RECKONING FORCES
FREEDOM FIGHTERS #4
GODDESS MODE #4 (MR)
HARLEY QUINN TP VOL 02 HARLEY DESTROYS THE UNIVERSE
HEROES IN CRISIS #7
HEX WIVES #6 (MR)
JUSTICE LEAGUE ODYSSEY #7
LOONEY TUNES #248
MARTIAN MANHUNTER #4
MERA TIDEBREAKER TP DC INK
SANDMAN OMNIBUS HC VOL 03 (MR)
SCOOBY DOO TEAM UP #47
SHAZAM #4
SILENCER #15
SUPER SONS THE POLARSHIELD PROJECT TP DC ZOOM
TERRIFICS #14
WONDER WOMAN #67
DYNAMITE ENTERTAINMENT
CHARLIES ANGELS TP VOL 01
CRACKDOWN #2
PETER CANNON THUNDERBOLT #3
RED SONJA BALLAD RED GODDESS HC
SHEENA QUEEN OF THE JUNGLE TP VOL 02
30 DAYS OF NIGHT 100 PAGE GIANT
DISNEY COMICS AND STORIES #4
DUCKTALES #19
FEMME MAGNIFIQUE 10 MAGNIFICENT WOMEN CHANGED WORLD
GI JOE SIERRA MUERTE #2
GLOW #1
GO-BOTS #5
MAGIC THE GATHERING CHANDRA #2
MARVEL ACTION BLACK PANTHER #1
PUNKS NOT DEAD LONDON CALLING #2
RICK & MORTY VS DUNGEONS & DRAGONS DIR CUT #1
STAR WARS SOLO GN
SYNERGY HASBRO CREATORS SHOWCASE
TMNT RISE OF THE TMNT TP VOL 01
TMNT URBAN LEGENDS #11 CVR A FOSCO
TRANSFORMERS #2 CVR A DANIEL
WALT DISNEY DONALD DUCK NEWSPAPER COMICS HC VOL 05
IMAGE COMICS
BARRIER LIMITED ED SLIPCASE (EMPTY) (MR)
BARRIER LIMITED ED SLIPCASE SET (MR)
BLACK SCIENCE #39
HARDCORE #4 (MR)
ICE CREAM MAN #11
ISOLA #7
MAN-EATERS #7
OUTCAST BY KIRKMAN & AZACETA #40
REALM #12
SHARKEY BOUNTY HUNTER #2
SKYWARD #11
SNOTGIRL #13
SPAWN #295
SUNSTONE COLLAR PIN
SUNSTONE HANDS PIN
WITCHBLADE GAUNTLET PIN
MARVEL COMICS
AGE OF X-MAN X-TREMISTS #2
AMAZING SPIDER-MAN #18
ASGARDIANS OF THE GALAXY TP VOL 01 INFINITY ARMADA
AVENGERS NO ROAD HOME #7
BLACK PANTHER #10
BLACK WIDOW #3
CLOAK AND DAGGER MPGN TP NEGATIVE EXPOSURE
COLOR YOUR OWN AVENGERS 2 TP EARTHS MIGHTIEST HEROES
DAREDEVIL #3
DEADPOOL MINIBUS 3 HC
DOCTOR STRANGE #12
FANTASTIC FOUR #8
HULKVERINES #2
IMMORTAL HULK #1 4TH PTG
INCREDIBLE HULK #181 FACSIMILE EDITION
INVADERS #3
IRONHEART #4
MARVEL COMICS PRESENTS #3
MARVEL KNIGHTS FANTASTIC FOUR TP COMPLETE COLLECTION VOL 01
MARVEL PREVIEWS VOL 04 #21 APRIL 2019 EXTRAS
MARVEL RISING #1
MARVEL UNIVERSE SUPER HEROES TP MUSEUM EXHIBIT GUIDE
MOON GIRL AND DEVIL DINOSAUR #41
MR AND MRS X #9
MS MARVEL TP VOL 10 TIME AND AGAIN
SAVAGE SWORD OF CONAN #1 2ND PTG GARNEY VAR
SECRET AVENGERS BY REMENDER TP COMPLETE COLLECTION
SGT FURY EPIC COLLECTION TP HOWLING COMMANDOS
SPIDER-MAN DEADPOOL #48
SPIDER-MAN FAR FROM HOME PRELUDE #1
SPIDER-MAN TP NEW WAYS TO LIVE
STAR WARS DOCTOR APHRA #30
STAR WARS VADER DARK VISIONS #2
SUPERIOR SPIDER-MAN #4
THANOS WARS INFINITY ORIGIN OMNIBUS HC
WAR OF REALMS MAGAZINE (BUNDLE OF 25)
WEAPON H TP VOL 02 WAR FOR WEIRDWORLD
WHAT IF? WITH GREAT POWER TP
X-FORCE #5
DYNAMIC FORCES
DF BATMAN WHO LAUGHS GRIM KNIGHT #1 GOLD SGN SNYDER
DF BATMAN WHO LAUGHS GRIM KNIGHT #1 SGN SNYDER
DF BATMAN WHO LAUGHS GRIM KNIGHT #1 SGN TYNION IV
DF DETECTIVE COMICS #1000 1980S MILLER VAR SGN MILLER
DF DETECTIVE COMICS #1000 1990S TIM SALE VAR SGN SALE
DF DETECTIVE COMICS #1000 2000S JOCK VAR SGN JOCK
DF DETECTIVE COMICS #1000 2010S CAPULLO VAR GOLD SGN CAPULLO
DF DETECTIVE COMICS #1000 2010S CAPULLO VAR SGN CAPULLO
DF DETECTIVE COMICS #1000 GOLD SGN SCOTT SNYDER
DF DETECTIVE COMICS #1000 GOLD SGN TOM KING
DF DETECTIVE COMICS #1000 GOLD SGN TOMASI
DF DETECTIVE COMICS #1000 LEE VAR GOLD SGN JIM LEE
DF DETECTIVE COMICS #1000 LEE VAR GOLD SGN WILLIAMS
DF DETECTIVE COMICS #1000 SGN SCOTT SNYDER
DF DETECTIVE COMICS #1000 SGN TOM KING
DF X-MEN #1 FOUR BOOK FOIL SET SGN JIM LEE
DIAMOND SELECT TOYS LLC
DC GALLERY METAL RED DEATH PVC FIGURE
DC GALLERY SUPERGIRL COMIC PVC FIGURE
KINGDOM HEARTS 3 SELECT MALEFICENT & SORA AF
MARVEL MILESTONES AVENGERS 3 THANOS STATUE
MARVEL MILESTONES THOR RAGNAROK GLADIATOR THOR STATUE
MARVEL PREMIERE HOBGOBLIN STATUE
PACIFIC RIM GALLERY GYPSY AVENGER PVC FIGURE
SW COLLECTORS GALLERY HAN SOLO CARBONITE 8IN STATUE
SW LAST JEDI PORG BOOKENDS
Enjoyed this article? Share it!