ComicsPRO: Robert Kirkman & Lorenzo De Felici's New Comic Void Rivals
Skybound announced Void Rivals #1, the first issue of a new shared universe series beginning in June from Robert Kirkman and Lorenzo De Felici.
---
Skybound Entertainment concluded their first-ever ComicsPRO presentation by saving the best for last, as Morgan Perry (Brand Manager) from Skybound announced Void Rivals #1, the debut issue of an all-new series beginning in June from Robert Kirkman and Lorenzo De Felici, AKA the team behind the series Oblivion Song.
And while there's no news on Jake Gyllenhaal following them to this series, we do know this – Void Rivals apparently launches a "new shared universe" for Skybound.
While we have some thoughts on what that might mean (you can't be surprised I'm going to make you read another article in the future to find out), one thing we know all too well is that there may be no creator who's more of a sure thing to launch a new series than Kirkman – and his star has only grown in recent years, with Amazon's Invincible series driving record numbers of new readers to comics.
Perry pitched Void Rivals as for fans of Saga and Star Wars, further describing the series as focusing on the survivors of two warring societies fighting for survival on the rim of a black hole. Two opposing pilots will crash on a planet and discover a threat to the entire universe, so they'll have to work together or doom the galaxy (we're guessing we get a bit of both).
Void Rivals sounds like it has all the makings of Image, Skybound and Kirkman's next big hit – and we're sure the hype machine from all three will give us lots to talk about before the series debut in June.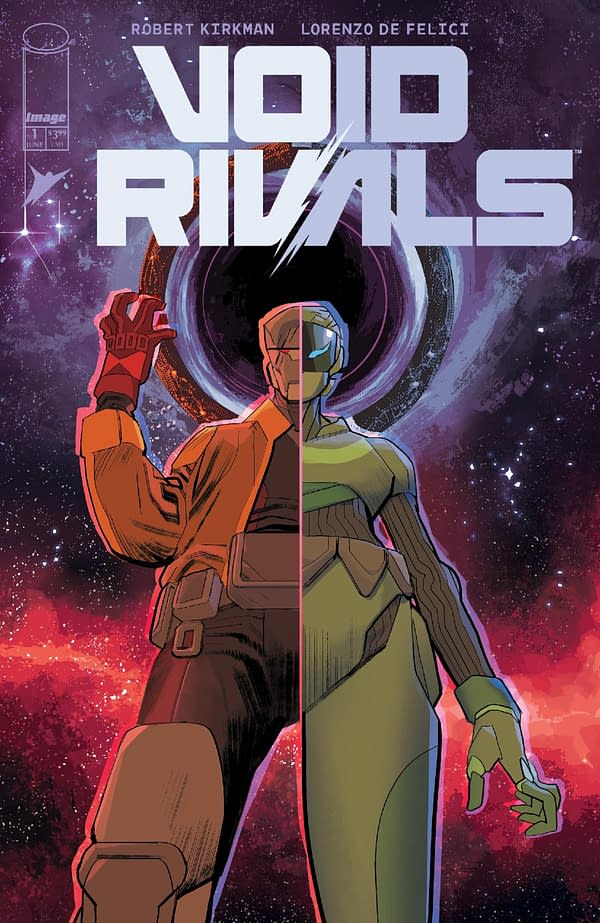 Skybound Entertainment is an multiplatform entertainment company founded by Robert Kirkman and David Alpert, best known for the comic book The Walking Dead, as well as it's TV, movie, gaming, novels and merchandise spinoffs. Other prominent titles from Kirkman and his co-creators, published through Image Comics of which Kirkman is a partner, include Super Dinosaur, Oblivion Song, Fire Power, Invincible and Outcast. More recently, the Skybound Comet brand has been publishing graphic novels meant for YA and Middle Grade readers, including Walking Dead spinoff title Clementine by Tillie Walden, Everyday Hero Machine Boy by Tri Vuong and Irma Kniivila and Sea Serpent's Heir by Mairghread Scott and Pablo Tunica. Skybound's new film Renfield, a horror-comedy film starring Nicolas Cage, Nicholas Hoult and Awkwafina, is set to premiere on the 14th of April.