ComiXology is the leading English-language digital comic book seller in the marketplace, and its sales follows many of the patterns of the comic book shop. But it has its own favourites as well for the digital audience, especially exclusive-to-digital titles, or titles aligned with digital licenses. Here are the top 25 sellers for this week, with sales based on the last couple of days. It is estimated that digital sales are from 10-15% of print sales, though this will vary from title to title.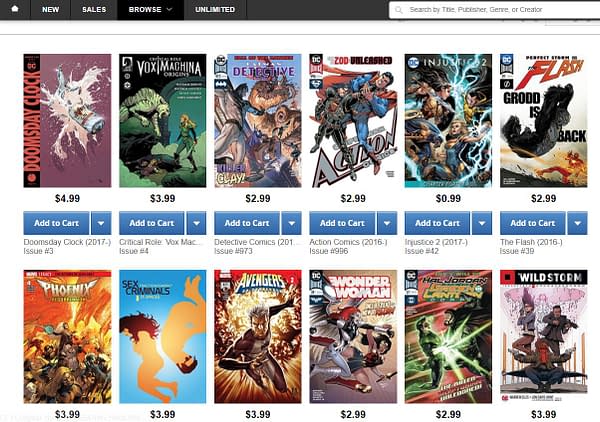 This week has Doomsday Clock at the top, beating out a game tie-in comics from Dark Horse that wouldn't feature in the top 100 in the direct market. DC continues to do well through the chart, especially with a digital-first title in Injustice 2, and there are strong performances for this market by Sex Criminals and Wild Storm. There are those who have questioned DC's commitment to continuing to publish the Wildstorm books with less-than-impressive print sales. This may be a reason why…
Doomsday Clock #3
Critical Role: Vox Machina Origins #4
Detective Comics #973
Action Comics  #996
Injustice 2 #42
The Flash #39
Phoenix Resurrection: The Return Of Jean Grey (2017-2018) #4 (of 5)
Sex Criminals #21
Avengers #677
Wonder Woman #39
Hal Jordan and The Green Lantern Corps (2016-) #37
The Wild Storm #11
Amazing Spider-Man #794
X-Men Blue  #20
Teen Titans #16
Marvel Two-In-One #2
Black Panther #169
X-Men Blue  Annual #1
Monstress #13
Southern Bastards #19
Star Wars: Poe Dameron #23
Nightwing: The New Order #6
Thanos  #15
Justice League of America #23
Batgirl #19
The Bleeding Cool Bestseller List collating sales reports from comic book retailers will run on Sunday.
Enjoyed this article? Share it!