Matthew Snyder writes for Bleeding Cool,
Welcome to the ComiXology Bestseller list, your guide to see how well your favorite titles are selling digitally. Every week I'll post the ranking of every new title, plus a ranking of the best selling volumes & graphic novels. As always, I hope you find it interesting and informative.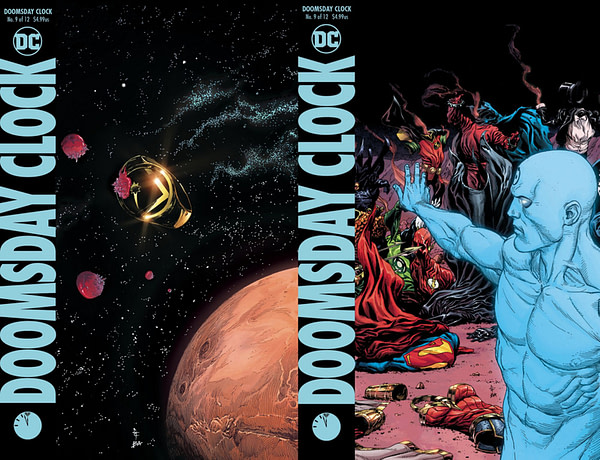 Doomsday Clock #9 is finally here after 3 long months, and just like December, it takes the top spot over The Walking Dead. This is only the third time The Walking Dead has failed to take the No. 1 spot. The  only thing that can beat TWD is Doomsday Clock and Batweddings. So if Doomsday Clock avoids another first week of a month, Tom King's Batman ends the way I hope it will, I predict the next time The Walking Dead will lose the top spot will be in August 2020, against Batman #100.
It appears the constant delays haven't hurt Doomsday Clock at all. On the contrary, they seem to have only increased the hype. The "unauthorized sequel" leads the way for 5-4-1 DC victory over Marvel and Image.
Anyways, this was a loaded week at the top. It was so crowded, Star Wars was knocked out of the Top 10 for the first time. But once you get lower down on the list, everything seems to get back to normal. In fact, I can't find many major  boosts or declines for any book. Female Furies dropped 7 spots and Deadly Class looks like it's slowly inching its way up the rankings, but that's about it. So I'm going to sneak off early to catch Captain Marvel, but come back next week to see how Detective Comics #1000 does. And I'll have a special guest star….
#bringbackblade
Top 25 Overall:
Doomsday Clock #9
The Walking Dead #189
Batman #66
Justice League #19
Young Justice #3
Uncanny X-Men #13
Green Lantern #5
Avengers #16
Amazing Spider-Man #16.HU
Immortal Hulk #14
Star Wars #62
Die #4
Paper Girls #26
Heroes in Crisis #6
Star Wars: Vader- Dark Visions #1
Age of X-Man: Prisoner X #1
Conan the Barbarian #4
Avengers: No Road Home #4
Adventures of the Super Sons #8
The Life of Captain Marvel (67% off)
Champions #3
The Dreaming #7
Deadly Class #37
Star Wars: Age of Republic- Padme Amidala #1
Green Arrow #50
New Issue Rankings:
Doomsday Clock #9
The Walking Dead #189
Batman #66
Justice League #19
Young Justice #3
Uncanny X-Men #13
Green Lantern #5
Avengers #16
Amazing Spider-Man #16.HU
Immortal Hulk #14
Star Wars #62
Die #4
Paper Girls #26
Star Wars: Vader- Dark Visions #1
Age of X-Man: Prisoner X #1
Conan the Barbarian #4
Avengers: No Road Home #4
Adventures of the Super Sons #8
Champions #3
The Dreaming #7
Deadly Class #37
Star Wars: Age of Republic- Padme Amidala #1
Green Arrow #50
Cosmic Ghost Rider Destroys Marvel History #1
Giant Days #48
Deathstroke #41
Female Furies #2
Deadpool #10
Domino: Hotshots #1
Black Hammer '45: From the World of Black Hammer #1
Black Order #5
Robotech #18
Cemetery Beach #7
Meet the Skrulls #1
Harley Quinn #59
A Walk Through Hell #8
Unnatural #8
Doctor Who: The Thirteenth Doctor #5
Red Sonja #2
Killmonger #5
Ronin Island #1
The Curse of Brimstone #12
The Six Million Dollar Man #1
Witchblade #12
Suicide Squad Black Files #5
Self/Made #4
Eclipse #13
Blossoms: 666 #2
Astro Hustle #1
Zombie Tramp #57
Morning in America #1
Halo: Lone Wolf #3
The Girl in the Bay #2
Goblin Slayer Side Story: Year One #21
Van Helsing: Sword of Heaven #5
Noble #16
Ziggy Pig – Silly Seal Comics #1
Oberon #2
Goblin Slayer: Brand New Day #8
True Patriot Presents #12
Vindication #2
Gasolina #16
Old Issue Rankings:
Heroes in Crisis #6
Detective Comics #999 (50% off)
Heroes in Crisis #3
The Flash #65
Heroes in Crisis #2
Heroes in Crisis #1
Shazam! #3
Fantastic Four #7
Doomsday Clock #3
Doomsday Clock #2
Amazing Spider-Man #16
Doomsday Clock #1
Action Comics #1008
Life is Strange #4
Detective Comics #998 (50% off)
Best Selling Collections & Graphic Novels:
The Life of Captain Marvel (67% off)
Umbrella Academy Vol. 1: Apocalypse Suite (55% off)
Umbrella Academy Vol. 2: Dallas (55% off)
Black Hammer: Library Edition Vol. 1 (80% off)
Black Hammer Vol. 3: Age of Doom (58% off)
Dark Nights: Metal- Deluxe Edition (20% off)
Captain Marvel (2014) Vol. 1: Further, Faster, More (64% off)
Saga Vol. 9
Gideon Falls Vol. 1: The Black Barn
Dark Nights: Metal: Dark Knights Rising (20% off)
Captain Marvel (2012) Vol. 1: In Pursuit of Light (64% off)
Zatanna by Paul Dini (83% off)
Wonder Woman (2016) Vol. 7: Amazons Attacked (62% off)
Captain Marvel (2016) Vol. 1: Rise of Alpha Flight (67% off)
The Mighty Captain Marvel Vol. 1: Alien Nation (67% off)
Blackest Night (23% off)
Oblivion Song by Kirkman & De Felici Vol. 1
Dark Nights: Metal- The Resistance (12% off)
Saga Vol. 8
Batwoman (2017) Vol. 3: Fall of the House of Kane (62% off)
Mister Miracle (2017) (6% off)
Monstress Vol. 3
Dark Days: The Road to Metal
Isola Vol. 1
Crisis on Infinite Earths (20% off)
Batgirl (2016) Vol. 4: Strange Loop (62% off)
The Walking Dead Vol. 31: The Rotten Core (35% off)
Paper Girls Vol. 5
Final Crisis: New Edition (23% off)
Skyward Vol. 1: My Low-G Life
300 (64% off)
Monstress Vol. 1
Descender Vol. 6: The Machine War
Avengers by Jason Aaron Vol. 2: World Tour
Saga Vol. 7
Blacksad (55% off)
Wonder Woman: Earth One Vol. 2 (71% off)
Titans: The Lazarus Contract (15% off)
Wonder Woman: The Golden Age Vol. 2 (75% off)
Avengers: The Enemy Within (64% off)
Batman: Knightfall Vol. 2: Knightquest (20% off)
Captain Marvel: Carol Danvers – The Ms. Marvel Years Vol. 1 (60% off)
Ice Cream Man Vol. 1
Tomb of Dracula: The Complete Collection Vol. 2 (60% off)
Moebius Library: The World of Edena (77% off)
Identity Crisis (New Edition) (23% off)
Batman: Knightfall Vol. 3: Knightsend (20% off)
The Wicked + The Divine Vol. 7: Mothering Invention
Batman: Knightfall Vol. 1 (20% off)
Chilling Adventures of Sabrina Vol. 1 (60% off)