Complete Marvel Comics Solicitations For November 2015 – Including Spider-Gwen #0
No need to wait folks… here they all are… Marvel's solicitations for November 2015. Lots of new no 1s, the Star Wars crossover Vader Down, and we have a Spider-Gwen #0 reprinting that Edge Of Spider-Verse #2 – what a great idea that was! Jose Molina and Simone Bianchi are launching Amazing Spider-Man #1.1
INVINCIBLE IRON MAN #3
BRIAN MICHAEL BENDIS (W) • DAVID MARQUEZ (A/C)
Variant Cover by Steve Epting
• Tony is chasing the evil Madame Masque as her actions threaten to rip all of reality apart! But it is WHO Tony is teaming up with to do this that will have everyone talking.
• And a real good look at exactly what Iron Man's new armor does…and it is something!
32 PGS./Rated T+ …$3.99
ALL-NEW, ALL-DIFFERENT AVENGERS #1 & 2
MARK WAID (w) • ISSUE #1 – ADAM KUBERT & MAHMUD ASRAR (A)
ISSUE #2 – ADAM KUBERT (A)
CoverS by ALEX ROSS
Issue #1 – VARIANT SKETCH COVER BY ALEX ROSS
VARIANT COVER BY MAHMUD ASRAR
VARIANT COVER BY LUCHIANO VECCHIO
HIP-HOP VARIANT BY JIM CHEUNG
VINTAGE VARIANT COVER BY ALEX ROSS
VINTAGE VARIANT SKETCH COVER BY ALEX ROSS
INHUMAN 50th ANNIVERSARY VARIANT BY CLIFF CHIANG
KIRBY MONSTER VARIANT COVER BY TBA
Issue #2 – Variant Cover by Oscar Jimenez
The Avengers are dead–long live the Avengers! Earth's Mightiest Heroes–Captain America, Thor, Vision, and Iron Man–are living separate lives, not tied to any team–but when a threat from beyond the stars targets our world, fate draws them together once more, alongside Nova, Ms. Marvel, and Miles Morales a.k.a. Spider-Man!
Issue #1 – 40 PGS./RATED T+ …$4.99
Issue #2 – 32 PGS./RATED T+ …$3.99 NOVA #1
SEAN RYAN (w) • CORY SMITH (a)
Cover by HUMBERTO RAMOS
HIP-HOP VARIANT COVER BY ERIC CANETE
COSPLAY VARIANT ALSO AVAILABLE
VARIANT COVER BY TBA
TWO NOVAS?!?! Sam Alexander's missing father is finally back and the two are making adventure a family business. With their Nova helmets that enable them to fly and shoot energy beams, they're policing the Milky Way with their Nova Corps of two. But is everything what it seems? And if that weren't enough, Sam is also now an Avenger!
32 PGS./Rated T …$3.99
ALL-NEW X-MEN #1 & 2
DENNIS HOPELESS (w) • MARK BAGLEY (a/C)
ISSUE #1 – HIP-HOP VARIANT COVER BY ED PISKOR
VARIANT COVER BY MARK BAGLEY
KIRBY MONSTER VARIANT COVER BY TBA
ISSUE #2 – VARIANT COVER BY TBA
Hated and feared more than ever, the world is a dangerous place for mutants. As the few remaining X-MEN retreat into seclusion, a handful of mutant teenagers refuse to allow their destiny to be decided for them. CYCLOPS. BEAST. ICEMAN. ANGEL. THE ALL-NEW WOLVERINE. KID APOCALYPSE. OYA. Stepping out of the shadows of their predecessors, the ALL-NEW X-MEN are striking out on their own, determined to write their own futures!
32 PGS. (EACH)/Rated T+ …$3.99 (EACH)
SPIDER-WOMAN #1
DENNIS HOPELESS (w) • JAVIER RODRIGUEZ (a/C)
VARIANT COVER BY SIYA OUM
ACTION FIGURE VARIANT BY JOHN TYLER CHRISTOPHER
COSPLAY VARIANT ALSO AVAILABLE
HIP-HOP VARIANT BY NATACHA BUSTOS
BABY ON BOARD!
Jessica Drew is a private investigator, a super hero and… a mom to be? Since we last saw her, Spider-Woman's got a whole NEW responsibility — she's super heroing for two now, after all! Ben Urich and Porcupine are still along for the adventure, too, and aren't making Jess' life any easier – half the time they won't even let her leave the car! How's a gal supposed to save innocent people and keep herself out of harm's way? See how in the mother of all Spider-Stories!
32 PGS./Rated T+ …$3.99
WEB WARRIORS #1
MIKE COSTA (w) • DAVID BALDEON (a)
Cover by JULIAN TOTINO TEDESCO
HIP-HOP VARIANT COVER BY DAMION SCOTT
YOUNG VARIANT COVER BY SKOTTIE YOUNG
VARIANT COVER A BY TBA
VARIANT COVER B BY TBA
All of your favorite web-slinging wonders from SPIDER-VERSE, together in one place! It's high-stakes action when ELECTRO threatens all of reality! From their base on Earth-001, it's up to SPIDER-GWEN, SPIDER-MAN NOIR, SPIDER-MAN INDIA, SPIDER-UK, SPIDER-HAM and a TON of other surprise spider-guest stars to stop him!
40 PGS./Rated T+ …$4.99 STAR-LORD #1
SAM HUMPHRIES (w) • JAVIER GARRON (a)
Cover by DAVE JOHNSON
Variant Cover by Yasmine Putri
HIP-HOP VARIANT COVER BY TRADD MOORE
MOVIE PHOTO VARIANT ALSO AVAILABLE
THE STIRRING STORY OF STAR-LORD STARTS HERE!
Before Peter Quill traversed the universe, before he was a Guardian, before he was Star-Lord, he was…an astronaut! Well, at least, he wanted to be. But as NASA's biggest burn-out, it looked like the once and future Star-Lord was destined to stay grounded on Earth forever. However, with his burning desire for vengeance, his expert spacecraft knowhow, and his distinct lack of scruples, odds are he won't be on Earth much longer. See how Marvel's scoundrel of the spaceways discovered the galaxy he was destined to guard!
32 PGS./Rated T …$3.99 VENOM: SPACE KNIGHT #1
ROBBIE THOMPSON (W) • ARIEL OLIVETTI (A/C)
Variant cover by MIKE DEODATO
HIP-HOP VARIANT COVER BY MIKE CHOI
ACTION FIGURE VARIANT BY JOHN TYLER CHRISTOPHER
VARIANT COVER BY RON LIM
IN SPACE, NO ONE CAN HEAR YOU SCREAM…WITH EXCITEMENT!
Flash Thompson is a lot of things. Soldier. Veteran. Doubleamputee. Host to a powerful alien symbiote. Now, apart from the GUARDIANS OF THE GALAXY, Flash has also been tasked with being an intergalactic ambassador of Earth and an Agent of the Cosmos. What does that mean? It means Flash Thompson will be what he's always wanted to be: A BIG. DAMN. HERO. It's high adventure in deep space as Venom swashbuckles his way across the universe!
32 PGS./Rated T+ …$3.99
DRAX #1
CM PUNK & CULLEN BUNN (w) • SCOTT HEPBURN (a/C)
Variant Cover by Ed McGuinness
HIP-HOP VARIANT COVER BY MIKE CHOI
YOUNG VARIANT COVER BY SKOTTIE YOUNG
UFC FIGHTER CM PUNK MAKES HIS MIGHTY MARVEL DEBUT!
Drax the Destroyer is the muscle for the Guardians of the Galaxy, but what does he do when he's not adventuring through space with the Guardians? He lets his bloodthirsty quest for revenge take the pilot seat, of course! Determined to find and kill Thanos once and for all, Drax is ready to take on the universe. But when you're tooling around the universe in a ship aptly named "The Space Sucker", an unwavering desire for bloodshed isn't enough to keep a mission from derailing. Drax crash lands into his wildest adventures ever, encountering foes no one will ever expect! The depths of space may not be big enough to contain this much grit, vengeance and all-out action!
32 PGS./Rated T+ …$3.99 ILLUMINATI #1
JOSHUA WILLIAMSON (w) • SHAWN CRYSTAL (a)
Cover by RILEY ROSSMO
VARIANT COVER BY Paul Pope
HIP-HOP VARIANT COVER BY TBA
KIRBY MONSTER VARIANT COVER BY JACK KIRBY
"Bad guys win every day… why not us?"
How do the villains of the Marvel Universe live in a world where the sky is constantly filled with heroes? What do they do when they want out of that life? There is no escape. No future. Who saves the villains? The Hood believes he might be that savior. He wants everyone to have a place at the table. Now all he needs to do is build his army… Featuring Titania, Mad Thinker, Thunderball, Black Ant and Enchantress, Illuminati is a tale of villains just trying to survive in the All-New All-Different Marvel Universe.
32 PGS./Rated T+ …$3.99
DEADPOOL #1 & 2
GERRY DUGGAN (w) • MIKE HAWTHORNE (a)
CoverS by TONY MOORE
Issue #1 – SECRET COMIC VARIANT COVER #1 BY SCOTT KOBLISH
HIP-HOP VARIANT COVER BY Kaare Andrews
CANDY VARIANT BY DAVE JOHNSON
BLANK COVER VARIANT ALSO AVAILABLE
MEME VARIANT COVER BY TBA
VARIANT COVER A BY TBA
VARIANT COVER B BY TBA
VARIANT COVER BY KAMOME SHIRAHAMA
Issue #2 – VARIANT COVER BY TBA
SECRET COMIC VARIANT COVER #2 BY SCOTT KOBLISH
HIP-HOP VARIANT COVER BY TBA
He's annoying. He's dangerous. He smells terrible. But the public love him. That's right—the Merc with the Mouth may make money for missions of murky morality…but he's become the most popular hero in the world for it. Eat that, Spidey! The world belongs to…DEADPOOL. The fan favorite team of Gerry Duggan and Mike Hawthorne return to bring Deadpool in to his most successful adventures yet!
ISSUE #1 – 40 PGS./RATED T+ …$4.99
ISSUE #2 – 32 PGS./RATED T+ …$3.99
HERCULES #1
Dan Abnett (W) • Luke Ross (A)
Cover by Clay Mann
Variant cover by Jay Anacleto
HIP-HOP VARIANT COVER BY THEOTIS JONES
ACTION FIGURE VARIANT BY JOHN TYLER CHRISTOPHER
YOUNG VARIANT COVER BY SKOTTIE YOUNG
"Still going Strong"
The World's first super hero decides it's time to get back in the game, protect the innocent, defend the world, and generally remind everyone why he set the mark for heroism in the first place. Make way… Hercules is back! The greatest son of Olympus is thrown into the fight against threats ancient and modern, and Hercules demonstrates that a legend, no matter how strong he is, survives on his experience, and his ability to move with the times. A modern world, an age-old hero… and blockbuster action!
32 PGS./Rated T+ …$3.99
ALL-NEW WOLVERINE #1& 2
TOM TAYLOR (w) • DAVID LOPEZ & DAVID NAVARROT (a)
CoverS by BENGAL
ISSUE #1 – Variant Cover by DAVID LOPEZ
HIP-HOP VARIANT COVER BY KERON GRANT
BLANK COVER VARIANT ALSO AVAILABLE
VARIANT COVER BY DAVID MARQUEZ
DESIGN VARIANT COVER BY DAVID LOPEZ
ACTION FIGURE VARIANT BY JOHN TYLER CHRISTOPHER
VARIANT COVER BY ART ADAMS
ISSUE #2 – VARIANT COVER BY DAVID LOPEZ
VARIANT COVER BY TBA
LAURA KINNEY EMBRACES HER DESTINY. HERE! COMES! WOLVERINE!
X-23 was created to be a weapon and for a time, that's all she was. But with the help of her mentor, LOGAN—the original WOLVERINE—she escaped that dark past. Tragically, Logan has fallen, but Laura will continue in his footsteps as a hero. Recent events have her doing everything in her power to keep those around her alive, as violent forces are hell-bent on mutual destruction. If anyone can stop them, it's Laura. She is the best there is at what she does. She is THE ALL-NEW WOLVERINE.
Issue #1 – 40 PGS./Parental Advisory …$4.99
Issue #2 – 32 PGS./Parental Advisory …$3.99
MOON GIRL AND DEVIL DINOSAUR #1
AMY REEDER & BRANDON MONTCLARE (w) • NATACHA BUSTOS (a)
Cover by AMY REEDER
HIP-HOP VARIANT COVER BY TBA
VARIANT COVER BY TBA
LUNELLA LAFAYETTE is a preteen super genius who wants to change the world—but learned the hard way that it takes MORE than just big brains. Fearful of the monstrous INHUMAN genes inside her, life is turned upside down when a savage, red-scaled tyrant is teleported from prehistoric past to a far-flung future we call TODAY. The pair are many things, and together the most amazing Marvel Team-Up. MARVEL PRESENTS… MOON GIRL & DEVIL DINOSAUR!
32 PGS./Rated T …$3.99
AVENGERS VS INFINITY #1
JOE CARAMAGNA (W) RON LIM and WELLINGTON ALVES (A)
Cover by KALMAN ANDRASOFSZKY
VARIANT COVER BY RON LIM
• The Avengers take on their most powerful foes in four thrilling adventures!
• Dangerous Asgardian treasures have been lost…and the Avengers are on the hunt to get them back!
• But will the Avengers still prevail when they're fighting…each other?!
• Featuring Doctor Doom, Dracula, and the Blood Brothers!
56 PGS./ONE-SHOT …$5.99
UNCANNY AVENGERS ANNUAL #1
James Robinson (W) • Marc Laming (a)
Cover by Mike Deodato
• The only good Nazi is an undead Nazi…
• The Uncanny Avengers take on magic in this supernatural adventure!
• Featuring Deadpool! Doctor Voodoo! Agatha Harkness! And the Emerald Warlock makes his marvel debut!
40 PGS/ RATED T+ …$4.99
CAPTAIN AMERICA: WHITE #4 (of 5)
JEPH LOEB (W) • TIM SALE (A/C)
• It's the middle of World War 2 and Cap and Bucky are pitted against evil himself—The Red Skull!
• Can they free Paris from his nefarious clutches?
• Or will the fraying bond between the two finally win out?
• Superstars JEPH LOEB and TIM SALE continue their Captain America epic!
32 PGS./Rated T+ …$3.99
AMAZING SPIDER-MAN #1.1
JOSE MOLINA (w) • SIMONE BIANCHI (a/C)
VARIANT COVER A by ROBBI RODRIGUEZ
VARIANT COVER B BY TBA
The dead are walking in Harlem and Spider-Man's going to do something about it. But when the trail leads straight to THE SANTERIANS, Spidey's finds out he bit off more than he can chew. Television's AGENT CARTER writer JOSE MOLINA and superstar artist SIMONE BIANCHI bring the heroes hidden since DAREDEVIL: FATHER back into the spotlight!
32 PGS./Rated T …$3.99
AMAZING SPIDER-MAN #3
DAN SLOTT (W) • GIUSEPPE CAMUNCOLI (A)
Cover by ALEX ROSS
VARIANT COVER BY GABRIELE DELL'OTTO
• More of Spider-Man's post-Secret Wars world revealed!
• Visit Parker Industries New York Headquarters, the building formerly known as the Baxter Building! The Human Torch is going to have something to say about that!
32 PGS./Rated T …$3.99 CARNAGE #1 & #2
GERRY CONWAY (w) • MIKE PERKINS (a)
CoverS by MICHAEL DEL MUNDO
Issue #1 – Hip-Hop Variant by ARIEL OLIVETTI
VARIANT COVER BY MIKE PERKINS
ISSUE #2 – VARIANT COVER BY CLAYTON CRAIN
Get ready to scream! Carnage, the homicidal symbiote is back, and he's leaving a trail of bodies behind him. The FBI is hot on his trail, with a different playbook since their serial killer is a super villain. They're equipped with the latest sonic tech and a team including military hero/astronaut John Jameson and a reformed Eddie Brock/Toxin! But when Carnage escapes into an abandoned coal mine, the FBI's plan is starting to look like a trap… for THEM!
32 PGS. (each)/Rated T+ …$3.99 (each)
THE UNBEATABLE SQUIRREL GIRL #2
RYAN NORTH (W) • ERICA HENDERSON (A/C)
Variant cover by BRITTNEY WILLIAMS
• Remember last month when we said #1 was a great jumping-on point for new readers? Well, guess what? #2 is too! Start of a new story, baby!
• (It's ALSO a great "continuing-on" point for existing readers.)
• In this issue, Squirrel Girl gets sent BACK IN TIME and also ERASED FROM HISTORY. Only her friend Nancy even remembers she existed!
• So Nancy turns to the only hero she can contact (on social media) for help in rescuing her: IRON MAN.
• Also a surprise villain shows up, from the past! It could be LITERALLY ANY BAD GUY but it's a good one, I PROMISE.
• P.S.: it is not Galactus; we already did him.
32 PGS./Rated T …$3.99
SILK #1
ROBBIE THOMPSON (w) • STACEY LEE (a)
COVER BY HELEN CHEN
HIP-HOP VARIANT COVER BY TBA
Variant Cover by TBA
SILK IS BACK AND BADDER THAN EVER!
• Cindy Moon has been working to find the missing members of her family since she escaped the bunker that was her home prior to the events of SPIDER-VERSE. But her quest has taken her down a darker path than she expected, and she's now in cahoots with none other than the most ferocious feline in the Marvel Universe – BLACK CAT!
• What's gotten under her skin, and is there any redeeming the SINISTER SILK? !
32 PGS./Rated T …$3.99
MS. MARVEL #1
G. WILLOW WILSON (w) • Takeshi Miyazawa & Adrian Alphona (a)
Cover by Cliff Chiang
HIP-HOP VARIANT COVER BY Jenny Frison
VARIANT COVER BY SARA PICHELLI
ACTION FIGURE VARIANT BY JOHN TYLER CHRISTOPHER
COSPLAY VARIANT ALSO AVAILABLE
The internationally-beloved, butt-kicking, smack-talking, most adorable super hero makes her triumphant return. Look out world, Kamala Khan is back and officially an Avenger! Yup, the dream to end all dreams has happened for Kamala. She's toe to toe with the best of the best, but will being one of Earth's mightiest heros be everything she imagined? Is being a celebrity hero as wonderful as Kamala has hoped?
Plus: WHO IS THAT WITH BRUNO?? Welcome back, Kamala Korps. We missed you!
40 PGS./Rated T+ …$4.99
BLACK KNIGHT #1
Frank Tieri (w) • LUCA PIZZARI (a)
Cover by JULIAN TOTINO TEDESCO
Variant cover by ERIC POWELL
HIP- HOP VARIANT COVER BY TBA
ACTION FIGURE VARIANT BY JOHN TYLER CHRISTOPHER
What do you do when it's your destiny to be damned? For centuries, that is the question that has plagued each wielder of the Ebony Blade… with all of them eventually meeting untimely ends due to the sword's curse. And it is the question the current Black Knight, Dane Whitman, must ask himself as his addiction to the blade grows ever stronger and he finds himself in the aptly named Weirdworld. What are the circumstances that brought him to leave Earth and enter this strange and dangerous realm? And what do the Uncanny Avengers have to do with it? Find out here in this new ongoing tale of sword, sorcery and one man's struggle to not lose his soul.
32 PGS/RATED T+ …$3.99
THE VISION #1
Tom King (w) • GABRIEL HERNANDEZ WALTA (a)
Cover by MIKE DEL MUNDO
variant cover by MARCOS MARTIN
Artist variant cover by RYAN SOOK
Hip-hop variant cover by Vanesa R. Del Rey
The Vision wants to be human, and what's more human than family? He goes to the laboratory where he was created, where Ultron molded him into a weapon, where he first rebelled against his given destiny, where he first imagined that he could be more, that he could be good, that he could be a man, a normal, ordinary man. And he builds them. A wife, Virginia. Two teenage twins, Viv and Vin. They look like him. They have his powers. They share his grandest ambition or perhaps obsession: the unrelenting need to be ordinary. Behold The Visions! They're the family next door, and they have the power to kill us all. What could possibly go wrong?
32 PGS./Rated T+ …$3.99 THE ULTIMATES #1
AL EWING (w) • Kenneth Rocafort (a/C)
variant by TERRY DODSON
Hip-Hop variant by MIKE DEODATO
VARIANT BY JOHN CASSADAY
YOUNG VARIANT BY SKOTTIE YOUNG
BLANK VARIANT ALSO AVAILABLE
BLACK PANTHER! CAPTAIN MARVEL! MS. AMERICA CHAVEZ! SPECTRUM! BLUE MARVEL!
The ultimate superteam comes together to find and fix problems beyond the limits of the infinite! From cosmic forces lurking on Earth to what waits on the outside of the omniverse – the impossible is where they start! And what's more impossible than ending the threat of Galactus, the devourer of worlds… forever?
32 PGS./Parental Advisory …$3.99 ALL-NEW HAWKEYE #1
JEFF LEMIRE (w) • RAMóN PéREZ (a/C)
HIP-HOP VARIANT COVER BY SANFORD GREENE
CLASSIC VARIANT COVER BY TBA
Kirby Monster Variant by Jeff Lemire
VARIANT COVER BY Phil Noto
Hawkeye and Hawkeye take aim at another season. But it's not all straight as an arrow for Clint and Kate. A deep-seated rift that stretches across time, brings old man Clint and a wiser Kate back together as they chase down mistakes from their past. The star-studded team of Jeff Lemire and Ramon Perez return, bringing you another inspired look at the world of Hawkeye.
32 PGS./Rated T+ …$3.99 HOWARD THE DUCK #1
CHIP ZDARSKY (w) • JOE QUINONES (a/C)
variant by JOE QUINONES
VARIANT COVER BY DAVID AJA
HIP-HOP VARIANT COVER BY JUAN DOE
VARIANT BY BOB MCLEOD
MOVIE IMAGE VARIANT COVER
First spectacular issue!
A great jumping on point! Sure to go up in value! Don't miss out on the series everyone is calling "Howard the Duck"! The last page will shock you! Nothing will EVER be the same again! Hey! Where are you going? Come back! Waugh!
32 PGS./Rated T+ …$3.99
THE MIGHTY THOR #1
JASON AARON (w) • RUSSELL DAUTERMAN (a)
Wraparound Gatefold Cover by Russell Dauterman
HIP-HOP VARIANT COVER BY MIKE DEODATO
COSPLAY VARIANT ALSO AVAILABLE
DESIGN VARIANT COVER BY RUSSELL DAUTERMAN
VARIANT COVER BY OLIVIER COIPEL
VARIANT COVER BY RUSSEL DAUTERMAN
BLANK COVER VARIANT ALSO AVAILABLE
When DR. JANE FOSTER lifts the mystic hammer Mjolnir, she is transformed into the Goddess of Thunder, THE MIGHTY THOR! Her enemies are many, as Asgard descends further into chaos and war threatens to spread throughout the Ten Realms. Yet her greatest battle will be against a far more personal foe: the cancer that is killing her mortal form.
40 PGS./Rated T+ …$4.99
UNCANNY AVENGERS #2
GERRY DUGGAN (W) • RYAN STEGMAN (A/C)
VARIANT COVER BY OSCAR JIMENEZ
• The devastation in Boston worsens, and the Uncanny Avengers fight a world gone mad.
• An unexpected figure makes a surprise entrance.
• So, hang on — Deadpool is STILL an Avenger?
32 PGS./Rated T …$3.99
NEW AVENGERS #3
AL EWING (W) • GERARDO SANDOVAL (A/C)
VARIANT COVER BY CHRIS BURNHAM
• Avengers Island — under attack from outer space!
• Who are the Knights Of The Infinite? What do they want with Wiccan and Hulkling? And how far will the New Avengers go to stop them?
• Meanwhile, Songbird uncovers evidence of a traitor on the team…
32 PGS./Rated T+ …$3.99
CAPTAIN AMERICA: SAM WILSON #3
NICK SPENCER (W) • DANIEL ACUñA (A/C)
Variant Cover by Steve Epting
• Because you demanded it– the return of Cap-Wolf (er, Fal-Cap-Wolf)!
•What horrors await– IN THE DUNGEON OF DOCTOR MALUS?
32 PGS./Rated T …$3.99 THE ASTONISHING ANT-MAN #2
NICK SPENCER (W) • RAMON ROSANAS (A)
Cover by MARK BROOKS
Variant Cover by MIKE PERKINS
• The Astonishing Ant-Man versus… his ex-girlfriend?! It's the return of Darla Deering, aka Ms. Thing!
• Also… who is behind that stupid Hench app? Man, is that thing annoying!
32 PGS./Rated T+ …$3.99
SECRET WARS TOO #1
JONATHAN HICKMAN, SERGIO ARAGONES, RYAN BROWNE, AL EWING, ROB GUILLORY, KATE LETH,
ERIC POWELL, DECLAN SHALVEY, KYLE STARKS, RAMON VILLALOBOS, BRITTNEY WILLIAMS (W/A)
Cover by CHIP ZDARSKY
THE BEYONDERS TRY THEIR (SCARY, EXTRA-DIMENSIONAL) HAND AT MARKETING:
• We are Beyond. Dreamers. Destroyers. All of reality our whim. And frankly… we get bored.
• These tales from across the multifarious domains of Battleworld – not of heroism or consequence, but of humor – provide a brief respite from millennia of omnipotence.
• We cannot be comprehended by the miniscule human mind. Turn your attention to this book instead of trying.
• You are welcome.
40 PGS./ONE SHOT/Rated T+ …$4.99
KARNAK #2
WARREN ELLIS (W) • GERARDO ZAFFINO (A)
COVER BY DAVID AJA
VARIANT COVER BY KEVIN NOWLAN
• Karnak versus a warehouse full of enemy agents! The agents don't stand a chance.
• But the Zen Gunner can turn the air itself into a deadly weapon? Karnak's in trouble.
32 PGS./Rated T+ …$3.99
UNCANNY INHUMANS #2
CHARLES SOULE (W) • STEVE MCNIVEN (A/C)
CONNECTING VARIANT COVER C BY JIM CHEUNG
Variant Cover my Mahmud Asrar
• The Uncanny Inhumans vs. Kang—on a battleground thousands of years deep!
• Kang's arsenal is time travel and he's attacking the Inhumans in a horrifying fashion.
32 PGS./Rated T+ …$3.99 SPIDER-GWEN #0
JASON LATOUR (W) • ROBBI RODRIGUEZ (A/C)
• GWEN STACY: SPIDER-WOMAN! In one universe, it wasn't Peter Parker bitten by the radioactive Spider, but Gwen Stacy! She's smart, charming and can lift a car – Just don't tell her Police Chief father! This special reprint of the top-selling EDGE OF SPIDER-VERSE #2 comes packed with bonus material including script pages, sketches and more!
48 PGS./Rated T+ …$4.99
SPIDER-GWEN #2
JASON LATOUR (W) • ROBBI RODRIGUEZ (A/C)
Variant Cover by CLIFF CHIANG
• The Lizard is loose!
• As if that wasn't bad enough, Spider-Gwen finds herself on SHIELD's most wanted list!
32 PGS./Rated T+ …$3.99 CONTEST OF CHAMPIONS #2
AL EWING (W) • PACO MEDINA (A/C)
CONNECTING VARIANT COVER B BY RON LIM
CONTEST OF CHAMPIONS GAME VARIANT COVER BY TBA
CLASSIC VARIANT COVER BY TBA
• Ares lives!
• The god of War vs. Maestro…and Iron Man & Gamora!
• Who is the shadowy player scheming with the Grandmaster? You'll never guess!
32 PGS./Rated T …$3.99
HOWLING COMMANDOS OF S.H.I.E.L.D. #2
FRANK BARBIERE (W) • BRENT SCHOONOVER (A/C)
VARIANT COVER BY Francesco Francavilla
• The All-New, All-Different Howling Commandos investigate the haunted subways of New York!
• A conspiracy grows within the ranks of S.T.A.K.E.!
32 PGS./Rated T+ …$3.99
EXTRAORDINARY X-MEN #3
JEFF LEMIRE (W) • HUMBERTO RAMOS (A/ C)
VARIANT COVER BY CLAY MANN
• Mutantkind is teetering on the brink of extinction and the X-MEN are in dire straits!
• STORM and ICEMAN defend the last remaining mutants from a demonic attack!
• The world's newest mutant discovers she has a terrifying power!
• And OLD MAN LOGAN and JEAN GREY meet for the first time…
32 PGS./Rated T+ …$3.99
DOCTOR STRANGE #2
JASON AARON (W) • CHRIS BACHALO (A/C)
Variant by SKOTTIE YOUNG
VARIANT COVER BY ALEX ROSS
VARIANT SKETCH COVER BY ALEX ROSS
• Take a tour of Doctor Strange's home– the Sancto Sanctorum. It's the weirdest and most dangerous place in the Marvel Universe! A place where opening the wrong door can unleash hell on Earth.
• Unfortunately for you and your fellow visitor, Zelma, Strange's house is infested with something far worse than bed bugs!
32 PGS./Rated T+ …$3.99 GUARDIANS OF THE GALAXY #2
BRIAN MICHAEL BENDIS (W) • VALERIO SCHITI (A)
Cover by ARTHUR ADAMS
VARIANT COVER BY KRIS ANKA
• Meet Emperor Quill and his Imperial Guard.
• What brings the Guardians into their crosshairs?
32 PGS./Rated T …$3.99 GROOT #6
Jeff Loveness (W) • BRIAN KESINGER (A)
Cover by DECLAN SHALVEY
• ROCKET AND GROOT REUNITED! What more do you need?
32 PGS./Rated T …$3.99 SPIDER-MAN 2099 #3
PETER DAVID (W) • WILLIAM SLINEY (A)
Cover by FRANCESCO MATTINA
VARIANT COVER BY RICK LEONARDI
• The dangerous DOCTOR CRONOS continues to put innocent people in harm's way, and Miguel O'Hara AKA SPIDER-MAN 2099 is the only one who can stop him.
• Even in his new duds, though, Miguel's still in for the fight of his life!
• What strange connection does Doctor Cronos have to the year 2099 – and will he put a stop to Miguel's attempts to right the timeline once and for all?!
32 PGS./Rated T …$3.99 ANGELA: QUEEN OF HEL #2
MARGUERITE BENNETT (W) • KIM JACINTO & STEPHANIE HANS (A)
Cover by STEPHANIE HANS
Variant cover by KIM JACINTO
• Their joyous reunion actually a little less "joyous" and a little more "How about I reunite my fist with your ear," Angela and Sera meet face to face at last!
• To rescue her beloved, Angela learns that she cannot steal Sera from Hel–she must conquer Hel, and rewrite the laws as old as death to free them both from the abyss!
32 PGS./Rated T+ …$3.99 MAX RIDE: ULTIMATE FLIGHT #1 (OF 5)
JODY HOUSER (W) • RB SILVA (A)
COVER BY YASMINE PUTRI
VARIANT COVER BY TBA
The James Patterson smash hit returns for a second series!
• Max and the Flock are back – and more determined than ever to unlock the secrets of their origin.
• But when a new stranger comes into their lives, she'll turn their whole world upside down.
• Will Max be able to save the world AND her family?
32 PGS./Rated T …$3.99
S.H.I.E.L.D. #12
MARK WAID (W) • MIKE PERKINS (A)
Cover by JULIAN TOTINO TEDESCO
• Thanks to an all-out battle between gods and Earthlings, our planet has been wiped clean by the Scarlet Centurion! Coulson and his team have one chance to leap back in time and save the world–but to do so, they'll have to wage war on Asgard!
32 PGS./Rated T+ …$3.99
FIGMENT 2 #3 (of 5)
JIM ZUB (w) • RAMON BACHS (a)
Cover by JOHN TYLER CHRISTOPHER
Action Figure Variant Cover by JOHN TYLER CHRISTOPHER
A NEW DREAMER JOINS THE JOURNEY!
• A young inventor named Capri gets to meet her idol…but it's not at all like she expected!
• The creative minds of the Academy Scientifica-Lucidus fall under a dark cloud of doubt!
• Another imaginative installment of the sequel to the fan-favorite Disney Kingdoms miniseries!
32 PGS./All Ages …$3.99
Elements based on Figment © Disney
STAR WARS: VADER DOWN #1
Part 1 (of 6)
JASON AARON (W) • MIKE DEODATO (A)
COVER BY MARK BROOKS
CONNECTING VARIANT A BY TBA ARTIST
VARIANT COVER BY TBA ARTIST
When Darth Vader accidentally finds himself facing off against the Rebel Fleet on his own, the rebels will learn the true strength of the Dark Side of the Force! Once Vader crashes on a nearby planet, the Rebellion is willing to risk everything for this once-in-a-lifetime chance to take out one of their biggest enemies! Luke! Vader! Leia! Aphra! Han! Chewie! And all manner of Droid, good and evil!
40 PGS./ONE SHOT/Rated T …$4.99
DARTH VADER #13
PART TWO OF VADER DOWN!
KIERON GILLEN (W)
SALVADOR LARROCA (A)
Cover by MARK BROOKS
CONNECTING VARIANT B BY TBA ARTIST
• The first crossover of Star Wars's new Marvel age continues here!
• Vader vs. All the Rebels…it's not a fair fight!
32 PGS./Rated T …$3.99
STAR WARS #13
PART THREE OF VADER DOWN!
JASON AARON (W)
MIKE DEODATO (A)
Cover by MARK BROOKS
ACTION FIGURE VARIANT BY JOHN TYLER CHRISTOPHER
CONNECTING VARIANT C BY TBA ARTIST
• Bringing together the smash-hit Star Wars and Darth Vader series!
• Leia comes face to face with true evil!
32 PGS./Rated T …$3.99 STAR WARS #12
JASON AARON (W) • STUART IMMONEN (A/C)
ACTION FIGURE VARIANT BY JOHN TYLER CHRISTOPHER
VARIANT SKETCH COVER BY STUART IMMONEN
• Showdown on the Smuggler's Moon!
• Plus: Lightsabers! Loads of Lightsabers!
• And finally: the truth about Sana Solo!
32 PGS./Rated T …$3.99 DARTH VADER #12
KIERON GILLEN (W) • SALVADOR LARROCA (A/C)
• Vader's machinations have him painted into a corner…
• …but no one puts Vader in a corner.
• The hit series' second arc concludes here!
32 PGS./Rated T …$3.99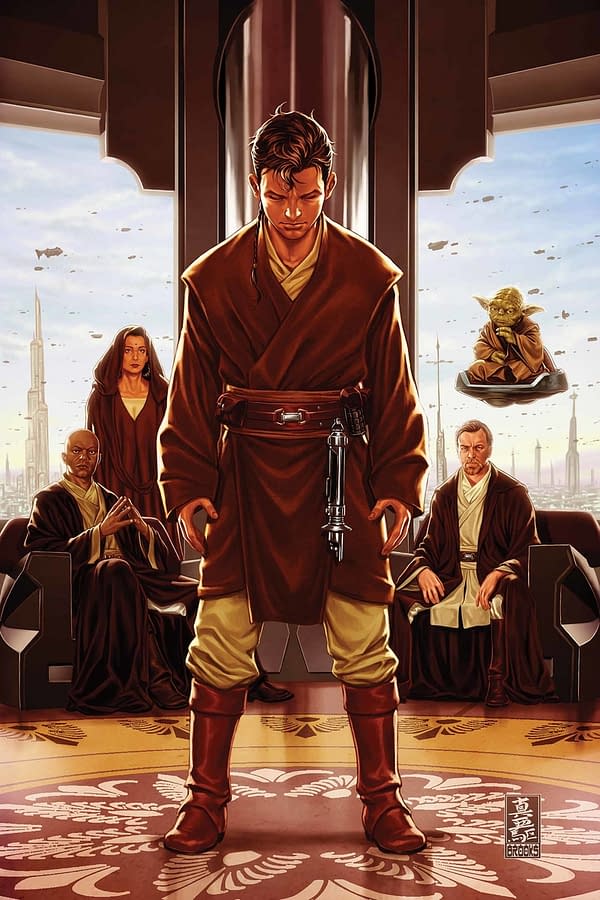 KANAN #8
GREG WEISMAN (W) • PEPE LARRAZ (A)
Cover by MARK BROOKS
• Young Caleb Dume has not yet been to war…
• …But now, the Jedi Temple is under attack!
• Can a Padawan really make a difference?
32 PGS./Rated T …$3.99
CHEWBACCA #3 & 4 (of 5)
GERRY DUGGAN (W) • PHIL NOTO (A/C)
• RRRRrrrRAAAAHHHGHGGGG!
• Errf errrf errff AAAAANNNNG!
• GGGGGNNNNNaAaAaAaAaA!
32 PGS. (Each)/Rated T …$3.99 (Each)
MARVEL UNIVERSE GUARDIANS OF THE GALAXY #2
Adapted by Joe Caramagna
THE GUARDIANS OF THE GALAXY RETURN IN THEIR NEW ON-GOING SERIES!
• The star-spanning Guardians team up to pursue their pursuer…
• But a mysterious object just may end their adventure before it begins!
32 PGS./All Ages …$2.99
MARVEL UNIVERSE AVENGERS ASSEMBLE SEASON TWO #13
Adapted by Joe Caramagna
• The Avengers and Squadron Supreme FACE OFF!
• It's the final battle of the super-teams. But which will prevail?!
32 PGS./All Ages …$2.99
MARVEL UNIVERSE ULTIMATE SPIDER-MAN SPIDER-VERSE #1 (OF 4)
Adapted by Joe Caramagna
• Join Spidey on his wildest adventure yet, when the Green Goblin transports him to alternate dimensions…each with its own alternate Spider-Man (or Woman!)
•Don't miss the start of this unprecedented 4-part series: SPIDER-VERSE!
40 PGS./All Ages …$3.99
BLADE: UNDEAD BY DAYLIGHT
MARV WOLFMAN & CHRISTOPHER GOLDEN (W) • GENE COLAN (A)
Cover by GIL KANE
• Relive the adventures of Marvel's half-vampire monster slayer — the man called Blade!
• In his deadly debut, Blade becomes immortal enemies with the biggest bloodsucker of all — Dracula himself!
• The stakes get higher when Blade's girlfriend is targeted by vampires! For Blade and Safron, love definitely hurts!
• Then, Blade heads to New Orleans to take on the city's new crime boss — one that just happens to be the vampire that killed his mother!
• Deacon Frost isn't the only thing giving Blade the blues — there's some bad Voodoo going down. Good thing Blade knows a Brother who can help with that!
• Get ready for Blade's sensational new series with four key stories that give you the lowdown on the Daywalker!
• Collecting TOMB OF DRACULA (1972) #10, #24 and #58; and BLADE: CRESCENT CITY BLUES.
104 PGS./Rated T+ …$7.99
GUIDEBOOK TO THE MARVEL CINEMATIC UNIVERSE — MARVEL'S INCREDIBLE HULK/MARVEL'S IRON MAN 2
Written by MIKE O'SULLIVAN & THE OHOTMU TEAM
Covers by MIKE DEL MUNDO & PASCAL CAMPION
Our comprehensive coverage of the fan-favorite Marvel Studios films and Marvel Television series rolls on! This second issue, in fantastic flipbook format, shines a spotlight on the Hulk's gamma-charged feature film and Iron Man's return to the silver screen! With fact sheets, movie-to-comic comparisons, behind-the-scenes art and production stills, this issue features profiles of the ever-incredible Hulk and a comprehensive Iron Man update — plus these future Avengers' friends and family including Betty Ross, Samuel Sterns, War Machine, Black Widow and Howard Stark; enemies including Abomination, Thunderbolt Ross, Whiplash and Justin Hammer; high-tech devices like Iron Man's new RT and the Hammer Drones; and updates on Nick Fury, Phil Coulson and more! Relive the big-screen thrills of 2008's The Incredible Hulk and 2010's Iron Man 2, and continue building your indispensable library of Cinematic Universe reference books!
32 PGS./Rated T+ …$3.99 DARK TOWER: THE DRAWING OF THE THREE – LADY OF SHADOWS #3 (of 5)
ROBIN FURTH & PETER DAVID (w) • JONATHAN MARKS (a)
Cover by NIMIT MALAVIA
ODETTA HOLMES' CHAPTER IN STEPHEN KING'S DARK FANTASY EPIC CONTINUES!
• Odetta Holmes is left vulnerable and in a coma after her attempted murder – and her assassin, Jack Mort, is still on the hunt!
• Trapped in a dream state, Odetta struggles to find answers…from none other than ROLAND, THE GUNSLINGER!
• And the hatred-fueled DETTA WALKER makes her unforgettable entrance!
32 PGS./Mature …$3.99 MIRACLEMAN BY GAIMAN & BUCKINGHAM #4
NEIL GAIMAN (w) • MARK BUCKINGHAM (a/C)
Variant cover by CHRIS SAMNEE
Variant cover by CHARLES PAUL WILSON III
• Gaiman and Buckingham craft a bedtime story for the Golden Age!
• "Winter's Tale" tells the journey of Miracleman's daughter and her adventure crossing the cosmos to find the Qys.
• What — or who — has "Retrieval" brought back from Infra-Space?
• Including material originally presented in MIRACLEMAN (1985) #20, plus bonus content.
48 PGS./Parental Advisory …$4.99
CIVIL WAR BOX SET SLIPCASE
Get all sides to the story of Marvel's most incendiary epic in this eleven-volume box set! When the New Warriors set off a deadly disaster in Stamford, Connecticut, the cry goes out for superhuman registration. With Iron Man heading up the pro-registration movement and Captain America leading the anti-registration camp, the Marvel Universe splits down the middle as friendships, teams and even families are torn apart. From the key stories that set the stage, to the main event, to its headline-making aftermath, the entire Civil War is fought inside one glorious slipcase — including its dramatic impacts on the Avengers, Fantastic Four, X-Men, Spider-Man and everyone else on the Front Line! Plus: an entire volume of behind-the-scenes special features that take you inside the conflict. War — this is what it's good for! Includes CIVIL WAR PROLOGUE PREMIERE HC, CIVIL WAR PREMIERE HC, CIVIL WAR: AVENGERS PREMIERE HC, CIVIL WAR: FANTASTIC FOUR PREMIERE HC, CIVIL WAR: FRONT LINE PREMIERE HC, CIVIL WAR: MARVEL UNIVERSE PREMIERE HC, CIVIL WAR: SPIDER-MAN PREMIERE HC, CIVIL WAR: THE UNDERSIDE PREMIERE HC, CIVIL WAR: X-MEN PREMIERE HC, CIVIL WAR AFTERMATH PREMIERE HC, CIVIL WAR FILES PREMIERE HC, POSTER.
Rated T+ …$500.00
ISBN: 978-0-7851-9694-5
CIVIL WAR ILLUSTRATED PROSE NOVEL HC
Written by STUART MOORE
Adapted from the graphic novel by MARK MILLAR & STEVE MCNIVEN
Featuring the artwork of STEVE MCNIVEN
Cover by STEVE EPTING
The Marvel Universe is changing. In the wake of a tragedy, Capitol Hill proposes the Superhuman Registration Act, requiring all costumed heroes to unmask themselves before the government. Divided, the nation's greatest champions must each decide how to react — a decision that will alter the course of their lives forever! Experience Marvel's blockbuster event like never before in this prose adaptation illustrated with artwork from the smash-hit graphic novel that has sold more than half a million copies in print and digital formats!
400 PGS./No Rating …$49.99
ISBN: 978-0-7851-9586-3
Trim size: oversized
MARVEL MASTERWORKS: THE MIGHTY THOR VOL. 15 HC
Written by LEN WEIN, DAVID ANTHONY KRAFT & STEVE ENGLEHART
Penciled by JOHN BUSCEMA & PABLO MARCOS
Cover by JACK KIRBY
Writer Len Wein lifts Mjolnir aloft and rallies forth the armies of Asgard! When the Time-Twisters seek to destroy Earth, Thor embarks on an adventure with Zarrko the Tomorrow Man. It's a battle through time (with dinosaurs!) that will impress you to the end! Then, Thor fights the Firelord in the jungles of Latin America — and only Jane Foster can save him! The Warriors Three ramble off on a solo adventure, while Thor returns to Asgard to face the one and only Mangog! Their battle will rage across the Fabled Realm, taking Thor to Hel in a quest to save Odin! Plus: the return of "Tales of Asgard," Thor vs. Ulik the Troll and a giant-sized epic featuring Hercules! Collecting THOR (1966) #242-254 and ANNUAL #5, MARVEL SPOTLIGHT (1971) #30, and material from MARVEL TREASURY EDITION #10.
304 PGS./Rated T …$75
ISBN: 978-0-7851-9919-9
MARVEL MASTERWORKS: THE MIGHTY THOR VOL. 15 HC — VARIANT EDITION VOL. 230 (DM ONLY)
304 PGS./Rated T …$75
ISBN: 978-0-7851-9920-5
DAREDEVIL BY FRANK MILLER & KLAUS JANSON OMNIBUS HC (NEW PRINTING)
Written by ROGER MCKENZIE, FRANK MILLER, DAVID MICHELINIE & MORE
Penciled by FRANK MILLER & KLAUS JANSON
Cover by FRANK MILLER
A classic Marvel hero redefined by one of comics' greatest visionaries! Frank Miller's spellbinding scripts and pulse-pounding pencils mark one of Daredevil's greatest eras — but will the Kingpin and Bullseye's efforts rob the Man Without Fear of everything he holds dear? Featuring the first appearances of Elektra, Stick and the Hand! The daring discovery that drew Ben Urich into Daredevil's domain of darkness! And such forgotten-yet-formidable foes as Death-Stalker and the Gladiator! Traditional super-heroics mix effortlessly with mysterious martial artistry, doomed romance and dark personal drama. Take a rare look at the formative years of a brilliant comic-book creator and the series that made him famous. Guest-starring the Hulk, the Avengers, and Power Man and Iron Fist! Collecting DAREDEVIL (1964) #158-161 and #163-191, and material from WHAT IF? (1977) #28.
840 PGS./Rated T+ …$125.00
ISBN: 978-0-7851-9536-8
Trim size: oversized
ELEKTRA BY FRANK MILLER OMNIBUS HC (NEW PRINTING)
Written by FRANK MILLER
Penciled by BILL SIENKIEWICZ, FRANK MILLER & LYNN VARLEY
Cover by FRANK MILLER
Elektra is a ninja, a martial arts master, and a highly paid assassin. Once Matt Murdock's college girlfriend, her service as the Kingpin's personal bodyguard put her in brutal conflict with her former lover, nearly killing Daredevil in the process. Now, fan-favorite creator Frank Miller ushers his awesome assassin through good, evil, life, death, rebirth and more, in this definitive collection of the character's most memorable solo adventures. First, following a fatal duel with Bullseye, Elektra is seemingly dead and buried. But her spirit cannot rest. Elektra claws her way back from beyond the grave, in perhaps her defining story! Then, in a tautly crafted tale of espionage and deception, Elektra must unravel a supernatural conspiracy that threatens the Presidency! Collecting ELEKTRA: ASSASSIN #1-8, ELEKTRA LIVES AGAIN, and material from BIZARRE ADVENTURES #28 and WHAT IF? (1977) #35.
400 PGS./Explicit Content …$99.99
ISBN: 978-0-7851-9556-6
Trim size: oversized
CAPTAIN AMERICA OMNIBUS VOL. 2 HC PACHECO COVER
Written by STAN LEE & GARY FRIEDRICH
Penciled by GENE COLAN, JOHN ROMITA SR., JOHN BUSCEMA, GRAY MORROW, GIL KANE & SAL BUSCEMA
Covers by CARLOS PACHECO & JOHN ROMITA SR.
While the world believes that Steve Rogers is dead, Captain America lives on! In this Omnibus collection of Marvel classics by Stan Lee, Gene Colan and John Romita Sr., Cap embarks upon some of his all-time greatest adventures! A body-swapping encounter with the Red Skull and his Cosmic Cube leads to the first appearance of the Falcon; M.O.D.O.K. returns with a vengeance — and a secret weapon; Cap sets out on a road trip to explore his and his country's souls; Bucky Barnes returns; Nick Fury and S.H.I.E.L.D. enlist Cap in their battle against Hydra; Spider-Man and the Hulk face off against the star-spangled Avenger; and so much more! Every amazing story, every classic cover, every letters page is painstakingly restored and presented in this must-have oversized extravaganza! Collecting CAPTAIN AMERICA (1968) #114-148.
816 PGS./Rated T …$99.99
ISBN: 978-0-7851-9927-4
Trim size: oversized
CAPTAIN AMERICA OMNIBUS VOL. 2 HC VARIANT ROMITA SR. COVER (DM ONLY)
816 PGS./Rated T …$99.99
ISBN: 978-0-7851-9928-1
Trim size: oversized
DEADPOOL CLASSIC OMNIBUS VOL. 1 HC
Written by CHRISTOPHER PRIEST, GLENN HERDLING, JIMMY PALMIOTTI, BUDDY SCALERA, FRANK TIERI,
GAIL SIMONE, EVAN DORKIN & DANIEL WAY
Penciled by PACO DIAZ, ANDY SMITH, JIM CALAFIORE, PAUL CHADWICK, MICHAEL LOPEZ,
DARICK ROBERTSON, ANTHONY WILLIAMS, GEORGES JEANTY, KARL KERSCHL, UDON STUDIOS, SAL VELLUTO,
MITCH BREITWEISER, JUAN BOBILLO, KYLE HOTZ, EVAN DORKIN & MORE
Cover by ARTHUR ADAMS
It's a heaping helping of the Merc with a Mouth, chock-full of the craziness that helped form a cult following! Deadpool crosses Loki, joins the Frightful Four, rubs shoulders with Black Panther, and goes into space — but who'll throttle him first: his new roommates, his crazy ex Copycat, or his new sidekick Pool Boy? Deadpool takes on the mob, battles the Punisher, rejoins Weapon X, faces his nemesis T-Ray…and dies — twice! And as if four pretenders ushering in a Reign of the Deadpools isn't enough, who the heck is Agent X and what's his title-stealing deal? Is he Deadpool or ain't he? Taskmaster and Outlaw join the fun…and so should you! Guest-starring Thor, Siryn and Fight-Man! Collecting DEADPOOL (1997) #34-69, BLACK PANTHER (1998) #23, AGENT X #1-15, FIGHT-MAN #1 and material from X-MEN UNLIMITED (1993) #28.
1304 PGS./Rated T+ …$125
ISBN: 978-0-7851-9674-7
Trim size: oversized
INHUMAN HC
Written by CHARLES SOULE
Penciled by JOE MADUREIRA, RYAN STEGMAN, PEPE LARRAZ & ANDRE ARAUJO
Cover by RYAN STEGMAN
Marvel's newest heroes are born! The Terrigen Mist spread worldwide, triggering latent genes and transforming normal people into Inhumans! But as the mysterious Lash takes an unwanted interest in the new Inhumans and the newly transformed Flint's world falls apart, Medusa finds herself ruling the Inhumans alone, her husband Black Bolt believed dead. When the Unspoken stages a coup, Flint and his fellow NuHumans must step up and embrace their destiny! Meanwhile, Black Bolt is alive, allied with his mad brother Maximus — but why? What is the Ennilux Corporation, and how does it affect the Inhumans' future? Lash continues his recruitment drive, but what is his true agenda? And the scheming Lineage, lurking in the background since the beginning, finally shows his hand. All the complex threads come together for a truly Inhuman climax! Collecting INHUMAN #1-14 and ANNUAL #1.
344 PGS./Rated T+ …$34.99
ISBN: 978-0-7851-9557-3
Trim size: oversized
AMAZING SPIDER-MAN: RENEW YOUR VOWS TPB
Written by DAN SLOTT, MICHEL FIFFE, FELIPE SMITH, MARGUERITE BENNETT, JEREMY WHITLEY, KATIE COOK & MORE
Penciled by ADAM KUBERT, MICHEL FIFFE, FELIPE SMITH, KRIS ANKA, GURIHIRU, KATIE COOK & MORE
Cover by ADAM KUBERT
On Battleworld, the Amazing Spider-Man is a family man! Peter Parker, his wife, Mary Jane, and their daughter must scrape by to make ends meet — but at least they have each other! And Peter will protect his family at all costs — even if it means suiting up once again and taking on the godlike Regent! But Peter isn't the only one willing to risk all for the family — and his daughter isn't about to sit back and let dad have all the fun, either! The Parkers take on Regent in the most controversial Spider-Man story of the year! Plus: true tales of romance on Battleworld! Robbie Reyes and Kamala Khan! A Typhoid Mary, Karen Page and Matt Murdock love triangle! And more! When worlds collide, can their love survive? Collecting AMAZING SPIDER-MAN: RENEW YOUR VOWS #1-5 and SECRET WARS: SECRET LOVE #1.
136 PGS./Rated T …$17 .99
ISBN: 978-0-7851-9886-4
WOLVERINE: OLD MAN LOGAN VOL. 0 — WARZONES! TPB
Written by BRIAN MICHAEL BENDIS
Penciled by ANDREA SORRENTINO
Cover by ANDREA SORRENTINO
Enter the Wastelands: a Battleworld realm where heroes have been wiped out and villains rule with an iron fist. In the midst of this dystopian chaos, one man may make a difference. A reluctant warrior who was once the greatest mutant of all. A man known as Old Man Logan. Never before has the former Wolverine been needed as much as he is now, but even the best there was at what he did may be outmatched by the evil lurking in nearby realms! Now, Logan must battle the horrors of mutantkind unleashed, the sins of genocidal machines and the rampaging hordes of the undead. And as Logan traverses Battleworld and learns its secrets, he must face the patchwork planet's thundering police force! He may be old, but Logan's job is far from finished. Collecting OLD MAN LOGAN #1-5.
120 PGS./Parental Advisory …$17.99
ISBN: 978-0-7851-9893-2
MARVEL 1872 TPB
Written by GERRY DUGGAN, ROY THOMAS & ALAN COWSILL
Penciled by NIK VIRELLA, JOHN BUSCEMA & JIM CHEUNG
Cover by ALEX MALEEV
In the Battleworld zone of 1872, Sheriff Steve Rogers faces corruption and fear in the boom town of Timely. Can Anthony Stark pull Rogers' fat from the fire? Probably not, since the only thing he seems capable of pulling is a cork from a bottle. Things in Timely are bad, and getting worse — and when a stranger arrives in town, Timely will be changed forever. For anyone left standing when the dust clears, that is. It's a Dead Man's Hand composed of Bullseye, Elektra, Grizzly, Doc Ock and ringleader Wilson Fisk. But what concoction is the timid Dr. Banner cooking up in his apothecary? Will Justice stand tall at high noon, or die in the street? Plus: classic appearances of Will Talltrees, the Marvel Universe's modern Red Wolf! Collecting 1872 #1-4, AVENGERS (1963) #80 and material from MARVEL COMICS PRESENTS (1988) #170.
120 PGS./Rated T+ …$15.99
ISBN: 978-0-7851-9877-2
INFERNO: WARZONES! TPB
Written by DENNIS HOPELESS
Penciled by JAVIER GARRON
Cover by JAVIER GARRON
Spinning out of SECRET WARS comes a new twist on the X-Men classic that's a whole hell of a lot hotter than you remember. Five years ago, a band of demons rose up out of the fiery depths and turned Manhattan into Hell on Earth. The X-Men fought to vanquish the demon horde…and the X-Men failed. Now, on the anniversary of Manhattan's fall, Colossus is leading a small band of mutants back into the Inferno. He doesn't know what they'll find in its flames, but he knows they're not coming back without his sister. But Inferno's demons quickly divide his skeleton-crew X-team, and the arrival of Mr. Sinister and the Goblin Queen means Colossus' quest may have become a suicide mission! The gates burst open and Hell breaks loose as Illyana Rasputin's soul hangs in the balance! Collecting INFERNO #1-5.
112 PGS./Rated T+ …$16.99
ISBN: 978-0-7851-9873-4
X-MEN: YEARS OF FUTURE PAST TPB
Written by MARGUERITE BENNETT
Penciled by MIKE NORTON
Cover by ARTHUR ADAMS
A classic X-Men saga revisited for the modern day! In the dystopian nations of Battleworld, the mutants of New York City fight to survive the Sentinels' oppressive rule. Imprisoned and persecuted, the X-Men are a desperate family. At their center is Kate Pryde, mother of the last mutant to be born before the purges of the Mutant Control Act. With revolution on the wind, the X-Men must break free, rescue their teammates from a terrible fate and seek out the haven where a dire weapon waits! While the mutants' last defender clashes with Sentinels, the X-Men reel from a secret Kate has kept for years. And as they lead a prison break from the final mutant interment camp, a traitor stands revealed. The mutants' hour of judgment is at hand! Collecting YEARS OF FUTURE PAST #1-5.
120 PGS./Rated T+ …$16.99
ISBN: 978-0-7851-9894-9
ULTIMATE END TPB
Written by BRIAN MICHAEL BENDIS
Penciled by MARK BAGLEY
Cover by MARK BAGLEY
This is it — the swan song of the Ultimate Universe! As the Incursions destroy everything, and the Marvel and Ultimate Universes meet and collide, Miles Morales and the rest of the Ultimate heroes face final extinction! Will the heroes' heartbreaking sacrifices make any difference? Who — if anyone — will survive? How long can two Battleworld territories occupy the same space? It's the battle you thought you'd never see as the tear between domains deepens — and a universe dies! The dramatic end of an era is here, brought to you by the Ultimate Universe's founding fathers! Collecting ULTIMATE END #1-5.
120 PGS./Rated T+ …$16.99
ISBN: 978-0-7851-9890-1
M.O.D.O.K. ASSASSIN TPB
Written by CHRIS YOST
Penciled by AMILCAR PINNA
Cover by DAVID LAFUENTE
In Killville — a Battleworld realm populated by fearsome thieves, murderers and ne'er-do-wells — there exists one who is a HEAD above the rest: M.O.D.O.K., the Mental Organism Designed Only for Killing! That's right, the Merc with a Maw is open for business — but his next job may be biting off more than he can chew (which is a lot)! When a Thor crash-lands in Killville, M.O.D.O.K. sets out to do what he does best — but impossibly finds himself (giant) head over (tiny) heels in love! With the Thor he loves targeted by another ruthless Killville mercenary and a larger conspiracy becoming apparent, can M.O.D.O.K. keep ahead of his rivals, save the love of his life and uncover the truth? Will M.O.D.O.K. save the day? One thing's for sure: He will live up to his design! Collecting M.O.D.O.K. ASSASSIN #1-5.
112 PGS./Parental Advisory …$16.99
ISBN: 978-0-7851-9876-5
RUNAWAYS: BATTLEWORLD TPB
Written by NOELLE STEVENSON
with BRIAN K. VAUGHAN
Penciled by SANFORD GREENE
with ADRIAN ALPHONA
Cover by SANFORD GREENE
The best and brightest teens from all corners of Battleworld are chosen to attend a prestigious school on the planet's capital! But the new class doesn't react so well when they discover that the school's beloved headmaster is actually a diabolical super villain! Final exams are looming at Battleworld's Institute for Gifted Youths — of course, Battleworld's equivalent of a final exam is a brutal deathmatch between students! Faced with harsh lessons and an even harsher truth, the students take to the road — and end up in the Wild West domain of 1872! The Winter Soldier is hot on their tail, but who cares because Molly Hayes totally gets a cowboy hat. Reunions! Betrayals! Maybe some making out! Definitely some death! The Runaways can't run forever, and the end of the road is approaching! Collecting RUNAWAYS (2015) #1-4 and RUNAWAYS (2003) #1.
112 PGS./Rated T+ …$15.99
ISBN: 978-0-7851-9882-6
WEIRDWORLD VOL. 0: WARZONES! TPB
Written by JASON AARON
Penciled by MIKE DEL MUNDO
Cover by MIKE DEL MUNDO
Welcome to the wildest, most dangerous corner of Battleworld: Weirdworld, a realm of swords and sorcery, and strange perverted science. A realm where one barbarian walks alone, on a dark and savage quest though all things weird and fantastic from throughout Marvel history. His name is Arkon, a lost man in a lost world. Follow him if you dare! For Arkon must battle underwater apes, contend with a Crystal Warrior and traverse the swamp of the Man-Things — as evil sorceress Morgan le Fay and her army of Lava Men and gun-toting ogres lay siege to Arkon's home of Polemachus! Plus: Behold the coming of Skull the Slayer! What happens when a fugitive from the concrete jungle is thrust into a world of all things unimaginable? It's simple, really. He goes utterly insane. Collecting WEIRDWORLD #1-5.
112 PGS./Rated T …$16.99
ISBN: 978-0-7851-9891-8
STAR-LORD & KITTY PRYDE TPB
Written by SAM HUMPHRIES with SCOTT LOBDELL
Penciled by ALTI FIRMANSYAH with CHRIS BACHALO, JAVIER GARRÓN & ED MCGUINNESS
Cover by YASMINE PUTRI
Star-Lord and Kitty Pryde — finally in their own series together! Well, sort of — not "together" together. Because this isn't the Kitty that Peter Quill fell in love with — this is the fierce, battle-hardened and embittered Kitty Pryde from the Age of Apocalypse! Now, the very confused Quill and the really annoyed Pryde must band together and fight to survive the horrors of Battleworld — but can they wage a secret war while dealing with one another? And could there be a spark growing between these two, as well? The Marvel Universe may be dead, but #StarKat lives forever! Tune in for the most uplifting, confusing and ship-friendly romance/action/comedy/adventure/sci-fi story of the entire SECRET WARS saga! Plus: AoA Kitty's first appearance! And Star-Lord pops the question! Collecting STAR-LORD & KITTY PRYDE #1-3, GENERATION NEXT #1 and GUARDIANS OF THE GALAXY & X-MEN: THE BLACK VORTEX OMEGA 1.
112 PGS./Rated T …$15.99
ISBN: 978-0-7851-9843-7
SPIDER-VERSE: WARZONES! TPB
Written by MIKE COSTA
Penciled by ANDRE ARAUJO
Cover by NICK BRADSHAW
Spinning out of the blockbuster Spider-Verse event, a team of Spiders finds themselves face-to-face with Battleworld! Spider-Gwen, Spider-Man Noir, Spider-Man: India, Spider-Girl, Spider-UK and Spider-Ham are outmatched in a world where none of them belong — and face-to-face with Mayor Norman Osborn! This can't end well. Now, as Gwen Stacy explores her past and Spider-Man Noir goes on the run, the multiversal Spiders race against time — and Osborn — to discover exactly what force brought them all together! Could a possible key to victory be found in the porky paws of Spider-Ham? A new team of Web Warriors is formed as Battleworld gives up its secrets! Collecting SPIDER-VERSE (2015B) #1-5.
120 PGS./Rated T …$16.99
ISBN: 978-0-7851-9887-1
THE UNBEATABLE SQUIRREL GIRL VOL. 2: SQUIRREL YOU KNOW IT'S TRUE TPB
Written by RYAN NORTH with DAN SLOTT
Penciled by ERICA HENDERSON with MATT HALEY, KIERON DWYER & TY TEMPLETON
Cover by ERICA HENDERSON
The breakout character of 2015 continues her one-woman crusade against injustice, criminals and jerks! Squirrel Girl meets potential new allies including Chipmunk Hunk, Koi Boi and…Girl Squirrel?! Yes! But the two rodent-themed heroines don't quite see eye to beady eye — and Squirrel Girl's dislike might be justified! Now, as the world goes mad and the Avengers attack, Squirrel Girl must face Ratatoskr, the Norse God of Squirrels! There's a theme in this book, I don't know if you can tell. The fate of the world hangs in the balance, though, we promise. Featuring fights! Feelings! Sass! Punches! Friendship! A character named Hippo who is literally a hippo! And several tails (tales) of Squirrel Girl from all kinds of perspectives! Collecting THE UNBEATABLE SQUIRREL GIRL #5-8, and material from GLX-MAS SPECIAL, THING (2006) #8 and AGE OF HEROES #3.
112 PGS./Rated T …$14.99
ISBN: 978-0-7851-9703-4
SPIDER-GWEN VOL. 0: MOST WANTED? TPB
Written by JASON LATOUR
Penciled by ROBBIE RODRIGUEZ
Cover by ROBBIE RODRIGUEZ
The breakout character hit of the year is Gwen Stacy: Spider-Woman! In one universe, it wasn't Peter Parker who was bitten by the radioactive spider, but Gwen Stacy! She's smart, charming and can lift a car — just don't tell her father the police chief! And now, in the wake of Spider-Verse, Gwen swings into her own solo adventures! And she soon finds herself between a rock and a hard place when the Vulture attacks, and NYPD Lieutenant Frank Castle sets his sights on bringing her down. Then, still haunted by Peter's death, Gwen visits his only family: Ben and May Parker. But what really happened the day Peter died? Find out right here as the spectacular Spider-Gwen steals not only the spotlight, but also the hearts of comic fans worldwide! Collecting EDGE OF SPIDER-VERSE #2 and SPIDER-GWEN #1-5.
136 PGS./Rated T+ …$16.99
ISBN: 978-0-7851-9773-7
MILES MORALES: ULTIMATE SPIDER-MAN ULTIMATE COLLECTION BOOK 3 TPB
Written by BRIAN MICHAEL BENDIS
Penciled by DAVID MARQUEZ, MARK BAGLEY,
MARK BROOKS, DAVID LAFUENTE & SARA PICHELLI
Cover by DAVID MARQUEZ
The Ultimate Spider-Man is back in action! Unfortunately, Galactus has arrived in the Ultimate Universe, and he hungers. Miles must undertake a dangerous trip to Galactus's home universe if Earth has a chance of surviving this cataclysm! Then, Miles faces the worst villain from his predecessor's past: the Green Goblin — the man who killed Peter Parker! But is Peter truly dead? As events unravel in surprising fashion, Spidey takes on Spidey — and only one of the two will rise! And when Miles discovers his father's startling secret, what will it mean for his future? Will Spider-Man become an agent of S.H.I.E.L.D.? Or, as Doctor Doom targets Spidey for destruction, will this be the end of the road for Miles Morales? Collecting CATACLYSM: ULTIMATE COMICS SPIDER-MAN #1-3, ULTIMATE SPIDER-MAN #200 and MILES MORALES: THE ULTIMATE SPIDER-MAN #1-12.
360 PGS./Rated T+ …$34.99
ISBN: 978-0-7851-9780-5
DEADPOOL CLASSIC VOL. 14: SUICIDE KINGS TPB
Written by MIKE BENSON, ADAM GLASS,
JASON AARON, JOE KELLY, CHARLIE HUSTON & MORE
Penciled by SHAWN CRYSTAL, CARLO BARBERI, CHRIS STAGGS, ROB LIEFELD, KYLE BAKER & MORE
Cover by GREG LAND
Deadpool continues his quest for truth, justice and cold hard cash! Eleven desperate men compete in a deadly, illegal reality game show that will leave one of them rich and the rest dead. One of the competitors is Wade Wilson, but what is his hidden agenda (besides the cash)? Then, framed for killing innocents, Deadpool winds up in the Punisher's sights! Luckily for Wade, Daredevil and Spider-Man come to his defense. But can the red-clad trio unravel the web of lies and clear Deadpool's name? Plus: Some of comics' top creators take aim at the Merc With a Mouth as Deadpool takes on aliens, mimes, cannibals, hit men, Hollywood, CSI investigators…and even Santa Claus! Collecting DEADPOOL: GAMES OF DEATH, DEADPOOL: SUICIDE KINGS #1-5, DEADPOOL #900 and #1000, X-MEN ORIGINS: DEADPOOL, MARVEL DIGITAL HOLIDAY SPECIAL #2 and material from MARVEL SPOTLIGHT: DEADPOOL.
392 PGS./Parental Advisory …$34.99
ISBN: 978-0-7851-9733-1
DEADPOOL VS. THANOS TPB
Written by TIM SEELEY
Penciled by ELMO BONDOC
Cover by TRADD MOORE
It's the confrontation that every single Marvel comic has been building to: the Merc With a Mouth versus the Jerk With That Jaw! Deadpool goes to Infinity and beyond when he throws down the gauntlet against Thanos of Titan! These calamitous combatants are two sides of an unholy love triangle, with Death their fickle mistress. But when everything in the universe stops dying, could the bombshell with the killer cheekbones have her bony hands full with someone else?!? Who ever heard of a love square? How would that even work? The Mad Titan and the Crazy Cretin may just have to team up to find out what gives as they head "From Her to Eternity!" Guest-starring Marvel's most popular and beloved character, the Black Talon — plus some nobodies called the Guardians of the Galaxy. Collecting DEADPOOL VS. THANOS #1-4.
112 PGS./Parental Advisory …$16.99
ISBN: 978-0-7851-9845-1
BLACK PANTHER BY CHRISTOPHER PRIEST: THE COMPLETE COLLECTION VOL. 2 TPB
Written by CHRISTOPHER PRIEST
Penciled by KYLE HOTZ, SAL VELLUTO, TOMM COKER, MARK BRIGHT, NORM BREYFOGLE & JIM CALAFIORE
Cover by SAL VELLUTO
When T'Challa falls to the one foe he's never beaten, Killmonger earns the right to become the new Black Panther! Now, only Everett K. Ross can save T'Challa's life — okay, Ross plus Moon Knight, Brother Voodoo and the Panther God! Still suffering, the deposed Wakandan leader finds himself caught in a cat trap with the Avengers and…Deadpool?! Storm of the X-Men offers comfort as Wakanda finds itself on the verge of war with Lemuria and Atlantis — and Klaw, Malice and Man-Ape threaten to destroy the African Avenger once and for all! Plus: Ross spends a day in Mephisto's metaphorical shoes, and Captain America recounts his never-before-revealed wartime meeting with the former Black Panther, T'Chaka! Super heroics meet geopolitics as only Priest can mix them! Collecting BLACK PANTHER (1998) #18-35 and DEADPOOL (1997) #44.
448 PGS./Rated T+ …$34.99
ISBN: 978-0-7851-9811-6
DAREDEVIL VOL. 4: THE AUTOBIOGRAPHY OF MATT MURDOCK TPB
Written by MARK WAID, MARC GUGGENHEIM & CHRIS SAMNEE
Penciled by CHRIS SAMNEE & PETER KRAUSE
Cover by CHRIS SAMNEE
It all comes down to this. In order to preserve the new life that he's built, Daredevil is faced with a critical decision — one that may mean the death of Matt Murdock! Daredevil must make a deal with his own personal devil — and unless he can outsmart the strongest, toughest opponent he's ever known, no one walks out alive! Is DD's time in San Francisco coming to an end? Does the new rival in town spell doom for Murdock and his friends? One thing is for sure, not everyone survives this phase in Daredevil's life — and the final chapter in the Autobiography of Matt Murdock is written by someone who may surprise you. Mark Waid and Chris Samnee's Daredevil opus comes to an end! Find out who lives, who dies — and who is changed forever. Collecting DAREDEVIL (2014) #15.1 and #16-18.
104 PGS./Rated T+ …$15.99
ISBN: 978-0-7851-9802-4
WOLVERINE EPIC COLLECTION: THE DYING GAME TPB
Volume #8 in the Wolverine Epic Collections
Written by LARRY HAMA, CHRIS GOLDEN, IAN EDGINTON & JOHN OSTRANDER
Penciled by ADAM KUBERT, FABIO LAGUNA, DUNCAN ROULEAU, CHRIS ALEXANDER, RAMON BERNARDO, VAL SEMEIKS, JH WILLIAMS III, BEN HERRERA & JAN DUURSEMA
Cover by ADAM KUBERT
Logan succumbs to the beast within! Wolverine has lost his Adamantium skeleton, and his healing factor is on the fritz, but he's been coping fairly well. That ends now. The dark path that Logan's on is about to cost him his humanity — perhaps forever! As Wolverine heads home, team-ups with Gambit, Deadpool and Ghost Rider all lead to one of the greatest Wolverine/Sabretooth battles of all time — a clash of the titans from which neither escapes unscathed. In the unsettling aftermath, friends rally around Logan, hoping to keep him from succumbing to his animal side as he fights the N'Garai, the Juggernaut, Chimera and more with ever-increasing savagery. But all hope is lost when Wolverine is targeted by the heirs of Apocalypse: Genesis and the Dark Riders! Collecting WOLVERINE (1988) #87-100 and ANNUAL '95, and WOLVERINE: KNIGHT OF TERRA.
488 PGS./Rated T+ …$34.99
ISBN: 978-0-7851-9261-9 STAR WARS LEGENDS EPIC COLLECTION: INFINITIES TPB
Written by CHRIS WARNER, DAVE LAND, ADAM GALLARDO & J.W. RINZLER
Penciled by DREW JOHNSON, AL RIO, DAVIDE FABBRI, RYAN BENJAMIN, MIKE MAYHEW, SCOTT KOLINS & MORE
Cover by NICK RUNGE
The stories you know — reimagined! Play "What if?" with the original trilogy in a series of tales exploring the endless possibilities of Star Wars. How would A New Hope have gone if Luke Skywalker missed the target in his attack on the Death Star? What would have become of the Rebel Alliance if Luke perished in the icy wastelands of Hoth during The Empire Strikes Back? What if Return of the Jedi's rescue of Han Solo had gone badly wrong? And in the ultimate alternate take on the galaxy far, far away, follow Annikin Starkiller into The Star Wars in an epic based on the original draft of George Lucas' screenplay! Collecting STAR WARS INFINITIES: A NEW HOPE #1-4, STAR WARS INFINITIES: THE EMPIRE STRIKES BACK #1-4, STAR WARS INFINITIES: RETURN OF THE JEDI #1-4 and THE STAR WARS #0-8.
504 PGS./Rated T …$39.99
ISBN: 978-0-7851-9725-6
Star Wars © Lucasfilm Ltd. & TM. All rights reserved. Used under authorization. Text and illustrations for Star Wars are © 2015 Lucasfilm Ltd.
JESSICA JONES: ALIAS VOL. 3 TPB
Written by BRIAN MICHAEL BENDIS
Penciled by MICHAEL GAYDOS
Cover by DAVID MACK
As a costumed adventurer, Jessica Jones was plagued by a lack of self-esteem and an inability to master her superhuman powers. Eventually she realized that she would forever be considered a second-rate super hero, and hung up her cape and tights. Now a tough-as-nails private investigator, Jessica returns home to find a mysterious girl in a costume hiding in her apartment, but the girl flies away before Jessica can find out who she is. Through sources, Jessica discovers that her intruder is Mattie Franklin, A.K.A. Spider-Woman, a teenage super hero with a connection to Daily Bugle publisher J. Jonah Jameson. Now, with Mattie in danger, Jessica Jones must seek help from an unlikely source — Jessica Drew, the original Spider-Woman — to bring her home alive! Collecting ALIAS #10 and #16-21.
160 PGS./Explicit Content …$19.99
ISBN: 978-0-7851-9857-4