Creator's Commentary – Pasquale Qualano Talks Dejah Thoris #2
We have a creator's commentary today from artist Pasquale Qualano talking about Dejah Thoris #2 he did with Amy Chu that just hit shelves. It comes with covers by Mike McKone and Stephane Roux.
Dejah Thoris is on a secret mission to save her planet, but first she and the battle-scarred Red Martian warrior Sajad Surma must keep the scientific team ALIVE as they trek through dangerous deserts of Barsoom. The Princess of Mars learns some hard leadership lessons after a deadly encounter with a White Ape.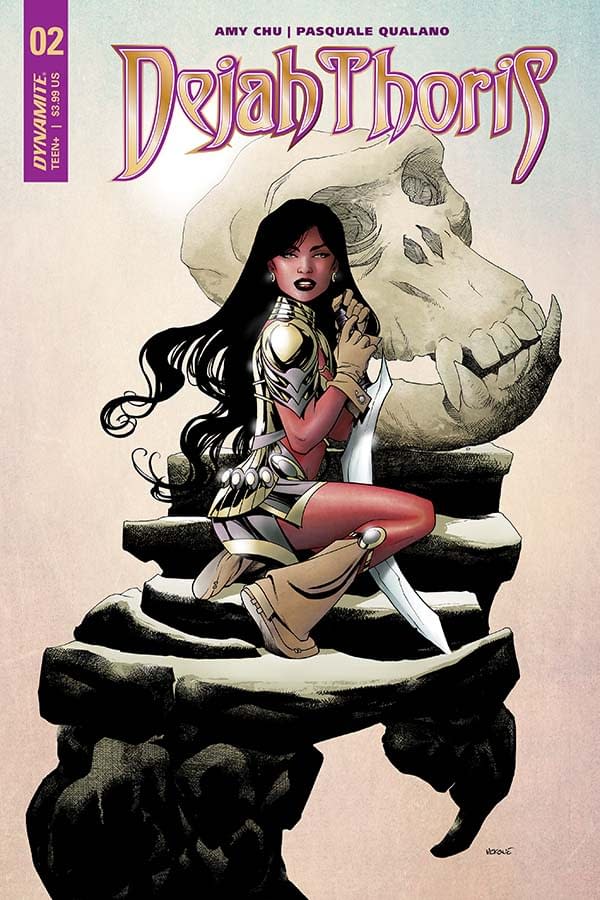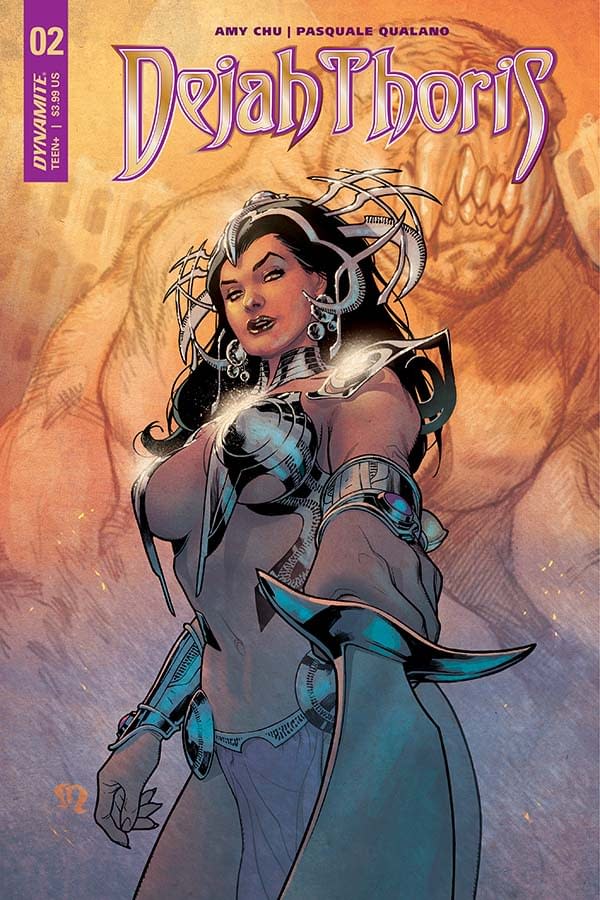 And now, the commentary from artist Pasquale Qualano!
*****
Hello there! Welcome to Barsoom!
I love working on this series. I love Dejah Thoris, the fantastic world of Barsoom and its creatures. I was asked to create a new outfit for Dejah for this series, a battle suit!
In this new series, Dejah is about 20 years old. She is inquisitive and adventurous.
I am a big fan of John Carter of Mars and the Barsoom stories. Barsoom is a fantastic world draw for an artist. The technology is a perfect combination of sci-fi and classic fantasy.
I'm really happy as an artist to help bring this comic book to readers.
Page 1
So, this second issue starts with a big panel of our heroes fighting against a White Apes! Amy allows me lots and lots of freedom to better express my art. I love working with Valentina, my great friend and collegue. I love her colors on my art.
I loved drawing that shot, looking down.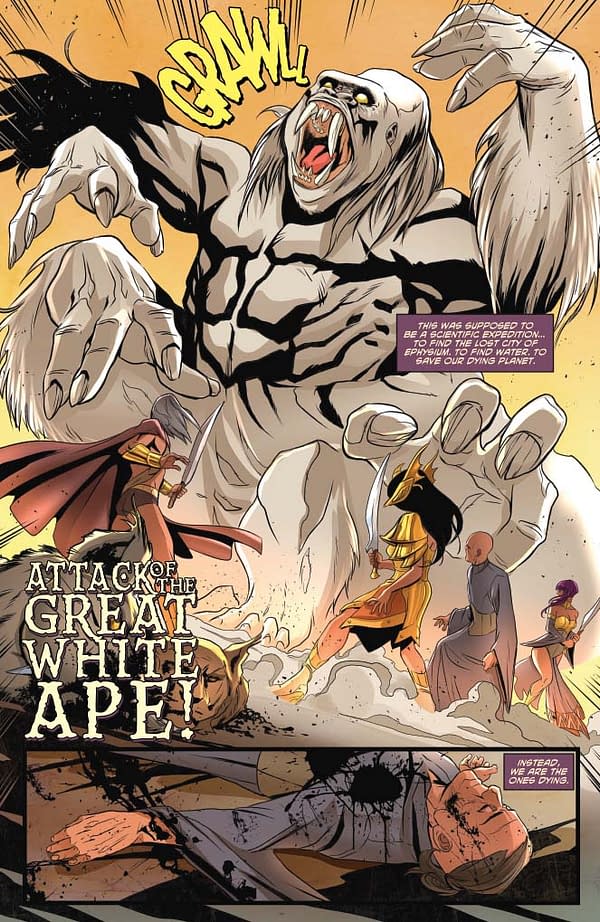 Page 2
Here finally I start with the action. The Red Martians are in trouble!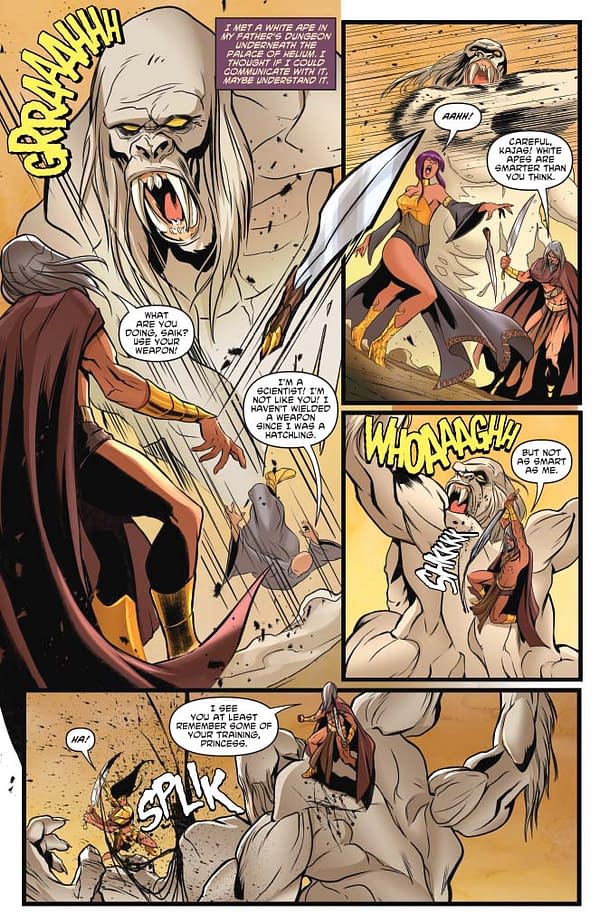 Page 3
I love to draw Sajad Surma. I created him. Sajad is a great fighter, always ready for a battle and to defend his princess. On this page, Sajad kills the White Ape with a BIG step up.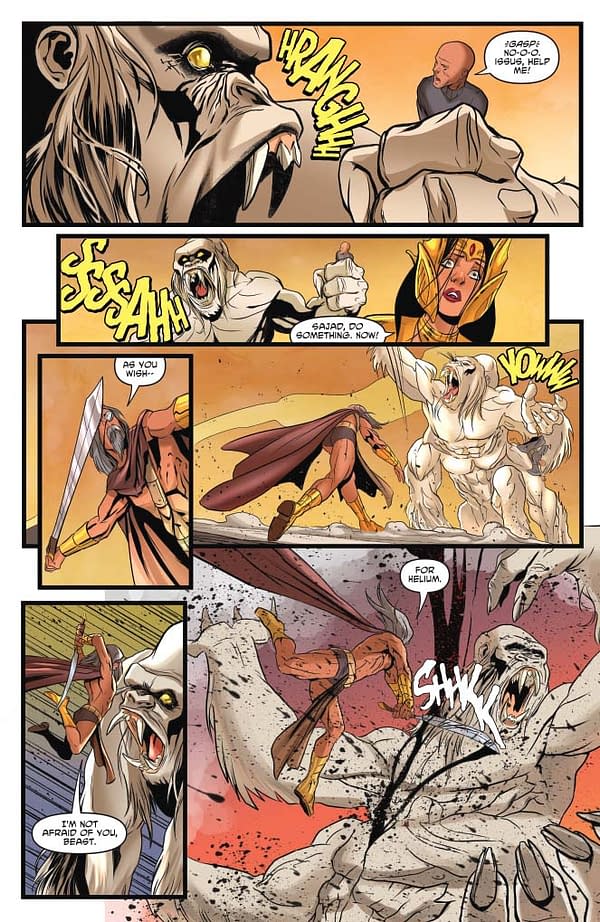 Page 4
Sajad watches the White Apes die. Kajas is so sad for the deaths, but there is no time to grieve.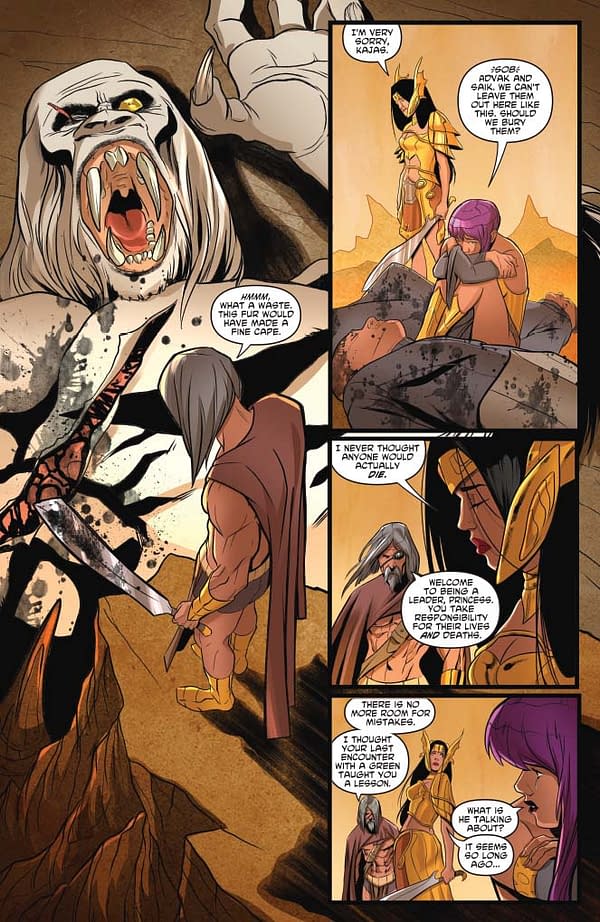 Page 5
A flashback page from issue # 0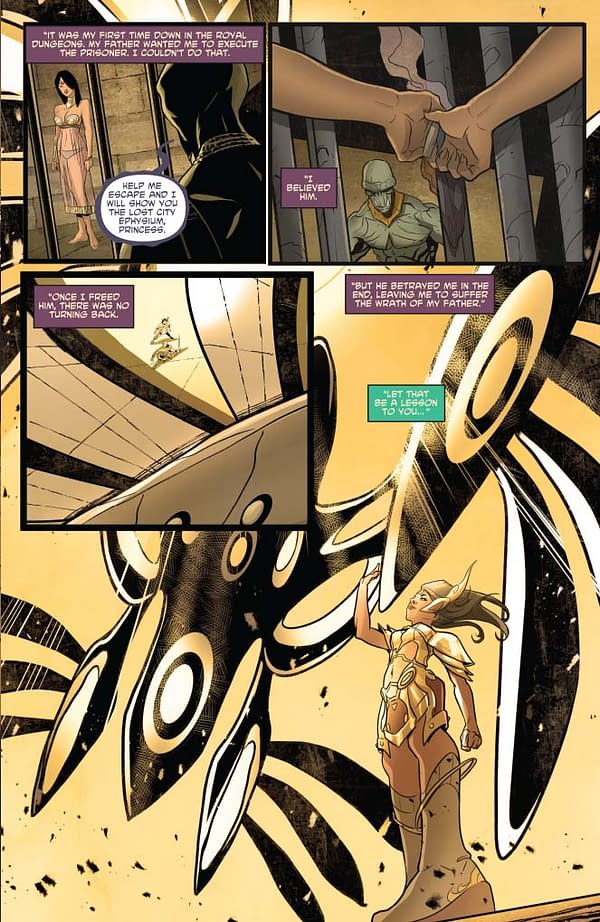 Page 6
Sajad will stop at nothing and is ready to continue the adventure. Dejah and Kajas seem shocked.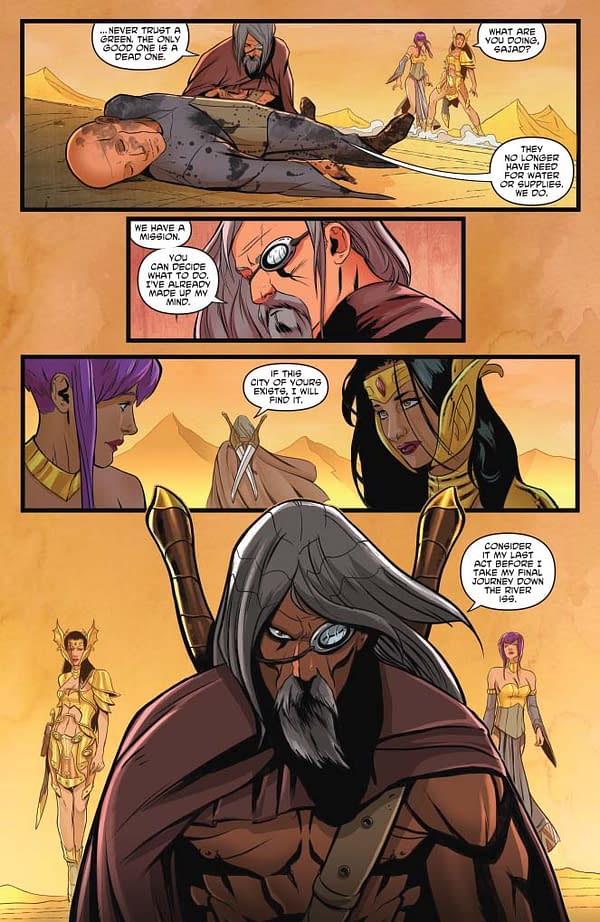 Page 7
It's a rough trip. Barsoom is hard planet. Valentina' s colors helps me to give that feeling.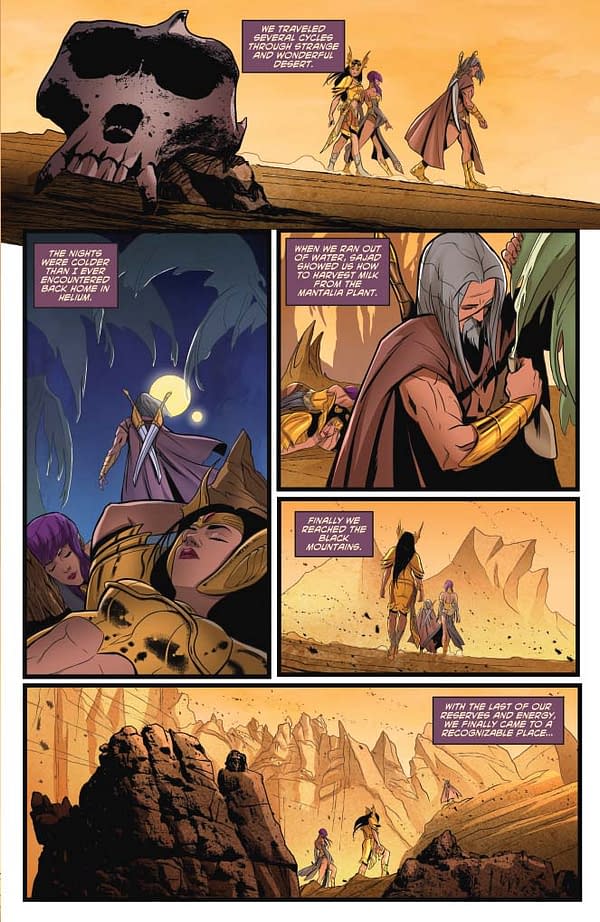 Page 8/9
Splash page! Amy needed me to draw a big crater. Dejah, Sajad and Kajas are small in comparison with the big hole.
Valentina has done a great job here showing the ambiance.
Page 10
Dejah and Kajas study the big crater as Sajad watches over them.
Page 11
A soldier is always alert and ready for action, but in the big panel Sajad was caught off guard!
Page 12
Splash page! So, like I said, Amy allows me a lot of freedom to better express my art, and what better way than a splash page?
On this splash page, I drew the plant men around our heroes. I took the liberty of doing an upgrade on this Barsoom creature.
Page 13
The plant men attack the Red Martians. I love to draw action sequences! Dejah and Kajas are in trouble. Is Sajad ready for a fight?
Page 14
The Red Martians fight against the plant men, but the creatures are too numerous. Is Sajad prepared for such a vital match?
Page 15
Sajad doesn't make it, unfortunately.
The plant men are distracted by a sound while they suck blood from Sajad.
Page 16
The Green Martians are here!
Page 17
The Tharks kill the plant men and they carry the Red Martians with them.
Page 18
Amy writes to me: "The ship flies towards an ancient crumbling city." Finally I get to draw the Tharks' country!
The ship touches down in front of the Tharks,
Page 19
Dejah and Kajas are prisoners. On this page, I had the opportunity to draw the ancient city of the Tharks I would like to add that I love to draw the Tharks.
Page 20
On a big throne, welcoming the prisoners, we see … the Jeddak!
I hope you like what you see in this issue of Dejah Thoris.
In issue # 3 you will have a lot of surprises, questions, answers, adventure and fighting. Don't miss it!