Cullen Bunn is best known as the creator you see listed in every single publisher's solicitations multiple times every month. While it is unknown what dirt the writer has on what seems like every single company besides Avatar Press and Zenescope Entertainment, Cullen Bunn's dedication to writing the absolute highest volume of comics cannot be understated. Now, in what can only be presumed to be an effort to break a world record for most comics pages produced in a single month, Cullen Bunn returns to Kickstarter. Following the success of his first two campaigns, Metro and Cullen Bunn Presents: A Passage in Black, the prolific marathon man himself returns with Democritus Brand and the Endless Machine.
Dubbed by Cullen Bunn, a "comic book story of cosmic horror in the steampunk era," the campaign sets out to fund the first two issues of Democritus Brand. The tireless Cullen Bunn is not alone in this endeavor and is joined by co-writer JimmyZ Johnston (likely no relation to Bleeding Cool's own Rich), artist Federizo de Luca, and letterer Simon Bowland. Cullen Bunn spoke exclusively to SyFy, saying of the new title:
"We were so excited about this book, we couldn't stop at just one issue, not even in the early stages!," Bunn tells SYFY WIRE. "We are thrilled about this story, so we went ahead and completed two issues before starting the Kickstarter. I hope readers are excited about it as we are. We have a really amazing variant cover from Baldemar Rivas. It's in-house, but our plan is to unveil it about a week into the campaign, just to keep the excitement going.

"Democritus Brand is a character we could write about for years to come. I think the world he lives in is ripe with stories. There are so many ghastly secrets to uncover. And he has a really cool support team, too! He is accompanied by the Countessa, a beautiful and dangerous dilettante; Conroy, a cunning street urchin; Zylphia, a soldier of the Crown; and Number 12, a pneumatic manservant. It's a motley crew, but they have exciting adventures!"
JimmyZ chimed in to add: "We even pitched it to some publishers before deciding we wanted to go the Kickstarter route," which I'm confident the Kickstarter community of artists and writers using the platform to fund their dream projects appreciates.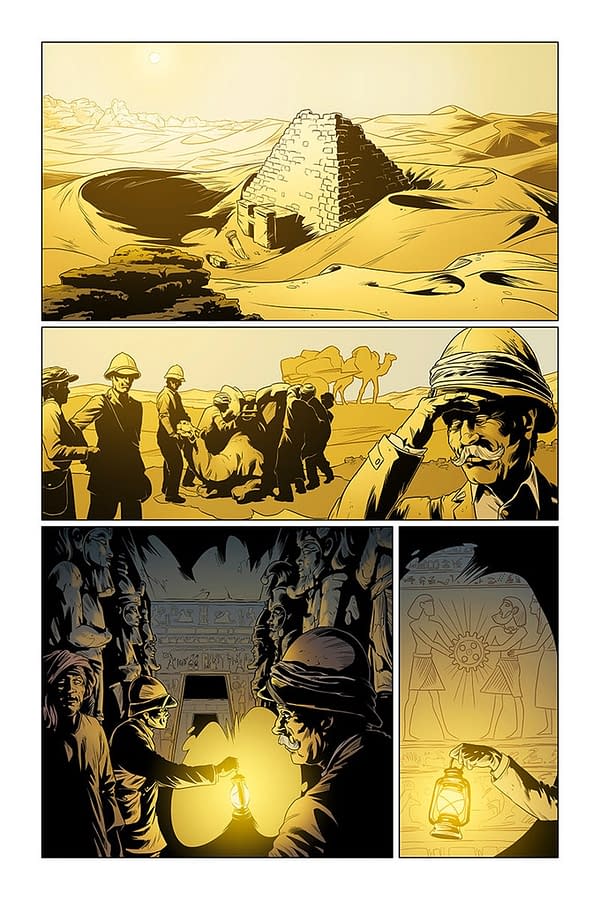 In all seriousness, the artwork is good, and the concept is that genre-meshing blast of fun in which Cullen Bunn is often his best. Most importantly, Bunn seems to be a creator who takes Kickstarter seriously. Historically, the platform has been used by some established creators who have abandoned campaigns, casting an undeserved shadow on smaller creators who break their backs to fulfill their projects themselves. Bunn has made good on all of his Kickstarter promises, which shows he's in it for the right reasons: for the passion of writing.
Or, in his case, perhaps the passion of writing as much as humanly possible. Watch out, Avatar, and Zenescope. Once Cullen Bunn reads this, you may have been added to his list.
Enjoyed this article? Share it!