Cullen Bunn just can't seem to quit symbiotes. Or maybe it's that symbiotes can't quit Cullen Bunn. It would certainly explain how he writes so many comics at one time if his body were augmented by a super-powered alien. In any case, Bunn is returning to the world of Venom once more in the leadup to Absolute Carnage with Web of Venom: Funeral Pyre, a new series created in collaboration with artists Alberto Albuquerque and Joshua Cassara.
Newsarama acquired the EX-X-XCLUSIVE news and an EX-X-XCLUSIVE interview with Bunn, an example of the symbiotic relationship between comic book publishers and the media who report on them (see how we did that?). Here's what Bunn had to say about the book:
Marvel just keeps dragging me back into the world of symbiotes! I'm not complaining, of course. I love the symbiotes! With Funeral Pyre, editor Devin Lewis lured me back with a name. That's all it took! A name! Now, readers who know me should be able to guess that name very quickly: Andi Benton.

Yes, this is a Carnage story through and through, but for much of the book he is a boogeyman lurking in the shadows… until he bursts out in a terribly horrific way. He's come to Philadelphia with murder on his mind. He's a bloodhound seeking out those who have hosted symbiotes. That makes Andi a target. I've long said that I'm the most cruel to the characters I love most… and I love Andi a great deal.
Andi Benton, of course, was formerly the partner of the Venom-clone Mania. Web of Venom: Funeral Pyre #1 is set to hit stores in July.
WEB OF VENOM: FUNERAL PYRE #1
CULLEN BUNN (W) • ALBERTO JIMENEZ ALBURQUERQUE & JOSHUA CASSARA (A) COVER BY DECLAN SHALVEY
VARIANT A COVER BY TBA
VARIANT B COVER BY TBA
– For weeks, the serial killer called Carnage has been hunting former symbiote hosts and killing them.
– Next on his list is ANDI BENTON, formerly MANIA, who's back to living in Philadelphia and without any symbiote to save her…
– The path of bodies that leads to ABSOLUTE CARNAGE continues here!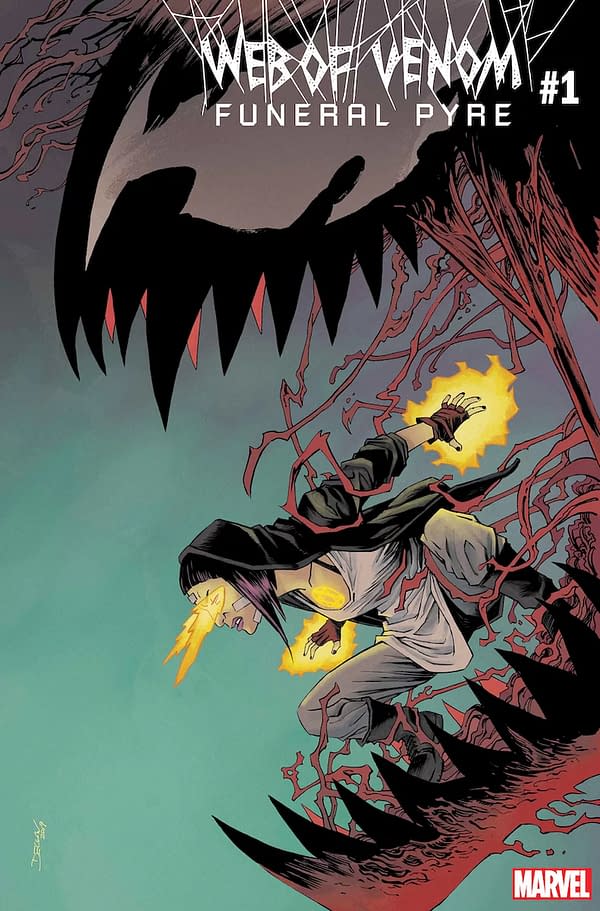 Enjoyed this article? Share it!