The Cults, Terrorists And Runaways Of Black Mask Studios' Complete May 2015 Solicitations
Indie publisher Black Mask Studios are back this May with their 2.0 lineup, including The Disciples #1, Young Terrorists #1, Critical Hit Vol. 1, Space Riders #3, We Can Never Go Home #3, Space Riders #3, Mayday #3, and Godkiller #6. Ever a publisher to keep your eye on, their Spring and Summer books are keeping the high octane approach that have powered them into their second wave. Seriously check out their books if you are looking for edgy indie comics that have the professional cohesion of the mid-sized publishers while going a bit too far in the right ways.
Here are Black Mask Studios complete solicitations for May:
THE DISCIPLES #1
Diamond code: MAR151018
Writer: Steve Niles
Artist: Christopher Mitten
Cover: Christopher Mitten
SRP: $3.99
MR, Color, 36 pages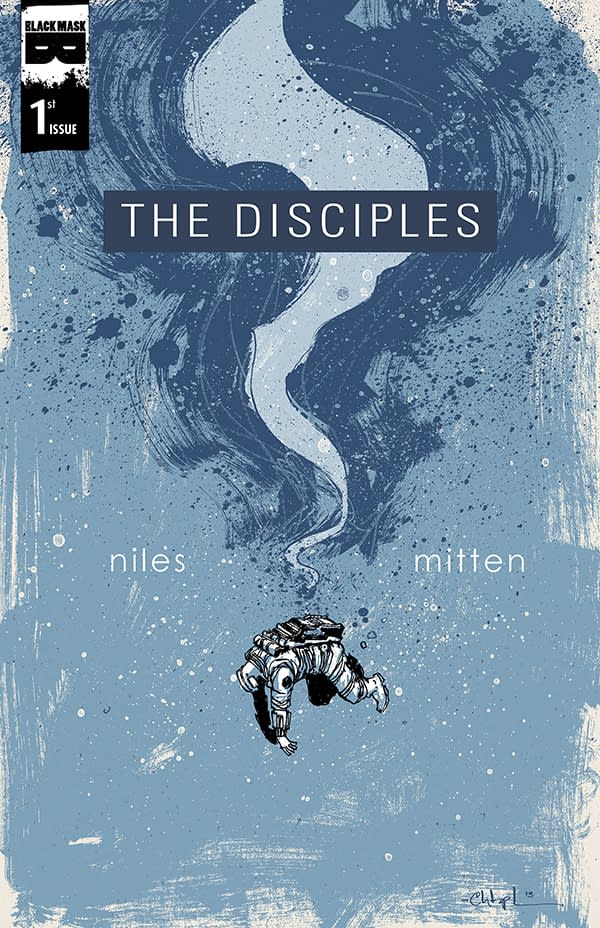 Description:
Dagmar, Rick, and Jules, intrepid private eyes/bounty hunters, have been hired by a high ranking Senator to retrieve his teenage daughter who's run off to join a mysterious religious cult.

This is no ordinary cult though. In the near future of "The Disciples," the ultra-wealthy have become true Masters Of The Universe by colonizing moons throughout the solar system. Billionaire industrialist McCauley Richmond is one such colonist: he's built a new society on Ganymede, a moon of Jupiter, where his flock of cultists can have the religious freedom to worship him.

But when the team reaches Ganymede in their Starship Venture, they discover something has gone horribly wrong…

This ghost story in space reunites comics' king of the macabre Steve Niles with his longtime collaborator Christopher Mitten, whose stylish mix of grit and flow matches Steve's sharp characterizations and taste for screams.
YOUNG TERRORISTS #1
Diamond code: MAR151023
Writer: Matt Pizzolo
Artist: Amancay Nahuelpan
Cover: Amancay Nahuelpan
SRP: $6.99
MR, Color, 84 pages, monthly

Description:
What if "The Smoking Man" from X-Files was a real person, and his daughter found out what he did for a living?

The daughter of an assassinated globalist kingpin breaks out of an internment camp and leads her fellow escaped prisoners in a battle against an elitist conspiracy of shadow governments, megabanks, and military juntas in this edgy and subversive sci-fi thriller.

Incendiary writer Matt Pizzolo (Godkiller, Occupy Comics, Threat) and striking newcomer Amancay Nahuelpan unleash this tour-de-force that fearlessly assaults politics-as-usual.

Young Terrorists continues the legacy of DMZ and The Invisibles as it manically rips the scab off life under the new world order and revels in the pus underneath.

The 84-page issue 1 perfect-bound prestige-edition launches this new ongoing series, continuing forward with standard 32-page single issues with June's issue 2.
CRITICAL HIT, Vol. 1
Diamond code: MAR151017
Writer: Matt Miner
Artist: Jonathan Brandon Sawyer
Cover: Jonathan Brandon Sawyer
SRP: $12.99
MR, Color, 96 pages, monthly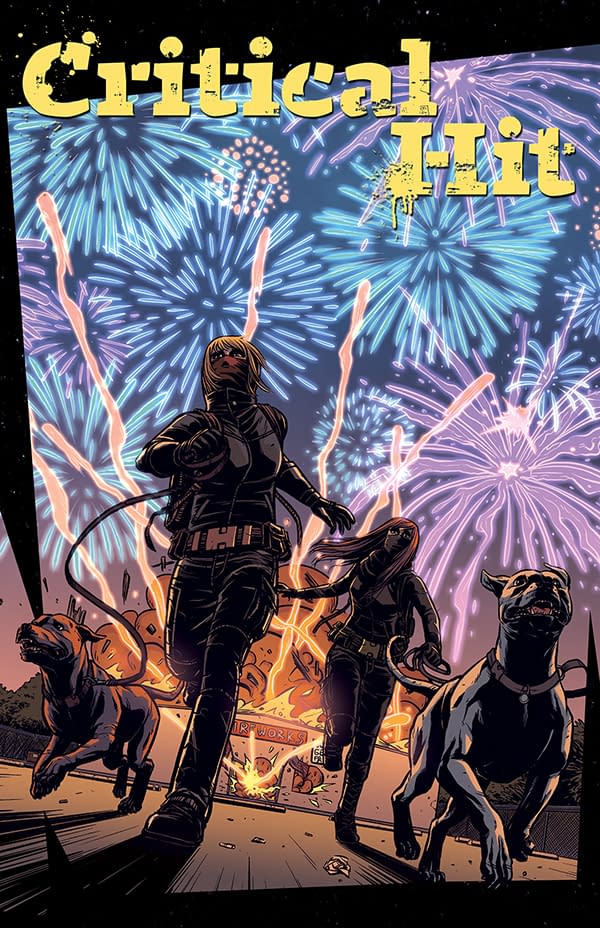 Description:
Sarah and Jeanette love animals with a vengeance.

Under cover of darkness, they don ski-masks and wield sledgehammers, rescuing abused animals from dog-fighting rings, illegal testing labs, and other abusers.

When they wreak havoc on a rogue gang of hunters, though, the girls find themselves in over their heads. The gang they've stumbled onto aren't hunters – they're serial killers. And soon the liberators become the prey!

Collecting the beloved 4-issue series by punk visionary Matt Miner and breakout artist Jonathan Brandon Sawyer.
SPACE RIDERS #3
Diamond code: MAR151021
Writer: Fabian Rangel Jr.
Artist: Alexis Ziritt
Cover: Alexis Ziritt
SRP: $3.99
MR, Color, 32 pages, monthly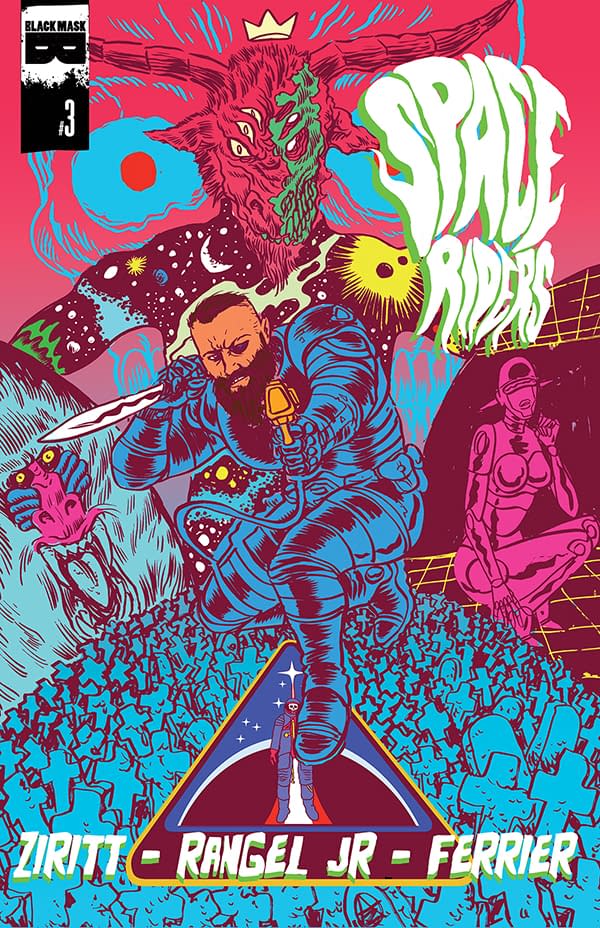 Description:
Wrongfully accused of attempted GOD MURDER, Capitan Peligro, Mono, and Yara find themselves captured by an alien robot army. Meanwhile, an all powerful evil is gathering forces across the galaxy, and they're in hot pursuit of our heroes. Hold on to your butts as the SPACE RIDERS hunt for THE TOMB OF THE SPACE GODS!
WE CAN NEVER GO HOME #3
Diamond code: MAR151022
Writers: Matthew Rosenberg & Patrick Kindlon
Artist: Josh Hood
Covers: Michael Walsh
SRP: $3.99
MR, Color, 32 pages, monthly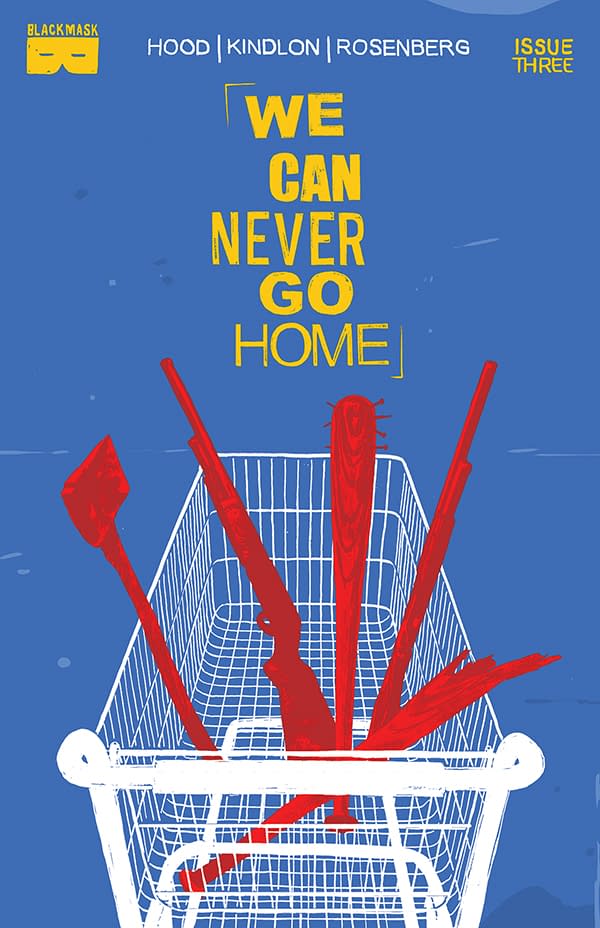 Description:
Both the cops and the crooks are closing in on Madison and Duncan. Seems like a good time to go clothes shopping, rob some drug dealers, hit the fairground for some cotton candy, and maybe make out. Oh, and someone gets shot in this issue.
MAYDAY #3
Diamond code: MAR151020
Writer: Curt Pires
Artist: Chris Peterson
Cover: Chris Peterson
SRP: $3.99
MR, Color, 32 pages, monthly Description:
MAYDAY #3 is a comic book. With boys and girls and guns and pig people and holes in spacetime and Los Angeles. What are you waiting for? Just read it. You'll love it. Trust me, I'm a doctor. The third issue of the smash hit by Curt Pires and Chris Peterson is here.
GODKILLER #6
Diamond code: MAR151019
Writer: Matt Pizzolo
Artist: Anna Muckcracker Wieszczyk
Cover: Ben Templesmith
SRP: $3.99
MR, Color, 36 pages, monthly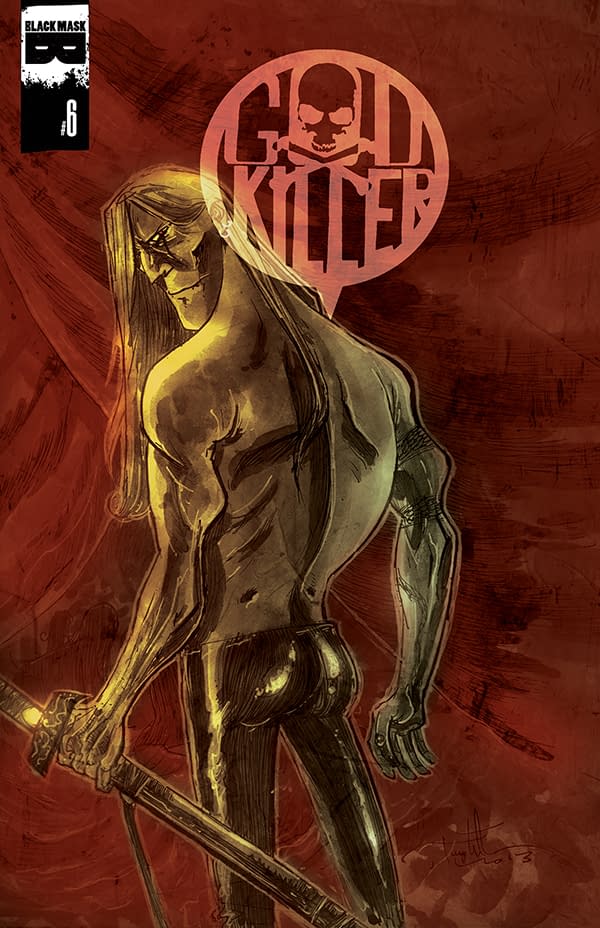 Description:
In the ancient tunnels beneath Guernica, Tommy, Halfpipe, and Mulciber are separated from the bounty hunter Soledad and must face an overpowering evil on their own. One of the three will die, the other two won't get out that easy.
About Black Mask Studios
Black Mask Studios is a publishing/production company that specializes in working with creators to create the most daring, smartest, riskiest comics around. Launched in 2013 by Brett Gurewitz (Bad Religion, Epitaph Records, ANTI- Records), Steve Niles (30 DAYS OF NIGHT), and Matt Pizzolo (Occupy Comics), the company's mandate is to support unique creators and expand their audiences. Black Mask's initial slate included the political, not-for-profit Occupy Comics (with Alan Moore, Charlie Adlard, Art Spiegelman, Molly Crabapple, and dozens more), the animal-rescuing vigilantes story Liberator, Adam Egypt Mortimer and Darick Robertson's transreal, cyberpunk adventure Ballistic, and the multi-platform gangster odyssey 12 Reasons To Die by Ghostface Killah and RZA. Black Mask recently announced its 2015 slate which features new works by Grant Morrison, Vanesa Del Rey, Michael Moreci, and Steve Niles.