Daredevil's Greatest Villain Returns in Next Week's Daredevil #611
Daredevil will be NO MORE in just two issues, as the Death of Daredevil storyline wraps up, ending this volume of the series and leading into the already-started Marvel Knights 20th mini, in which Daredevil has lost his memories. After that, in January, we get a weekly Man Without Fear mini, showing the denizens of Hell's Kitchen trying to cope with a world without Daredevil. And then, of course, shortly afterward, we can almost certainly expect a Daredevil reboot of some kind.
But until then, it's time for Daredevil to play his greatest hits on one last farewell tour, and that means facing off against some of his greatest villains. And it is, perhaps, his greatest villain that appears in next week's Daredevil #612. No, we're not talking about Kingpin or Bullseye. Of course, we mean: Stilt-Man!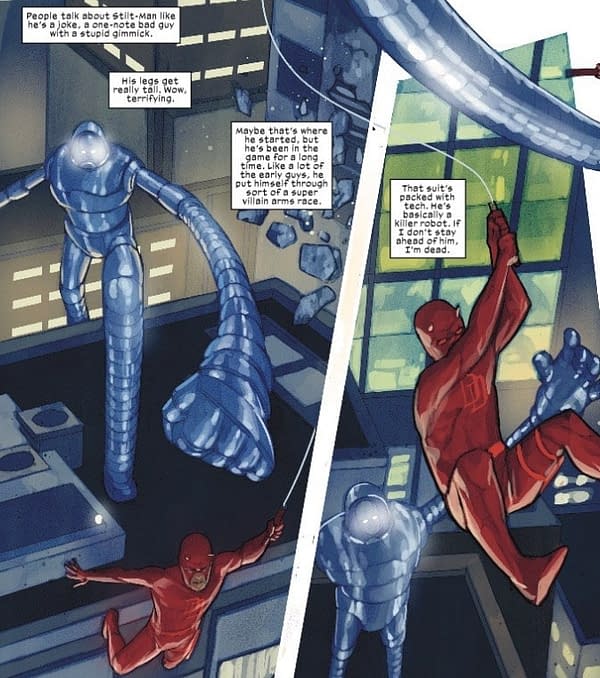 Okay, fine, maybe not greatest villain. But Daredevil sure does a good job of putting him over.
Daredevil #611 hits stores next Wednesday.
Daredevil #611
(W) Charles Soule (A/CA) Phil Noto
• As DAREDEVIL's crusade against the Kingpin moves into its endgame, the stakes have never been higher.
• But a mysterious new villain has arrived in Hell's Kitchen, with Daredevil squarely in his sights…
Rated T+
In Shops: Nov 14, 2018
SRP: $3.99