Dark Horse Cancels Orders For "Spell On Wheels 2", Switches Witches to OGNs
Dark Horse Comics had solicited a new five-part Spell On Wheels series to launch for Hallowe'en, Spell On Wheels 2: Just To Get To You from series creators Kate Leth, Megan Levens, Marissa Louise, with new letterer Rachel Deering,
The first issue was meant to come out next week. However, the publisher has just informed retailers that the three solicitations currently published for issues going up to December, are to be cancelled.
Bleeding Cool contacted creators and publishers for comment, without response. But a couple of weeks ago, Leth posted that the series would be going original graphic novel only.
The first Spell On Wheels series from 2017 told the story Andy, Claire and Jolene, three witches on a roadtrip in search of the thief who had stolen all their magical items. The second series – now original graphic novel – will see them in search of the one responsible for Claire becoming possessed.
Here are the currently cancelled solicitations, to give a flavour.
SPELL ON WHEELS 2 #1 (OF 5)
(W) Kate Leth (A/CA) Megan Levens
The trio of Witches from Spell on Wheels return in this follow up cross country series! Andy, Claire, and Jolene find themselves back on the road when a dark presence from out west possesses Claire. As they follow the I-10 towards danger unknown, the group grapples with phantoms, family drama, cryptids, and crushes. Kate Leth (Patsy Walker, A.K.A. Hellcat), Megan Levens (Star Trek: Boldly Go), and Marissa Louise (Hex Wives, Grumble) bring you another chapter in the Spell on Wheels saga!In Shops: Oct 09, 2019
SRP: $3.99
SPELL ON WHEELS 2 #2 (OF 5) JUST TO GET TO YOU
(W) Kate Leth (A/CA) Megan Levens
The witches arrive in the Big Easy, but tensions are high in the group. Claire continues to lose herself to an outside influence while Andy finds a helping hand in looking for a solution. Just when she thinks she can solve the possession, Jolene and Claire's frustration boil over, and the three find their relationship more strained than ever. From all-star team Kate Leth (Patsy Walker, A.K.A. Hellcat), Megan Levens (Star Trek: Boldly Go), and Marissa Louise (Hex Wives, Grumble)!In Shops: Nov 06, 2019
SRP: $3.99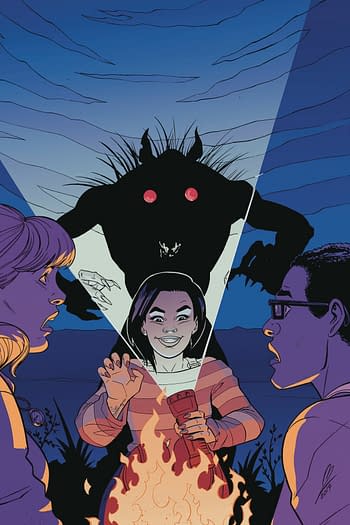 SPELL ON WHEELS 2 #3 (OF 5) JUST TO GET TO YOU
(W) Kate Leth (A/CA) Megan Levens
When Andy, Claire, and Jolene's car breaks down on the long, lonely desert road through Texas, there's nothing to do but camp out. Everyone's forced to confront all the things they're not saying . . . as well as something dangerous lurking in the dark
In Shops: Dec 04, 2019
SRP: $3.99