In January, Marvel Comics will be publishing new Conan The Barbarian comics books as well as reprinting classic Conan comics.
Which means that Dark Horse Comics has to clear the warehouses while they still have the license. After December, they can only be sold outside if the USA where Conan is in public domain…
Which can cost quite a bit in postage. So Dark Horse Comics is giving retailers liquidation deals on the following books… and also salting the Earth for Marvel's attempt to reprint them at full price.
Maybe you can talk to your retailer if you want to stock up and come to come kind of arrangement? And see how Amazon Marketplace responds in days to come…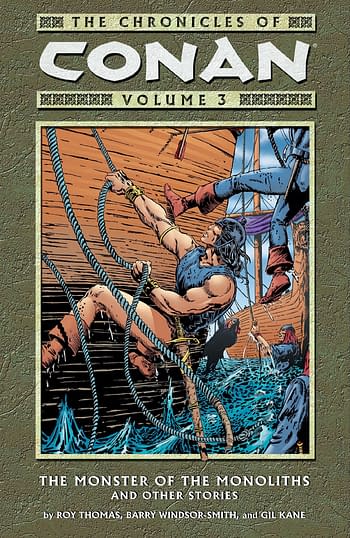 CHRONICLES OF CONAN 03 TPB
CHRONICLES OF CONAN 10 TPB
CHRONICLES OF CONAN 11 TPB
CHRONICLES OF CONAN 12 TPB
CHRONICLES OF CONAN 13 TPB
CHRONICLES OF CONAN 15 TPB
CHRONICLES OF CONAN 16 TPB
CHRONICLES OF CONAN 19 TPB
CHRONICLES OF CONAN 21 TPB
CHRONICLES OF CONAN 25 TPB
CHRONICLES OF CONAN 26 TPB
CHRONICLES OF CONAN 27 TPB
CHRONICLES OF CONAN 28 TPB
CHRONICLES OF KULL VOL 1
CHRONICLES OF KULL VOL 2
CHRONICLES OF KULL VOL 3
CHRONICLES OF KULL VOL 4
CHRONICLES OF KULL VOL 5
CONAN AND DEMON OF KHITAI TPB
CONAN DAUGHTER OF MIDORA TPB
CONAN JEWELS OF GWAHLUR HC
CONAN PHANTOMS BLACK COAST TPB
CONAN RED SONJA HC
CONAN SONGS OF THE DEAD TPB
CONAN THE BARBARIAN HC VOL 14
CONAN THE BARBARIAN HC VOL 15
CONAN THE BARBARIAN HC VOL 16
CONAN THE BARBARIAN VOL 14 TPB
CONAN THE BARBARIAN VOL 15 TPB
CONAN THE BARBARIAN VOL 17 HC
CONAN VOL 08 BLACK COLOSSUS TPB
CONAN VOL 11 ROAD OF KINGS PT01 HC
CONAN VOL 18 THE DAMNED HORDE HC
CONAN: THE PHENOMENON TPB
CONAN:THE BLOOD STAINED CROWN
KING CONAN CHRONICLES VOL 08
KING CONAN CHRONICLES VOL 09
KING CONAN CHRONICLES VOL 3
KING CONAN CHRONICLES VOL 5
KING CONAN CHRONICLES VOL 6
KULL VOL 1 SHADOW KINGDOM
KULL VOL 3 CAT & THE SKULL
REH SAVAGE SWORD VOL 01
REH SAVAGE SWORD VOL 02
SAVAGE SWORD OF KULL VOL 1
SAVAGE SWORD OF KULL VOL 2
SOLOMON KANE 2 TPB
SOLOMON KANE 3 TPB
Enjoyed this article? Share it!