Frank Miller Signed & Sketched Dark Knight #1 On Auction On Heritage

The Dark Knight Returns is one of the seminal comics in the medium, whose importance cannot be overstated. So naturally, it is a highly collectible mini-series. Every now and then though, a really special copy of one of these books pop up, like this one on auction right now at Heritage Auctions. There is currently a Dark Knight Returns #1 CGC 9.8 on auction on the site right now which ends on July 11th. Normally, that is not that rare. What makes this one special is that it is not just signed by Frank Miller and Klaus Janson. Oh no, this one has a Batman profile sketch by Miller as well. That takes this one from pretty cool to collection cornerstone pretty quickly. Miller is not young anymore and doesn't do as many conventions, let alone keep his mood up long enough to sketch on covers like this. Check out this special Dark Knight Returns piece below.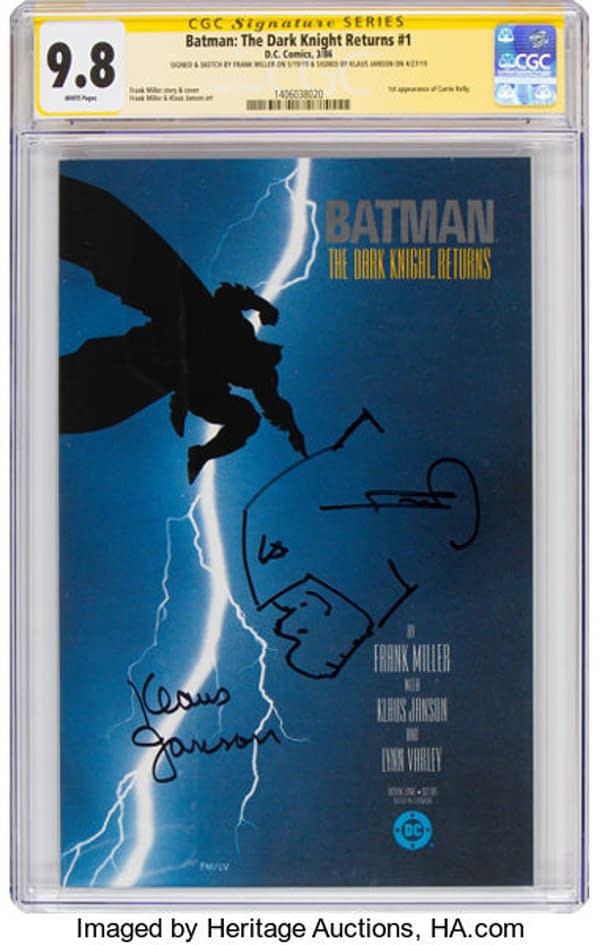 The Dark Knight Returns #1 Signed & Sketched
"Batman: The Dark Knight Returns #1 Signature Series – Signed and Sketch by Frank Miller (DC, 1986) CGC NM/MT 9.8 White pages. We don't recall ever seeing a Frank Miller sketch on a Signature Series book before, and since Miller is anything but a regular on the convention circuit, it might be a while before we see another. CGC notes, "Signed & Sketch by Frank Miller on 5/19/19 & Signed by Klaus Janson on 4/27/19." Overstreet 2019 NM- 9.2 value = $125. CGC census for Universal grades 5/20: 553 in 9.8, 1 higher; for Signature Series 5/20: 153 in 9.8, none higher."
Currently, this auction is getting serious already, even though it has 12 days left. It currently is sitting at $1400. That is a ton, but not even close to where this one is going to end at. If you have the cash available right now, this is maybe the only shot you are going to have a Dark Knight Returns piece like this, let alone a Miller one like this. Go here to get more info on the auction which ends on July 11th, and see all of the other stuff in this auction at Heritage right now.