Darth Vader is Frank Frazetta's Death Dealer in Tomorrow's Star Wars: Vader: Dark Visions #1 (Spoilers)
Tomorrow sees the publication of Star Wars: Vader: Dark Visions, the comic book that was hurriedly put together after Chuck Wendig was fired from the similarly-titled Shadow Of Vader mini-series after not toeing the Perlmutter line on things…
Insteas we have Dennis Hopeless taking over for the first issue out tomorrow with Paolo Villanelli, and Greg Smallwood recreating Frank Frazetta's Death Dealer as Darh Vader.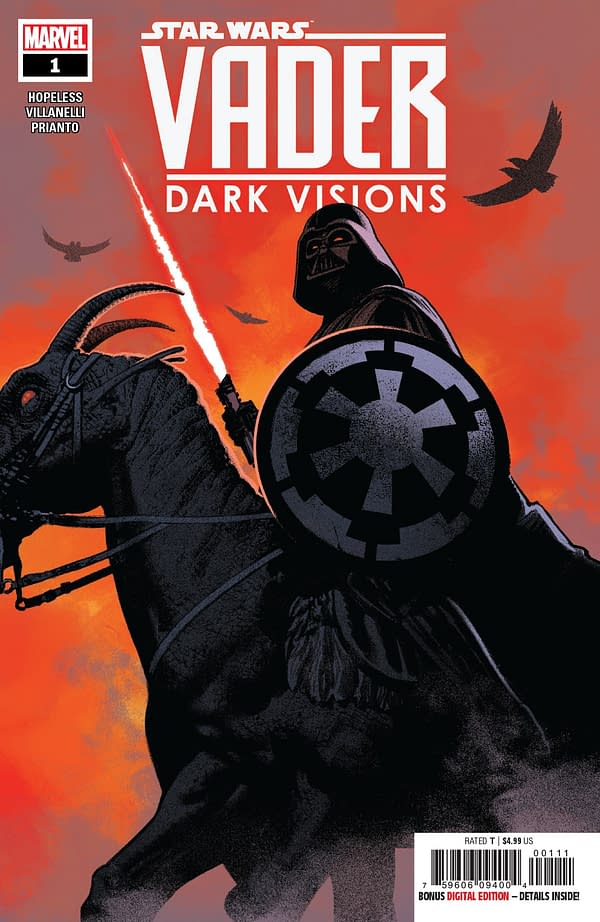 Compared to the original…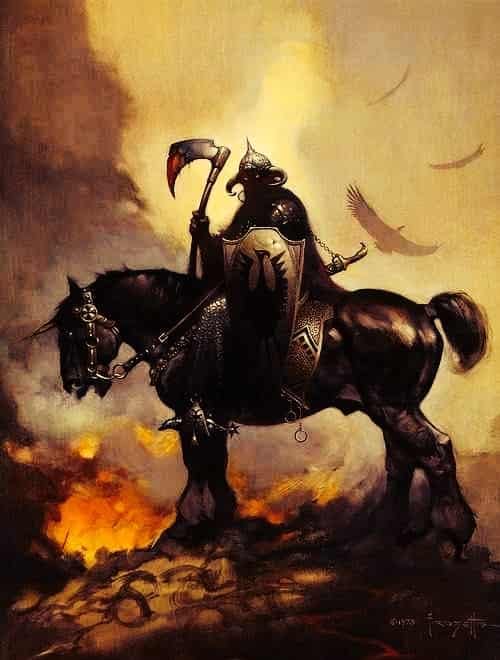 The comparison is clear. The original painting from 1973 depicts a menacing armor-clad warrior with a horned helmet, facial features are obscured by shadow, atop a horse, holding a bloody bearded axe and shield.
Thre have been posters, books, statues, comic and games based on this one image. At one point named Gath of Baal, a tribeless barbarian who is given by a sorceress a helmet possessed by the god of death. The helmet gives him godlike power but at the same time tries to break Gath to its will.
Gath and Darth are a little close, right? And Darth Vade steps up and plays the monster-slayer role demanded of him, For he is the hero of this story, saving those around him as an accident of saving himself…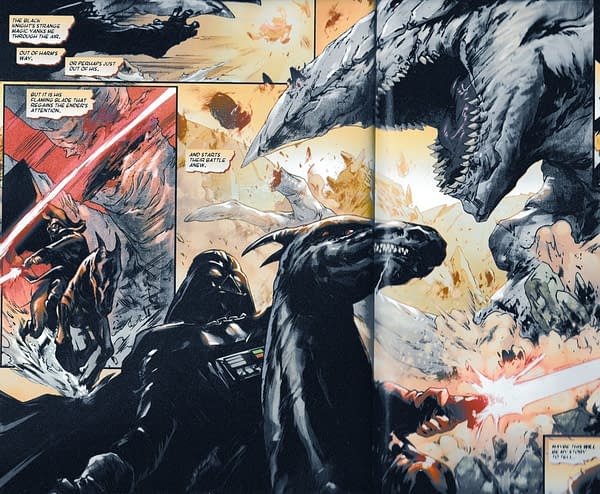 Published tomorrow.
STAR WARS VADER DARK VISIONS #1 (OF 5)
(W) Dennis Hopeless (A) Paolo Villanelli (CA) Greg Smallwood
WHO IS DARTH VADER?
He has been many things: a SITH warrior, a commander, a destroyer. DARTH VADER is to many throughout the GALACTIC EMPIRE a symbol of fear and mysterious, otherworldly power. But there are some who have seen the DARK LORD in a different light. There are some corners of the galaxy so dark and desperate that even Vader can be a knight in shining armor. The first issue of a new STAR WARS limited series, writer Dennis Hopeless (CLOAK AND DAGGER, JEAN GREY) sheds new light on the many sides of the galaxy's greatest villain.
Rated TIn Shops: Mar 06, 2019
SRP: $4.99