Days Of Past, Present and Future in Today's X-Men #6, X-Force #7 and Excalibur #7 (#Spoiler)
Three X-Men comic books, part of the wide Jonathan Hickman Dawn Of X range, came out today. So how are they defining the modern Krakoan way of life? Well, in Excalibur #7, it's a trip to London to see the Warwolves. Remember them? The Warwolves were originally a group of extra-dimensional agents of Mojo as part of his Wildways, originating from Mojoworld in the Mojoverse. Mojo originally engineered the Warwolves as a pack of six sentient canine/humanoid servants, artificially created through genetic engineering by Mojo's scientists. And in Excalibur they ended up working with Gatecrasher and her Technet and later interdimensional slave trader Tullamore Voge. But they always end up in Regent's Park's Zoo. Which, when we left them decades ago, that's where they were happy hanging out.
Okay, not happily.

But they came and went. And now they have most definitely gone.
Which end up getting involved with the Bloodstones – and with bloodsports.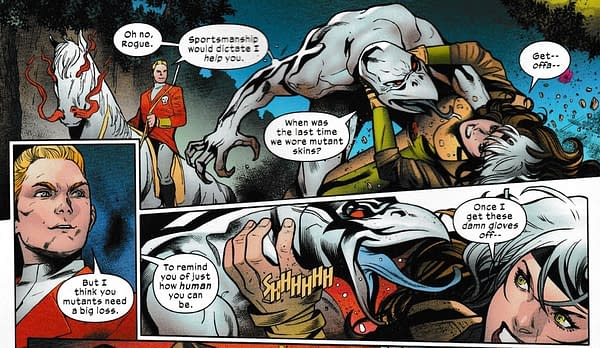 But the Warwolves are not the only blast from the past, we also get Exodus, fresh from serving on the Quiet Council. With a question every mutant reader wants to ask.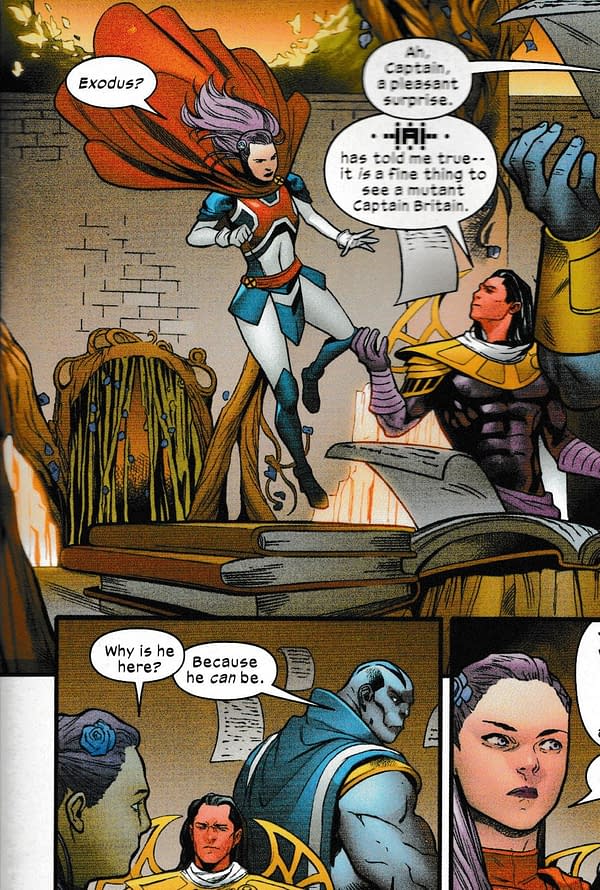 Exodus was created by Scott Lobdell and Joe Quesada, and first appeared in X-Factor #92. Born in 12th century France under the name of Bennet Du Paris he was a contemporary of Eobar Garrington, the Black Knight of that era, and who manifested mutant powers, the mighty being Exodus, under the command (ish) of Apocalypse. Revived centuries later, he would fulfil a similar role for Magneto, before going on to lead the Acolytes. He is a really really nineties character. Why is he here? Well, Jonathan Hickman clearly really likes Scott Lobdell characters everyone has forgotten about. I mean, Synch, come on.
While Excalibur digs into its past, X-Force looks to the present, a world in reaction to Krakoa, with significant human supporters getting bumped off. And Domino trying to predict who will be hit next,
But in doing so, giving Krakoa hope for the future. Which may not be entirely present in X-Men. We've looked at the new laws of Krakoa and how certain mutants, often those who set those laws, suddenly decide they no longer apply. We've seen Hank McCoy dismiss Kill No Man previously and now we have Magneto do the same.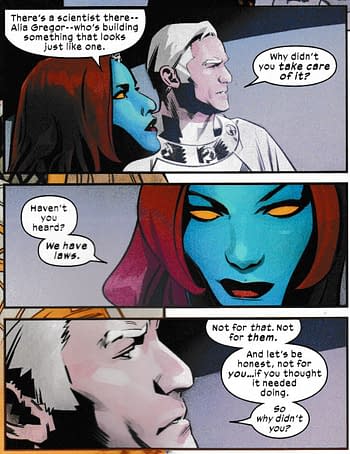 But there's more besides. Remember when Moira MacTaggert stated that they couldn't bring back Destiny from the dead?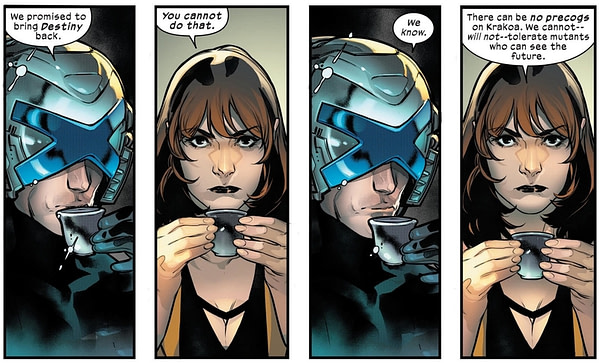 Despite that being Mystique's price for working with the mutant island, because her visions of a future could reveal what everyone had been up to, and destroy Krakoa? Well, it seems that this very action denying Mystique the return of her partner…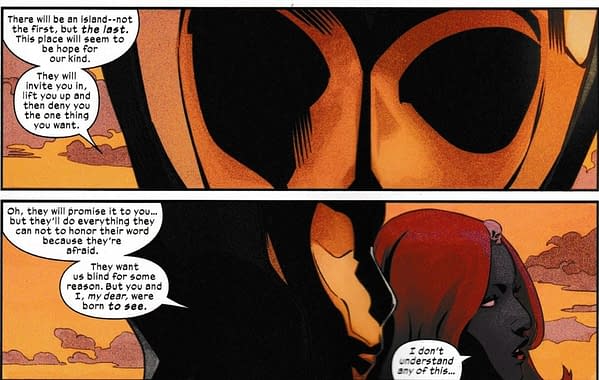 …is what will actually destroy Krakoa.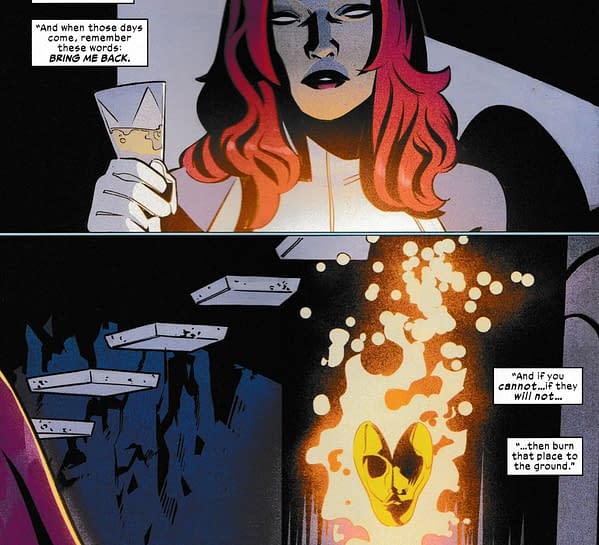 You know that thing about one creating one's own nemesis? Oh Moira…
X-MEN #6 DX
(W) Jonathan Hickman (A) Matteo Buffagni (CA) Leinil Francis Yu
Mystique goes to extraordinary lengths to get what she wants…
Rated T+In Shops: Feb 12, 2020
SRP: $3.99

EXCALIBUR #7 DX
(W) Tini Howard (A) Wilton Santos (CA) Mahmud Asrar
THE HUNTSMEN AND THE WARWOLVES!
Excalibur faces an old foe – this time as the hunters rather than the game.
Rated T+In Shops: Feb 12, 2020
SRP: $3.99

X-FORCE #7 DX
(W) Ben Percy (A) Oscar Bazaldua (CA) Dustin Weaver
MISS FORTUNE STRIKES!
Domino's luck seems to be changing… Can she find the source of her misfortune before it costs lives all over the world? And has Colossus healed enough to help her… or even himself?
Parental AdvisoryIn Shops: Feb 12, 2020
SRP: $3.99
X-Men #6, X-Force #7 and Excalibur #7 are published today from Marvel Comics. I bought mine from Piranha Comics in Kingston-Upon-Thames. Piranha Comics is a small south London comic store chain with a small south-east store in Kingston-Upon Thames's market centre, which runs Magic The Gathering nights on Fridays, and a larger south-west store in Bromley, which also runs Magic nights and has an extensive back issue collection and online store. If you are in the neighbourhood, check them out.