Yesterday, Bleeding Cool ran the story that DC Comics was to issue 100-page anthologies of their comics exclusively through Walmart and that each would contain original comic book stories from the cream of their talent pool. And those involved were thrilled including Tim Seeley (who kindly linked to out original report):
Im writing WONDER WOMAN for WAL-MART which is not a thing i ever thought would be said. Original comics from @DCComics for the whole country: https://t.co/UKO5ja6t4q

— Tim Seeley (@HackinTimSeeley) June 22, 2018
Dan Jurgens looking to a new audience and an old masthead:
Thrilled to be part of DC's Exclusive line of Walmart books. Great chance to cultivate an audience of new readers that might not otherwise find their way to comics. Plus–that 100-page Comic GIANT! masthead is awesome to see again. pic.twitter.com/A6a569Pz0w

— Dan Jurgens (@thedanjurgens) June 22, 2018
And Jimmy Palmiotti revelling in the new work he had, and giving us more details:
I will be writing the new lead in story to each book for issue #1 and #2 in the #SUPERMAN and #BATMAN books. They will both be out beginning of July and August. Then, starting in September…

— Jimmy Palmiotti (@jpalmiotti) June 22, 2018
@AmandaRantsAlot and I will then be writing a new @DCComics #WonderWoman series starting in issue 3 in the #JLA TITLE. As soon as I can get an okay to tell you who the artists are on this, I will let you know. I will just say they both have been working with us for a while!

— Jimmy Palmiotti (@jpalmiotti) June 22, 2018
My #Batman story in issue 1-2 retells his origin within the bigger story about a kidnapped girl. @PatrickZircher killed it on this story. Also excited because I also have a #HarleyQuinn story reprinted in it as well. pic.twitter.com/lFeEwZaQ3M

— Jimmy Palmiotti (@jpalmiotti) June 22, 2018
And possibly in reference to yesterday's story about DC changing their paper stock away from glossy:
Wait till you see the paper quality and binding. its going to find a lot of new readers.

— Jimmy Palmiotti (@jpalmiotti) June 22, 2018
But in discussion with comic store retailers concerned about the exclusive story content that they won't be able to order, Palmiotti replied:
they said the stories will be collected for retailers to have them, since its only 12 pages of new material in the 100 pages mostly of reprints.

— Jimmy Palmiotti (@jpalmiotti) June 22, 2018
That's the first time we've heard how long these exclusive stories will be. Twelve pages an issue, out of the 100 pages. Add between 60 and 66 pages from the reprint issues, and that's 22-28 pages an issue to be filled with editorial, ads, and covers.
They allow stores to have exclusive covers. This is a store that owns over 3000 stores asking for 12 new pages of content that retailers can sell collected later in the year . I disagree with your assessment.

— Jimmy Palmiotti (@jpalmiotti) June 23, 2018
And that's also the first confirmation that the exclusive content will be collected separately later in 2018. Will that satisfy comic book retailers? Unlikely.
But here's Jimmy's own copy of the first Batman title.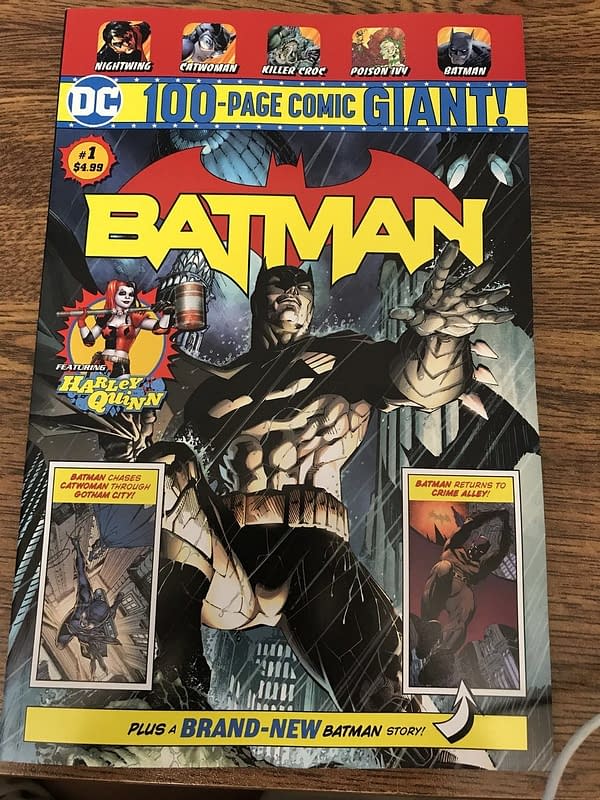 Enjoyed this article? Share it!