In the light of the performance of Batman #77 on the aftermarket today, with mass sellouts and sales of up to $30 on eBay, DC Comics has decided to send Batman #77 – and #76 – back to the printing mills for second printings for both. Continuing the City Of Bane storyline, in which Bane – courtesy of a Luthor-influenced passive government – has taken over the running of Gotham, employed its villains to keep everyone secure, exiled Batman and his family, and has made it a place of peace.
They will both arrive in comic stores on September the 11th, with recoloured covers. Which might look something like this maybe?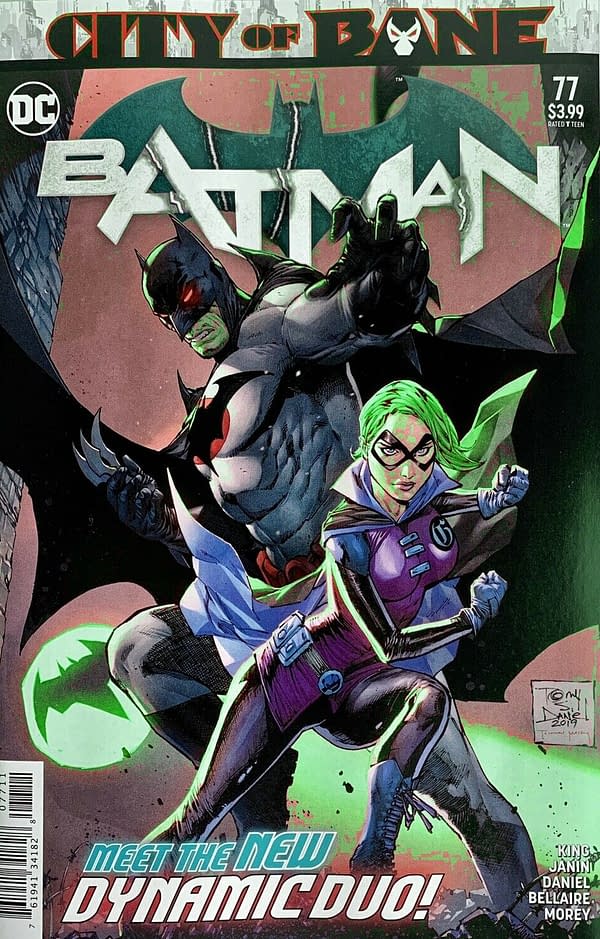 BATMAN #76 YOTV DARK GIFTS
(W) Tom King (A) Sandu Florea, Norm Rapmund (A/CA) Tony S. Daniel
"City of Bane" continues! Bane has taken over Gotham City, and Batman is nowhere to be found. At least, not a Batman anyone recognizes. Flashpoint Batman is now patrolling the city, dispensing a violent brand of justice and taking out rogue villains who haven't yet signed on with Bane. It's all building to a rebellion among the bad guys who don't want to play along- and distrust in those who do! Meanwhile, a surprising ally has come to Bruce Wayne's aid, nursing him back to health so that he can get back to his city.In Shops: Aug 07, 2019
SRP: $3.99

BATMAN #77 YOTV DARK GIFTS
(W) Tom King (A/CA) Tony S. Daniel
"City of Bane" continues! The last of the independent villains are on the run, leaving Gotham City entirely to Bane and his cronies-including Flashpoint Batman and Gotham Girl! Though this means a semblance of peace on the streets, the iron grip of tyranny is squeezing all life out of Gotham. And with Bane's machinations keeping other heroes out, the city really needs the Batman to return. Is Bruce Wayne ready to face his toughest foes yet…his father and the man who broke his back?In Shops: Aug 21, 2019
SRP: $3.99
Enjoyed this article? Share it!