Man, that's rough. Damage was one of the New Age Of DC Heroes/Dark Matter titles, created in an artist-first mood that Dan DiDio was in at the time, with a bunch of titles that resembled a number of Marvel Comics titles quite a but. The artists, after getting a better-than-average creator participant deal and first billing, then pretty much jumped ship, save for Kenneth Rocafort who stuck with Sideways pretty much to the end. Jim Lee didn't even make it to the end of the first issue.
They were all eventually cancelled save for The Terrifics, which was made of previously established DC Comics characters. But Damage was one, along with Sideways and Silencers, that made it longer than the others. Originally created by Robert Venditti and Tony S Daniel… sorry, I mean originally created by Tony S Daniel and Robert Venditti, he was a guy called Ethan who could turn into a monster, but only for a short time, before collapsing.
The series was cancelled after 16 issues plus an annual, but it appears that only the first two-thirds of the storyline will be solicited as DC Comics has told retailers that the third volume of the trade paperbacks has been cancelled and will not be resolicited.
Here's what would have been. To be fair, you can probably pick up the back issues for less than the cost right now…
WELCOME TO MONSTER ROCK, DAMAGE!

For one hour per day, Ethan Avery can become one of the most powerful beings on the planet. As Damage, Ethan cut a swath of destruction across the United States, until he was apprehended by the Justice League. The League wants to sequester Ethan somewhere they can keep his powers under control–but Damage doesn't like to be leashed. Turns out Batman doesn't like to be told "no."

Now, Ethan finds himself trapped in the one prison that could ever hope to hold Damage…because it already holds the biggest, baddest creatures on the entire planet: Monster Rock. But if Ethan is ever going to make it off the Rock, he'll have to learn how to balance the human with the monster inside.

But how can he focus on personal growth when Echidna, Mother of Monsters, is determined to take over the island and reign as its queen?! Find out, as storytellers Aaron Lopresti (Wonder Woman/Conan) and Robert Venditti (Hawkman) bring the smashing saga of Damage to an end! Collects Damage #13-16 and Annual #1.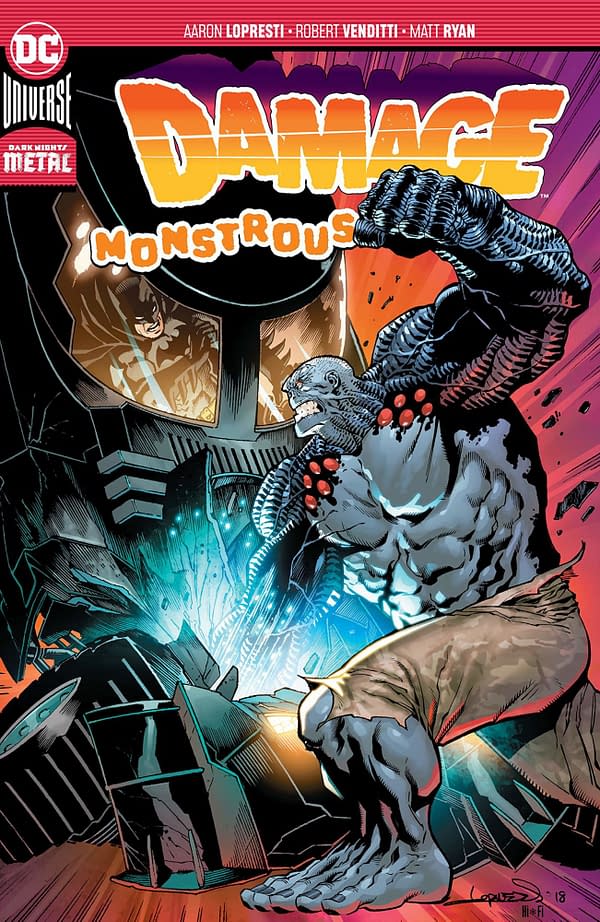 Enjoyed this article? Share it!