DC Comics Cancels DC Nation For Now
Last week, DC Comics published the sixth issue of their Wizard: Guide To Comics-inspired promotional magazine DC Nation – created by many ex-Wizard staffers now working for DC Comics. This included their first letters column – to which they reported three people wrote, including their own test e-mail.
Well, it doesn't matter how many e-mails they get now, issue #7 won't have any. Because there won't be an issue #7.
DC Comics has informed retailers that following issue #6, DC Nation will go on hiatus. But to expect a relaunch soon.
At least DC Nation got to seven issues (six plus an issue zero), unlike the previous DC's Direct Currents which was cancelled after the first issue…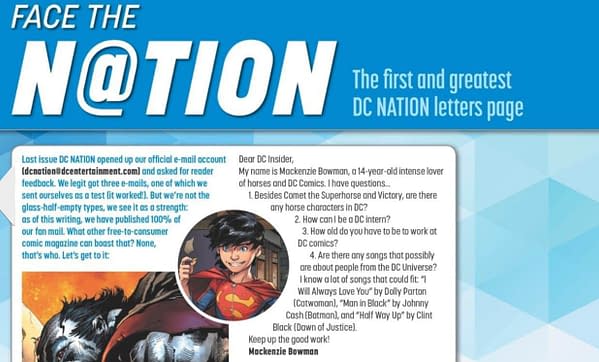 The first and greatest DC Nation letters page – and the last one too. Sorry…