DC Comics Cancels Shazam: The Monster Society Of Evil Hardcover Over Racist Concerns
The left hand of DC Comics was publishing the Captain Marvel series The Monster Society Of Evil in a Shazam deluxe hardcover form. A historically important shift for superhero comics into longform storytelling, running serialised from 1943 to 1945, one of the first stories to do so, it does also contain a number of negative racial stereotypes towards black people…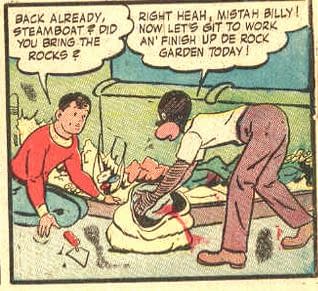 …and East Asians.
Portrayed in a historical context, this would not necessarily be an impediment to publish. But with the right hand of DC Comics running the trailer to the new Shazam movie, suddenly this may be a look they are trying to avoid. And it seems that the right hand has finally noticed what the left hand is doing.
And so comic book retailers have been informed by DC Comics that 'After careful consideration, DC announces that the SHAZAM!: THE MONSTER SOCIETY OF EVIL DELUXE EDITION HC is cancelled due to concerns over its contents. This title will not be resolicited.'
Final orders were to have been taken this week. Here's how DC solicited the book.
SHAZAM MONSTER SOCIETY OF EVIL DLX ED HC
(W) Otto Binder (A) C. C. Beck, Pete Costanza (CA) Michael Cho
At first he was simply a disembodied voice on the radio, taunting Captain Marvel with his ever-more-fiendish schemes to conquer the world. Then, readers gasped as Mr. Mind was revealed-all two inches of him! Was this lowly creature really the epitome of evil he claimed to be? Fortunately, Billy Batson understood the folly of underestimating someone based on their size! As small as he was, Mr. Mind was big trouble-especially once he turned the menacing members of his Monster Society of Evil loose to wreak havoc!
This new title collects the entire 24-chapter serial from the Golden Age of Comics with new essays by Fawcett Comics expert P.C. Hamerlinck and film producer and comics historian Michael Uslan. Collects stories from CAPTAIN MARVEL ADVENTURES #22-46!In Shops: Feb 06, 2019