As DC Comics Prepares To Leave New York, They Smash Up Their Own Offices
From today's New 52: Futures End… as the series approaches its conclusion…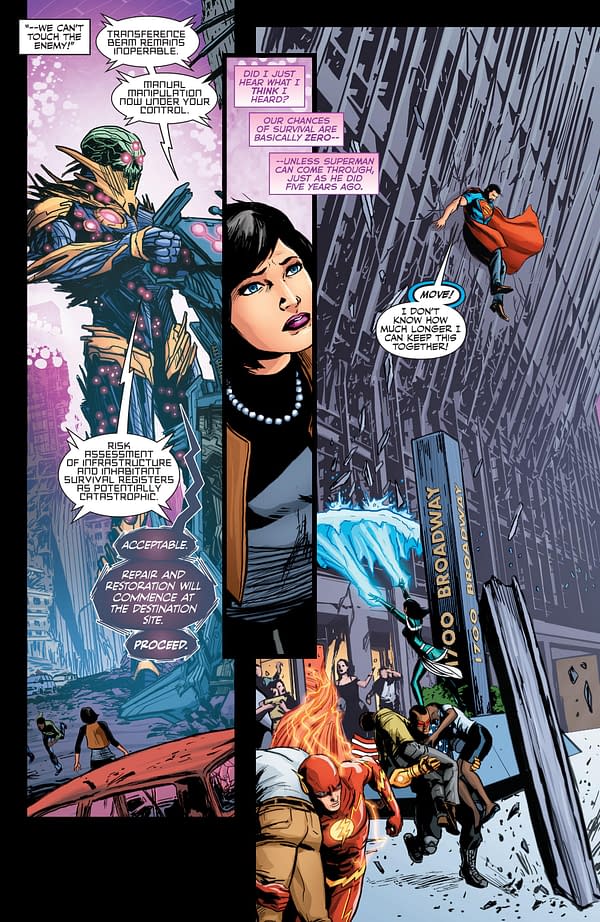 1700 Broadway is the offices of DC Comics in Manhattan. And right now it looks like it needs a Band-Aid.
Next month, DC Comics says goodbye to those offices, moving to Burbank in Los Angeles. But on the way out, it appears they are laying waste to them in fiction, even Superman having difficulty keeping up the towering behemoth.
Maybe if Man Of Steel had been a better film, it would have been easier. Anyway he has a solution.
That's right folks, DC needs to move on.
But don't take the symbology too far. This series is set five years in the future. Which means DC Comics would have been long gone and whoever takes the offices after DC will have to deal with it all!
Swamp Thing #40 is published today by DC Comics. Comics courtesy of Orbital Comics, London. Who are welcoming Scott McCloud this Saturday for drinks and signing of his new graphic novel, The Sculptor…
Hello Martin!