DC Comics Solicitations October 2020 – Frankensteining Ten Titles
Today, DC Comics will be announcing their October 2020 solicitations. But they have eked a few out in recent days. So, stitched together, here are ten titles, Frankensteined together for a preview of what today's solicitations will reveal… and it begins with a certain Batman #100.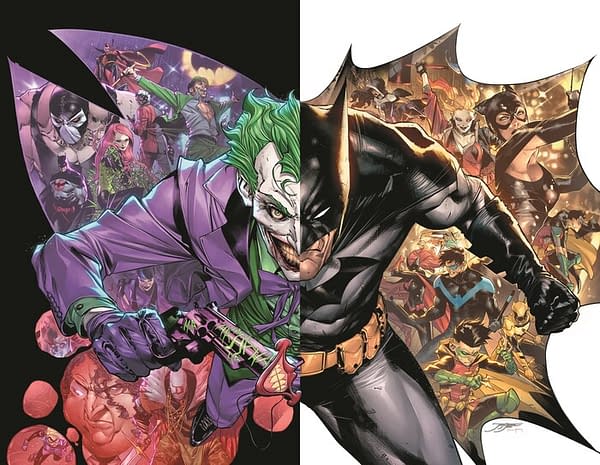 Batman #100
Written by JAMES TYNION IV
Art and wraparound cover by JORGE JIMENEZ, GUILLEM MARCH, CARLO PAGULAYAN and DANNY MIKI
Card stock variant cover by FRANCESCO MATTINA
1:25 card stock variant cover by JORGE JIMENEZ
On sale OCTOBER 6, 2020
In this extra-sized finale issue, "The Joker War" comes to a city-shattering conclusion as Batman battles The Joker in a brutal, no-holds-barred final duel! This is a fight 80 years in the making, and its outcome won't just change Batman's life—it will change Gotham City for years to come!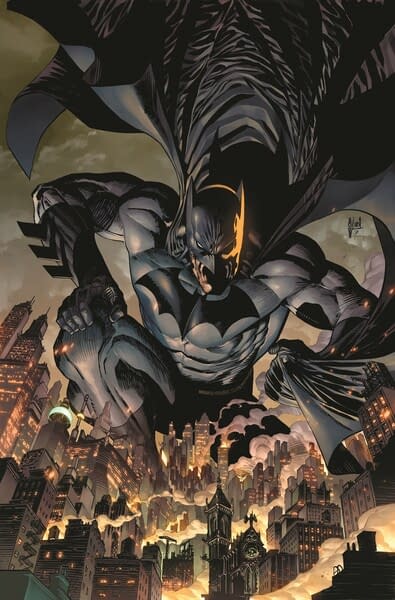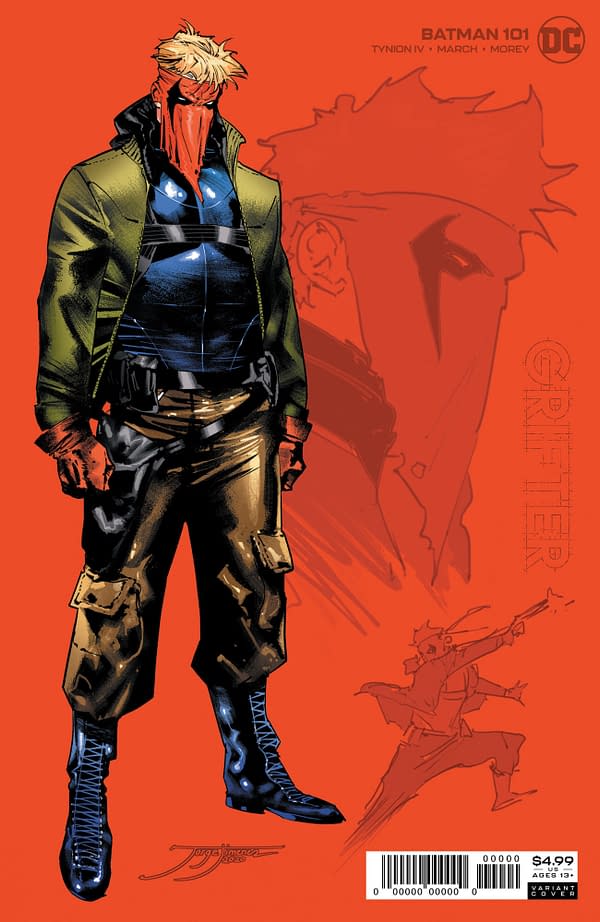 BATMAN #101
Written by JAMES TYNION IV
Art and cover by GUILLEM MARCH
Batman/Grifter card stock variant cover by FRANCESCO MATTINA
1:25 Grifter card stock variant cover by JORGE JIMENEZ
On sale OCTOBER 20, 2020
A new day dawns in Gotham City, and the horrific aftermath of "The Joker War" is only starting to unfold…how has The Joker's rampage affected the citizens of the city? What legacy did the Clown Prince of Crime leave, and how it will hit the Dark Knight? And why does Cole Cash—a.k.a.—Grifter, now work for Lucius Fox?!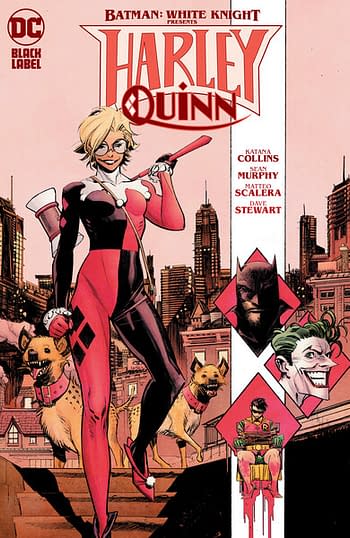 Batman: White Knight Presents Harley Quinn #1 (of 6)
(W) Sean Murphy and Katana Collins (A/CA) Matteo Scalera and Dave Stewart
Batman: White Knight Presents Harley Quinn takes place two years after Curse of the White Knight. Azrael has wiped out criminals in Gotham, Jack Napier (formerly The Joker) is dead, Bruce Wayne (Batman) is in prison, and Harley Quinn is adjusting to life as a single mother, raising the twins she had with Jack. But as new villains arise, Harley is forced to dance with madness once again and confront her own past with The Joker and Batman while helping the Gotham City police and an eager young FBI agent uncover the truth behind a series of gruesome murders.
Tuesday, October 20, Black Label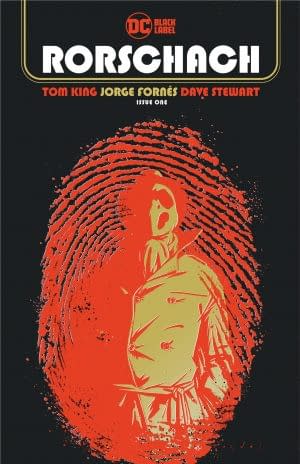 Rorschach #1
(W) Tom King (CA/A) Jorge Fornés (A) Jae Lee
It's been 35 years since Ozymandias was exposed for dropping a giant telepathic squid on New York City, killing thousands and ending the public's trust in heroes once and for all. The Minutemen are gone; only their memory lives on. Especially the infamy of Rorschach, who has become a cultural icon since Dr. Manhattan turned him to dust. Rorschach may have spoken truth, but he wasn't a hero. So what does it mean when Rorschach reappears as part of a pair of assassins trying to kill the first candidate to oppose President Robert Redford in decades? Follow one determined detective as he walks backward in time, uncovering the identities and motives of the would-be killers, taking him deep into a dark conspiracy of alien invasions, disgraced do-gooders, mystical visions, and yes, comic books. Writer Tom King joins forces with artist Jorge Fornés to explore the mythic qualities of one of the most compelling characters from the bestselling graphic novel of all time, Watchmen.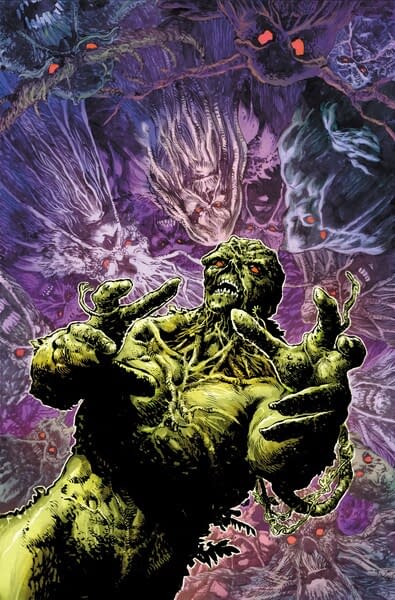 LEGEND OF THE SWAMP THING HALLOWEEN SPECTACULAR #1
DC invites you to welcome Swamp Thing to your witching hour festivities. In this 48-page collection of six all-new stories, the Guardian of the Green reveals past lives and the unforgettable horrors that befall those who cross his path. From ancient Rome to present day, Swamp Thing stalks these ghostly and ghastly tales—all of which are best read by the light of a jack o' lantern!
Writers Tom King (Strange Adventures, Swamp Thing: Roots of Terror, Swamp Thing Winter Special), James Tynion IV (Batman), Vita Ayala, Phillip Kennedy Johnson (The Last God: The Fellspyre Chronicles) and Ram V (Catwoman, Justice League Dark) are among the writers penning these creepy tales with Domo Stanton (House of Whispers), Mike Perkins (Lois Lane), Emma Rios and Christian Ward providing the bone-chilling artwork. Legend of the Swamp Thing Halloween Spectacular #1 is priced at $5.99 and debuts on Tuesday, October 6, 2020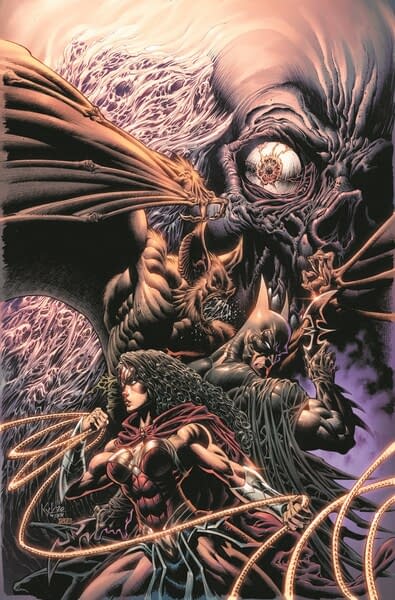 DC: THE DOOMED AND THE DAMNED #1
It was a dark and stormy night when the creatures of the DC universe began to emerge from their lairs into the cool evening air. Tales of the macabre, the murderous, and the morbid abound in this spine-chilling special about monsters and mayhem! What happens when Batman encounters a true urban legend after speaking its name three times in a mirror, or when Madame Xanadu enlists the help of Man-Bat to take town shadowy specter? And who can stop an intergalactic demon from turning people into frog beasts? Only the unlikely team up of Green Lantern and Etrigan! All this and seven more fang-tastic tales to trick your treats and bob your apples!
This prestige format one-shot features some of comics best scary storytellers, including writers Carmen Maria Machado (Hill House Comics' The Low, Low Woods), Marv Wolfman, Ken Porter, John Arcudi, Saladin Ahmed, Alyssa Wong, Travis Moore and others. Artists contributing to this blood-curdling comic include Riley Rossmo (Martian Manhunter, Constantine: the Hellblazer), Mike Perkins, Leonardo Manco, Travis Moore, Tom Mandrake and others. 80-Page one-shot is priced at $9.99 Tuesday, October 13, 2020.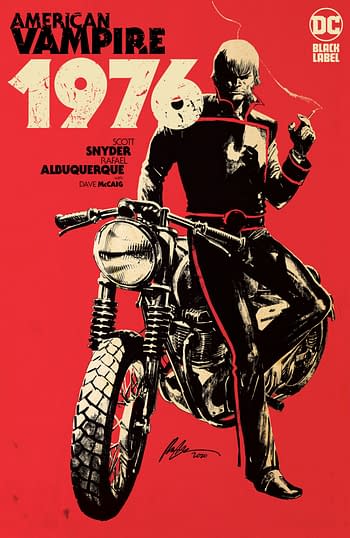 American Vampire 1976 #1 (of 9)
(W) Scott Snyder (A/CA) Rafael Albuquerque (CA) Dustin Nguen.
America is broken. Trust between the government and the American public has crumbled. Paranoia reigns supreme. It's 1976, not 2020, and this horrifying tale is the concluding chapter of the Eisner Award-winning American Vampire, reuniting Scott Snyder and Rafael Albuquerque for a nine-issue miniseries! Skinner Sweet has exhausted all efforts to regain his lost immortality. With his powers and purpose gone, he is now determined to go out with a bang. At a seedy motorcycle rally in the desert where Skinner's closer than ever to his death wish, Pearl Jones and a shocking partner track him down for one last, desperate mission: the force known as the Gray Trader and its minions are tunneling through the bowels of the world to unleash hell on Earth—just in time for America's bicentennial. With catastrophe looming, it's up to Skinner and Pearl to reconcile and change the course of history—or die trying.
October 6, 2020, Black Label, $3.99 with cover artwork by Albuquerque and a variant cover by Dustin Nguyen.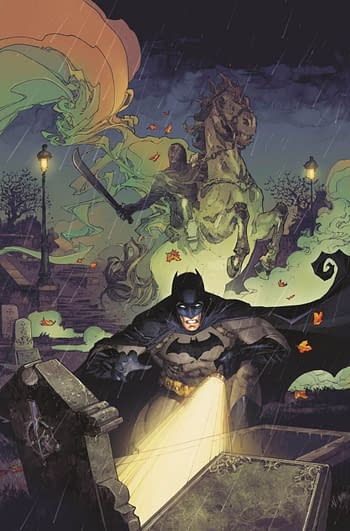 DETECTIVE COMICS #1028
Written by PETER J. TOMASI
Art by NICOLA SCOTT
Cover by KENNETH ROCAFORT
Card stock variant cover by LEE BERMEJO
On sale OCTOBER 13, 2020
Spinning out of the events of "The Joker War" and Detective Comics #1027 comes a tale of the beginning of the end for Gotham City's status quo. With tensions flaring and a new mayoral candidate making his anti-masked hero agenda known to the city, Batman and his allies are stretched thin to keep the peace. But just as things couldn't look any worse, a string of gruesome murders has left a trail of the most corrupt in Gotham City losing their heads…literally. If Batman doesn't quickly find the killer— the Dark Knight will be next.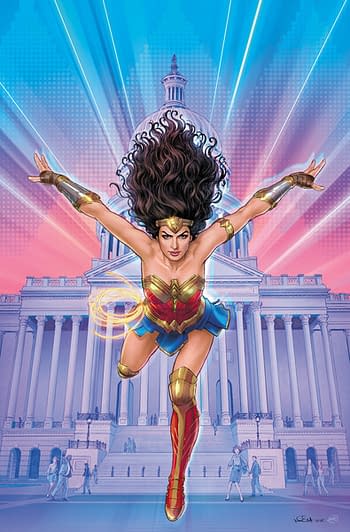 Wonder Woman 1984 #1
(W) Anna Obropta, Louise Simonson, Steve Pugh (A) Bret Blevins, Marguerite Sauvage (CA) Nicola ScottWhen a failed burglary attempt causes a hostage situation at the Smithsonian Museum of Natural History, Diana Prince is forced to leave her teenage tour group behind so that Wonder Woman can save the day! But will she be able to bring 10 gunmen to justice and get back to her tour group in time? In the '80s, "greed is good," especially if you have it all! A reckless mastermind has made the ultimate power move by stealing Wonder Woman's golden Lasso of Truth, and it's up to Diana and Steve Trevor to get it back before the worst happens! Tuesday, September 29.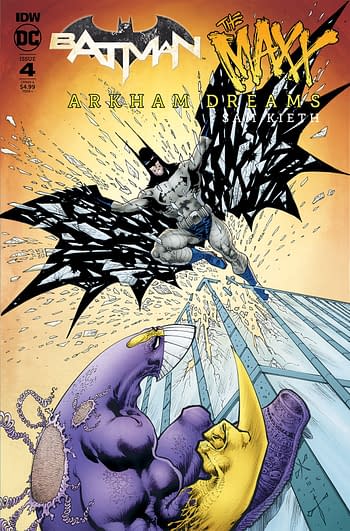 And… does this count? Batman / Maxx: Arkham Dreams #4 (of 5)
(W) Sam Keith (A/CA) Sam Kieth
Midnight, the witching hour. Arkham is the scariest and most dangerous place in Gotham on a good day… but when the power is suddenly cut… super-sophisticated magnetic locks are now useless… and the worst inmates are released! Meanwhile, in the bowels of Arkham, Dr. Disparu has added the Riddler and Killer Croc to his insane plot to uncover Batman and The Maxx's hidden secrets, buried deep in their inner psyches known as "Outbacks." The plot thickens, and so does the tension, as Disparu's secrets are finally revealed!
In Shops: Oct 07, 2020 Final Orders Due: Sep 14, 2020 SRP: $4.99