DC Comics vs. Alaskan Clothing Company Over 'Wander Woman' Trademark
Joel Loosli of Alaska has a company called Claimjumper AK, selling clothing as "unique Alaskan apparel" — and launching a number of registered trademarks as a successful company wishing to protect its marketshare might.
However, that's not as easy when one of your product lines is called 'Wander Woman'.
The trademark applied for would be to cover "Athletic apparel, namely, shirts, pants, jackets, footwear, hats and caps, athletic uniforms".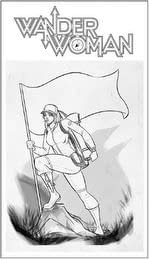 You know what happens now. Megan L. Martin, working for Warner Bros. Entertainment Inc, has applied for and been granted an extension of the trademark process, allowing DC Comics to mount an opposition against the granting of this trademark.
It's not just the similarity in name to Wonder Woman but the logo itself, which uses elements from the comic book Wonder Woman logo over the years, such as the bordered lettering.

This story is developing…