DC Heroes in Crisis: Everyone at Sanctuary is Dead
More details have surfaced about Identity Crisis 2 Heroes in Crisis, the upcoming super-mega-crossover event from DC Comics by Tom King and Clay Mann. A solicit for the event has been posted on Twitter by Big Bang Comics, including a Sanctuary Fact Sheet, explaining the concept of the mental health facility set up by Superman, Batman, and Wonder Woman to help heroes deal with the trauma of violence.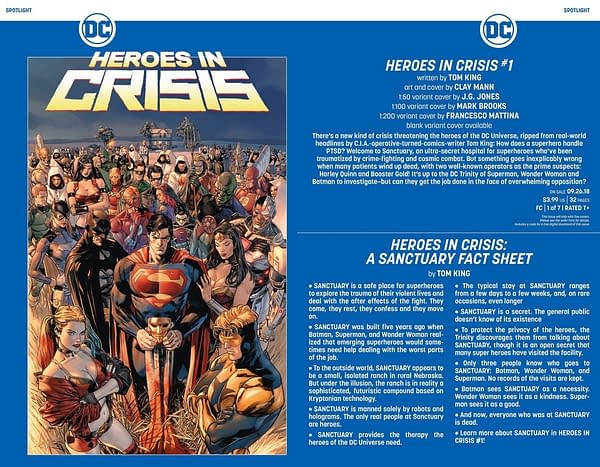 The fact sheet provides a lot of additional information about Sanctuary. It was built five years ago by Batman, Superman, and Wonder Woman. It's a secret to the general public. No records of who visits are kept, but Superman, Batman, and Wonder Woman know who's been there (whatever happened to privacy?!). And perhaps most importantly, as pointed out by Mark Danvers on Twitter (which is how we found the page):
Well, how else are you going to kick off a super-mega-crossover event? Heroes in Crisis #1 hits stores in September.