Decades Of (In)Experience Reaches Its 200th Comic!
Decades Of (In)Experience, the enjoyable yet all-too-real slice of life comic, has reached its 200th episode! Since 2015 Alex Schumacher has been telling the story of Luke Carlin, a guy in his thirties who's still figuring his life out. I've been enjoying Decades for a few years now. Alex is a gifted writer who knows how to convey the human experience — and this milestone means the world to Alex;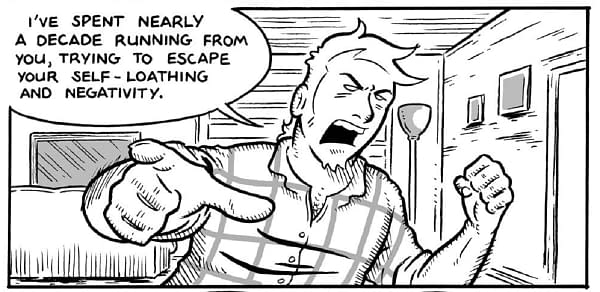 When Francis Lombard and I decided to take on the challenge of a serialized, ongoing webcomic in 2015 I don't know that either of us had any preconceived notions about how many installments that would entail, how long it would last, or who would care. Now we find ourselves wading into the thick of the 5th year, continually inspired and vitalized by our readers, and celebrating the enormous milestone of reaching 200 episodes on 2/21/2020! Publicizing what are, at times, deeply personal anecdotes has been quite the emotional odyssey and there remains to be plenty of story left to tell on our main character's expedition of self-discovery. We are also currently working out the logistics for a collection of the first 2 years.

Thank you to everyone who has read, reviewed, or helped to spread the word about Decades of (in)Experience. Here's to the next 5 years!
Everyone can relate to Luke in some way. From job woes to breakups, he's been through a lot since 2015. But isn't that what being human is all about? Hopefully Luke can find more bright spots in the future, to balance the uncertainty.
We've been fans of Alex for some time here at Bleeding Cool, and we know you'll love his work as much as we do! Interested in seeing what else Alex is doing? Check out his website, which showcases his various underground works.