Deftones Singer Chino Moreno Releases Single Inspired by Dark Nights: Metal
Deftones lead singer Chino Moreno has released a new single, this one "inspired" by the DC Comics event Dark Nights: Metal. The Scott Snyder/Greg Capullo series tore up the sales charts, and the HC collection was released this past Wednesday. 'Brief Exchange' also features Tyler Bates, Mike Elizondo, and Gil Sharone playing on the record, with Elizondo and Bates producing. Listen to the song below:
Today, Chino Moreno from Deftones releases solo track entitled "Brief Exchange," inspired by DC Entertainment's new graphic novel DARK NIGHTS: METAL: DELUXE EDITION available now in comic book shops, bookstores and digitally on Tuesday, June 12. This also marks Moreno's first collaboration with DC.

This deluxe hardcover collects issues #1-6 of the DARK NIGHTS: METAL monthly series and is written and drawn by the best-selling creative team of writer Scott Snyder and artist Greg Capullo. Batman has uncovered an ancient and evil mystery… One that could destroy the very fabric of the DC Universe! A Dark Multiverse has been revealed, full of devastating threats and vile creatures that have been loosed upon the DCU, with only The World's Greatest Super-Heroes rising to the challenge of defending it!

Produced by GRAMMY® Award-winning icon Mike Elizondo (Eminem, Twenty-One Pilots, The Regrettes) and film composer and former Marilyn Manson guitarist Tyler Bates (Guardians of the Galaxy Vol. 1 & 2, Deadpool), "Brief Exchange" spotlights Moreno.

"Brief Exchange" features Bates on guitar, Elizondo on bass and Gil Sharone from Dillinger Escape Plan, Puscifer behind the drum kit. Its dark lyrics remain befitting of the graphic novel's themes. "Brief Exchange" showcases yet another facet of one of rock music's most prolific forces.

Formed in Sacramento, CA, Deftones have released eight studio albums to date and have sold nearly 20 million albums worldwide.

This release marks the 2nd in this series of tracks inspired by DC Comics' new graphic novel DARK DAYS: THE ROAD TO METAL, Beginning with "Red Death" by Brann Dailor—co-vocalist, drummer, and co-founder of GRAMMY® Award-winning heavy rock juggernaut Mastodon."Red Death" is available now.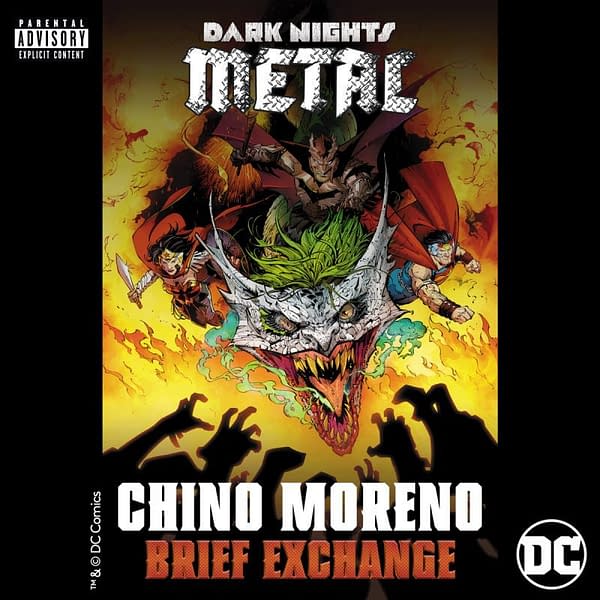 The song has a Deftones White Pony era feel to it, with a helping of Around The Fur for good measure. Seeing as they are my all-time favorites I may be a little bias, but Chino has the best voice in hard rock. Its tough to find that melodic vibe that can turn on a dime into something so visceral and dangerous. Like the comics themselves, I can totally hear this song playing while thinking back to the panels in #6 when the Joker enters the battle between Bats and the Batman Who Laughs. Fun track, and hey–anytime we can get more Chino the better.