"Dejah Has Been Written As A Perfect Character In The Past" – Frank Barbiere Talks Dejah Thoris
Writer Frank Barbiere talks about Dejah Thoris #4, on sale in May from Dynamite. Cover by NEN.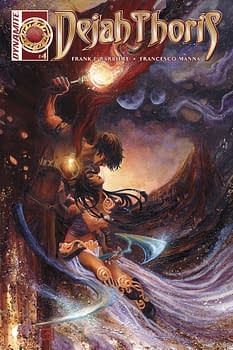 BYRON BREWER: Frank, there seems a great energy and excitement about this iteration of Dejah Thoris. Have you been pleased with the positive fan response?
FRANK BARBIERE: I'm very excited that some new readers are giving the character a chance. I'm a big fan of everything that has come before, so I'm really looking to build on the legacy and stand on the shoulders of giants here. There are certainly some differences with my take, but I think it just comes down to my own sensibilities as a writer, so it's pleasing to see a positive response. I think with #4 we're really getting to the "meat" of the story, so I hope everyone joins us for the ride!
BB: If you as a writer are able to add something to the incredible legacy of this iconic character during this series, what do you hope that to be?
FB: Really just looking at Dejah as more of a well rounded character. We have seen (and will see) her make some difficult decisions, even be a little greedy/selfish—but for the right reasons. I think Dejah has been written primarily as a "perfect character" in the past, especially in the novels. This isn't to say that's "wrong," but I think it limits her a bit and there is room for growth and expansion. I feel like at the end of my six issues we'll get a big change and realization for Dejah, and I look forward to delivering on that promise in my arc.
BB: I know the new Dejah "map" was laid out by others, but surely there is some inspiration in the writer's experience (media, personal, etc.) that is also a part of the showcase in this series. What is YOUR inspiration for this book, Frank?
FB: I really just thought about the character of Dejah and tried to turn some of her positives into weaknesses (for her to overcome). She is such a strong, iconic leader and character, but I wanted to allow her to grow and change, so I had to imagine how her role as Princess was limiting. This isn't necessarily a deep character flaw, but by highlighting how her status could keep Dejah somewhat ignorant of the real world was an exciting point of entry for me. I look forward to having her change and the deeper themes of my arc come to the surface as we barrel towards the finale.
BB: Can you hint at what we may seem coming as #4 hits stores in May, in a non-spoilery manner?
FB: Issue #4 is the most action-driven of our issues and takes Dejah into the belly of the beast, so to speak. We get some great plot revelations regarding the conspiracy in Helium, as well as the origins/identities of our villains.
We also get to see Dejah come up against a great threat and use her grace, ingenuity, and intelligence to face it. I think it's really a high point and readers will enjoy it!
For more information on Dejah Thoris #4, click here.