Dewey's Comic City of New Jersey is another comic book store that is closing up permanently, but only so they can open again, in very glamourous surroundings. The store announced;
We are excited to announce that Dewey's Comic City will be moving from its current location to the historic, Joe Kubert School of Cartoon and Graphic Art, Inc., located in Dover NJ.

We appreciate all of our customers throughout the years and look forward to continuing those relationships and building new ones in the future.

During this transition, we ask that if you have a reserve box with items still in it that you please close it out and purchase those comics. If you don't know for sure, we will be contacting you shortly. Likewise, if you have purchased items at the store and have yet to pick them up we will need you to come get them.
All items in the reserve boxes, or items previously purchased and still at the shop, will need to be picked up no later than Friday, June 19th. After that date, all items will removed from the store and we will restart the program at our new location.

Dewey's will be open each Thursday from 11AM – 4PM to pick up your reserve box items from now until June 19th. If you can't make it in during that time then we will be more than glad to mail out your items!

Stay tuned as we will be announcing our new opening date soon!
The Kubert School, formerly the Joe Kubert School of Cartoon and Graphic Art and Joe Kubert School, is a private, for-profit technical school focused on cartooning and located in Dover, New Jersey. It is the only accredited school devoted entirely to cartooning. The school's instructors are full-time professionals working in the industry, many of them graduates of the school themselves, and the instruction is hands-on and practical. Its alumni include Amanda Conner, Lee Weeks, Andy Price and Alex Maleev, as well as many other comics pencilers and inkers.
Here's a look at how the moving in is going…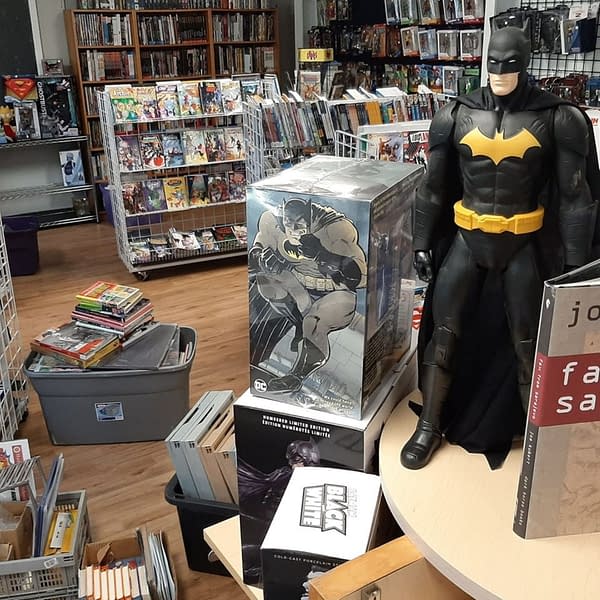 Enjoyed this article? Share it!